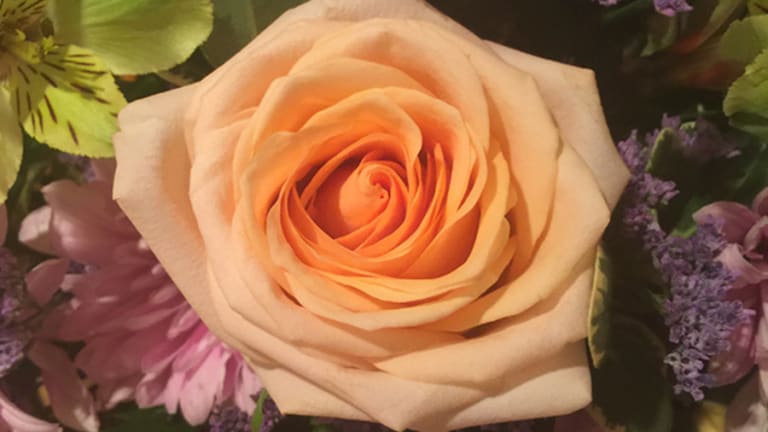 Celebrating Mother's Day and the World's Toughest Job With Teleflora
Yes, being a mom is one tough gig. But I wouldn't dream of having it any other way.
I laugh when I think about my pre-parenting days. I was so naive. I thought had so much on my plate as a hotshot NYC editor. There were meetings to make, emails to draft, professional events to attend, red carpets to cover, features to write, business trips to be taken, and bosses to please. I had a "real" job with "real" responsibilities. My calendar was full, and my days were jam-packed. I woke up early (or what I thought was early) and drank a lot of coffee. It was simultaneously exhilarating and exhausting. Surely, I told myself, life as a stay-at-home mom would be simpler, more relaxing, and less frantic...
Related: Mother's Day Breakfast in Bed Nutella French Toast Recipe
The Best Gig Around
Ha! Yeah, the joke was on me... Once I had babies of my own, I realized that there is no job harder, more stressful, more depleting, and more all-consuming than motherhood. Of course, there's also no job more joyful or more rewarding. But, if I'm being totally honest, the daily grind can take a toll. And pleasing these bosses? Well, it's not as easy as nailing a pitch or scoring a sale.
Yes, being a mom is one tough gig. But I wouldn't dream of having it any other way. It's the toughness that makes it validating, and the unconditional love that makes every single moment so fulfilling. (And, yes, it's the nonstop supply of coffee that makes it all possible!)
To celebrate Mother's Day and honor mommyhood, Teleflora has teamed up with Momtrends Media to survey real moms about the "toughest job they'll ever love." The results? Well, these ladies took the words right out of my mouth, citing daily challenges that include "balancing career with motherhood," "juggling the day to day" demands of parenting, lack of sleep, and "forgetting to take care of myself." (Have I mentioned I'm still in my pajamas and unshowered. At 3 PM. On a Wednesday. Yeah, that never happened in my former "career" life.)
Fifty-three percent of surveyed moms said that the one thing no one told them about being a mom is that you "learn from your children as much as they learn from you." Isn't that the truth? My kids teach me life lessons every day—about love. About happiness. About patience... About the human body's miraculous ability to run on two hours of sleep!
Twenty-three percent of moms said that no one told them how tough motherhood would be. When I was pregnant, friends and family told me about how "fun" it would be. They told me "wonderful" it would be. They talked about epic family vacations, not epic toddler tantrums. They mentioned limitless love, not endless germs. In the end, of course, it's worth all the meltdowns and sleepless nights, just to be called "mommy." Hands down, that's the best title I've ever held.
Still, I want to feel appreciated come Mother's Day. I don't need jewelry or fancy gifts. Like most moms, I just want a a morning to sleep in. Maybe some breakfast in bed. A handmade card. Some extra cuddles. A bouquet of beautiful flowers to brighten my afternoon. In fact, 62 percent of moms said they would like to receive a mixed bouquet on Mother's Day. And it makes sense why: Motherhood isn't always sunshine and roses. But Mother's Day can be.
I love the Butterfly Sunrise Bouquet from Teleflora. Filled with peach roses, yellow alstroemeria, and lavender chrysanthemums, it's brilliant, robust, and perfect for spring. Plus, it's a two-in-one gift featuring an oversized keepsake mug, decorated with watercolor butterflies. It's a great gift for the tea-drinking mom… or the coffee-chugging mom. Because, this tough job is no 9 to 5. That's okay though, I'm #OneToughMother, and this this is world's greatest gig.
Get your Teleflora flowers here.
MORE MOTHER'S DAY INSPIRATION
PIN IT!
Save your favorite ideas to Pinterest. Be Sure to follow our Mother's Day board here.