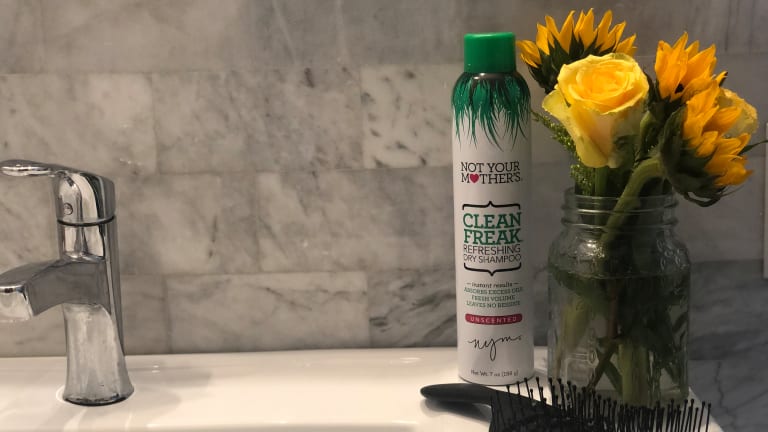 Your New (Super Speedy) Morning Beauty Routine
One Busy Mom's Guide to Looking Presentable in 3 Minutes Flat
With three kids to get out the door every day, I don't have a lot of time in the morning. I'm too focused on getting little teeth brushed, tiny tushies wiped, and lunches packed to take precious minutes to apply a full face of makeup or style my knot-ridden hair. Heck, I have all I can do to get out of my pajamas and into a pair of socially acceptable yoga pants before school drop-off.
That's why I've had to pare down my morning routine to three minutes flat (and I don't mean three consecutive minutes). One minute here, one there, and a last one before we race out the door... 
Dry Shampoo FTW
A morning shower may sound like the right start to the day; but let's face it: that's not always an option. Even if it is, you might want to skip the shampoo; getting your hair wet means you have to take the time to dry it! What mom can do that in the early hours?!
That's where dry shampoo and the right brush comes into play! Not Your Mother's Clean Freak dry shampoo is a quick fix that gets rid of any unwanted shiny areas and adds fresh volume to locks. Designed to absorb excess oil, provide superior refreshing benefits and give a light matte finish without residue, it's available in five different formulas, including: Refreshing Dry Shampoo, Refreshing DryShampoo Unscented, Tapioca Dry Shampoo Warm Sugar and Tinted Dry Shampoo in Medium and Dark. Spray at your roos and work through with your fingers for a blown-out effect--or try our favorite brush to get a sleeker straight style. t It works wonders so you can go longer between shampoos--because, time is a major commodity in the morning! 
Give Your Skin an Instantly Beautifying Boost
Give your complexion an instant boost without resorting to concealer or foundation. Save the makeup application for your work desk (or post drop-off if you're heading straight home). Instead give your skin a little hydrating spritz before you leave the house. Lumene Nordic-C [Valo] Glow Refresh Hydrating Mist energizes your complexion with a refreshing ultra-fine mist. Infused with Wild Arctic Cloudberry extract, Vitamin C and Pure Arctic Spring Water, it gives skin a dewy radiant glow, and can also be used to refresh makeup.
Have a Daily Uniform at the Ready
Have you read those studies that claim that executives and professionals who wear the same outfit every day (AKA a uniform) are more successful. Well, that doesn't just go for CEOs. Don't waste time picking out the perfect outfit. Instead, know what works for you and have lot of variations. It doesn't matter whether you're a working mom or a SAHM, keep it simple and streamlined. That could mean a pair of slim jeans and button down blouses or workout gear.
A more presentable you in three steps and three minutes! Now get out the door and go, Mama.
Want more tips, here are a few ways to further streamline your morning routine.
This is not a sponsored post. It contains affiliate links.