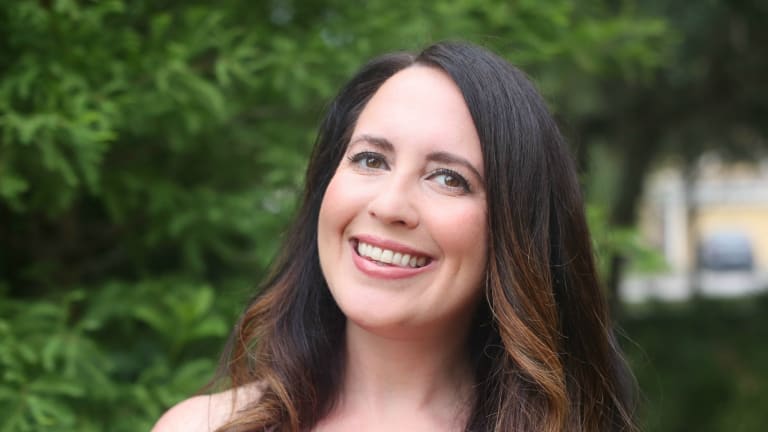 You Need My 3-Step Face that Stays Put
Do you ever have those days when you know you're going to be out and about most of the day and you aren't going to have a ton of extra time to touch up your makeup? Well, then you need my 3-step face that stays PUT! Hey, I'm a natural makeup kinda girl, so this is not about caking on a ton of makeup. My 3-step face is more about a few simple steps that will give you a polished, not over done, look that LASTS. Because let's face it. We're moms...and busy moms at that. When I have a full day, I mean I have a F-U-L-L day. From school drop off to bed time, this mama is running, running, running, so I need a streamlined situation happening with my makeup routine. I know you know exactly what I'm talking about!
Moms Need Easy, Yet Effective Makeup
If I have a meeting, for instance, I want to head out with more on than my typical concealer, lip gloss and mascara go-tos. I'll add a few more things to the mix like my favorite nude eye shadow, a pinch of color blush and my 3 step face. Now I don't need to stress about trying to build more getting ready time into my schedule because stepping up my game with the 3-step face that I keep mentioning adds just a few extra minutes to my morning routine, yet those simple steps deliver big results.
I promise that you will be able to confidently go from work to drinks with the girls without having to completely redo your face. Sure, you'll probably want to freshen up your lipstick and maybe even check to see if your concealer could use some reapplying, but beyond that, you should be good to go. So, let's get to those 3 steps shall we?
3-Step Face How To
1. Prep with a primer. My favorite primer has been the Smashbox Photo Finish for YEARS. I've certainly tested out my fair share of others, but I keep going back to this one again and again and I think it's because, not only does it deliver in the shine free department, but it absorbs super fast. Remember, I'm in a hurry. You're in a hurry. We're ALL in a hurry most of the week! Nobody has time to rub in a slow to absorb primer for forever and a day. Am I right? 

2. Apply BB cream or tinted moisturizer with a brush. Using a foundation brush to put on your BB cream or tinted moisturizer gives you a more precise and smoother application. The more evenly covered your face is, the less likely you are to have to reapply. I'm a loyal Bobbi Brown BB Cream and Tinted Moisturizer user. The formulas aren't too heavy, aren't too light, they're just right! Forget the porridge, give this Goldilocks perfect coverage please! You don't need full on foundation to get quality coverage. Let that skin breathe baby!
3. Lightly dust on powder. We're all obsessed with Instagram right? Obvi. Who doesn't want to look like the perfect Insta filter has graced her face in real life? Well, my friends, you CAN thanks to the Makeup Forever HD Powder. Scout's honor. Not only is it the key to your 3-step face's staying power, but it gives a blurred out effect that's totally filter reminiscent. Just keep it light and use the right  brush or you'll ruin that natural makeup look we've been going for! The Bobbi Brown Full Coverage Face Brush is a solid choice.
See, I told my 3-step face was fast and easy! What other beauty problems can I solve for you mamas? Inquiring minds want to know! And before you head out, why not check out my take on when you should splurge on skincare. Hint...the answer is if you find something that works for you and you have room in your budget, you'll never regret taking care of your skin! Head on over to see which products I'm currently splurging on!
We were not paid for this post. It does contain affiliate links.