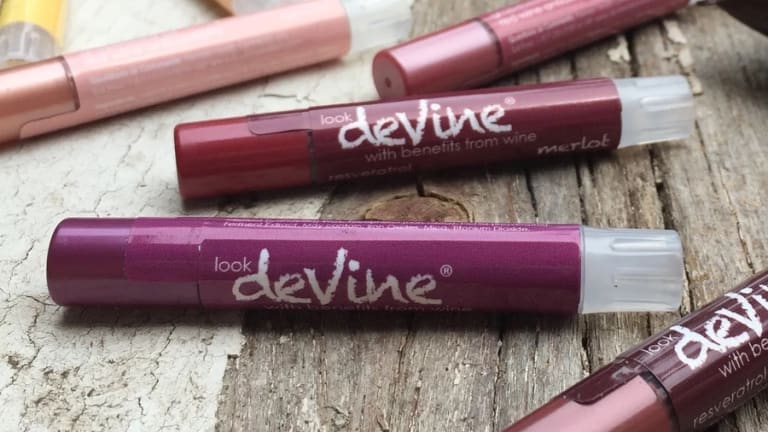 Why We Love Devine Lip Shimmers
We are loving the these new glosses infused with wine.
Are you a wine lover? Whether you are more of a Cabernet girl, prefer Bordeaux or the light flavor of Pinot Grigio, you can get all the benefits of wine from your beauty routine. We are loving the Lip Shimmers from deVine. The innovative lip shimmers from DeVine offer the beneficial properties of vineyard wine grapes by including Resveratrol, Grapeseed Oil, and Red Wine Antioxidants in each beautiful shimmer.
Related: Summer beauty shimmer and shine
Why We Love Devine Lip Shimmers
DeVine lip shimmers are not only unique (the only product line on the market of its kind) but are all natural, made in the USA and offer just the right amount of flattering shimmer. The DeVine lip shimmers go on smoothly, stay put without drying your lips and offer beautiful shimmer~perfect for that summer sheen that we all crave.
The line of Lip Shimmers are available in eight WINE-A-LICIOUSTM flavors of Champagne, Bordeaux, Rosé, Merlot, Chardonnay and Cabernet, Pinot Noir and Pinot Grigio. Check out the other beauty products from deVine such as bath soaps and body lotions and get all the health benefits of wine while looking your best!
I loved how gentle and not sticky they felt as I applied them to my lips throughout the day. They also gave off a subtle and natural color that also moisturizes and essentially left my lips with a nice glow. From Bordeaux that can lift your spirits to Merlot that can give your lips a luscious and dramatic look, deVine Shimmers are truly a magical lip shimmer that will truly make your lips healthy, happy and beautiful.
WANT MORE BEAUTY MVP'S FROM MOMTRENDS?
PIN IT!
Use Pinterest to save your favorite beauty finds. Be sure to follow our Beauty board here.