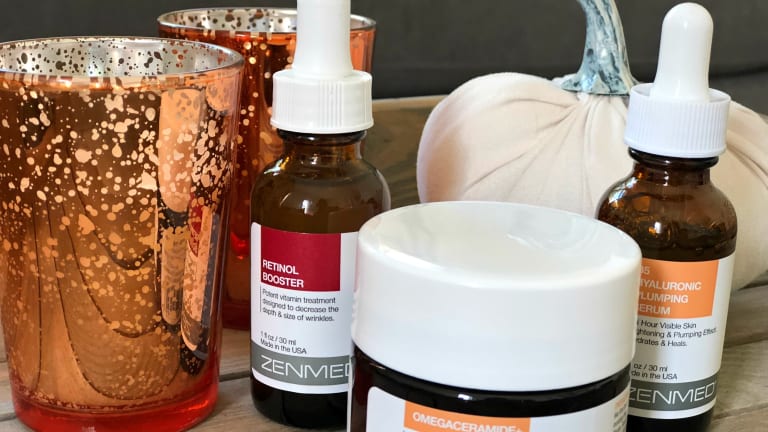 Publish date:
When to Splurge on Skincare
When is the right time to splurge on skincare? The answer is whenever it's within your budget. Now if preserving your skin isn't a priority, you're probably never going to feel great about dropping money on a skincare regimen. But if you want to protect the precious skin you were given, it's never too early to start caring for your skin and splurging when you can on products that deliver results. That's not to say that your whole routine must be filled with pricey products. That is simply not the case. I have used (and still do) plenty of drugstore skincare products that work great! But there are also those more premium type products out there that I love treating myself to.
Splurge On Skincare Yesterday
In fact, I recently became acquainted with a new line that I'm loving. You may remember when I talked about some of my go-to serums and the ZENMED Essential Eye Serum was one of them. Well, I tried out a few more ZENMED products and I'm loving them as much as I do the eye serum. Now with products typically ranging from around $20 to around $40, they're slightly more than drugstore prices, but considering how soft and vibrant my skin is right now, I'd say they're worth the splurge! And they certainly aren't as pricey as some of the luxury creams and whatnot that I've reviewed in the past...So, on that note, let me give you a little breakdown on some of the skincare products I'm using this fall!

When I say my skin is soft, I mean my skin is SOFT. The Recovery Moisturizer feels like an absolute dream going on. As part of the Anti-Aging+Calming Duo, it's ready to soothe your skin after you treat it with the Hyaluronic Pluming Serum. After using these two together, you can expect plumper (read younger looking) skin. And if you tend to have redness like this girl, you'll quickly see why I can't get enough. These products are specifically formulated for those with issues like Rosacea and extremely dry skin. I can't wait to see what my skin looks like a few months down the road if it's already looking this much better!
And then there is also the Retinol Booster. Any girl in her thirties should be acquainted with retinol. You don't want to wait until your wrinkles are deeply set before you start an anti-aging regimen. And retinol is a big part of my anti-aging fight. It tackles those fine lines that have popped up the past few years. Don't get me wrong. I'm perfectly ok with my age. All these wonderful years that I've lived have gotten me to this happy place in life...That being said, I'm not going to be upset if some of those years don't show up on my face. Bwah!
So, now that you know my answer to the when to splurge on skincare question, check out my fab fall hair care finds for some more beauty tips and tricks!
This is not a sponsored post. We were provided with samples.