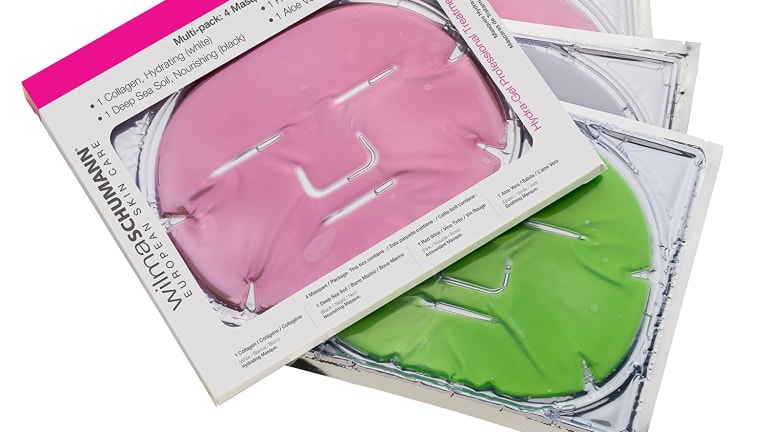 Try this refreshingly cool red wine face mask
Treat yourself to some self-care with a glass of wine and a red wine face mask.
We're excited to kick off a new weekly feature called "Saturday Sips." We'll be sharing everything—from creative cocktail recipes to nifty bar gadgets to DIY wine labels to beer-inspired beauty products (yes, you read that right), and so much more. Because, it's the weekend and, well, you deserve a drink. Or two. Tonight we're sipping and testing red wine masks. 
Related: DIY sweet potato beauty treatments
Testing the Red Wine Mask
So, what adult beverage is on the docket this afternoon? Well, it turns out that last night's vino indulgence is today's blog post!
After a long week, I needed some major TLC. And wine—I really needed wine. So yesterday, after I put the kids to bed, I decided to relax with a glass of Leese-Fitch Cabernet (a fave at just $12 a bottle) and the new Red Wine, Antioxidant face hydra-gel masque from Wilma Schumann Skin Care. (P.S. This amazing brand will soon be available exclusively at a CVS store near you—as part of a major beauty expansion... More on that another time!)
The Red Wine Hydra-Gel Masque helps fight off free-radicals and damage caused by sun, smoking, or stress. (I don't smoke, but I do sun and I certainly stress, so this treatment was very necessary!) Key anti-oxidant ingredients, such as Resveratrol, work as the first line of defense against environmental damage.
For 15 minutes, I enjoyed my warm full-bodied Cab with my cool full-face mask. It was indulgent, peaceful, and, yes, just a little silly!
The results? My complexion looks brighter, fresher, and more vibrant. Maybe it's the wine talking, but I think I look fabulous.
Turns out, red wine is good for the heart and great for the face.
Fill me up!
P.S. There are three remaining masks in my Wilma Shumann multi-pack and two glasses of wine left in my bottle of Leese-Fitch Cab. So, obviously, this is what tonight will look like... Happy Saturday Sips, friends!
MORE DIY BEAUTY IDEAS
PIN IT!
Save your favorite baby gear and ideas on Pinterest and follow along with our Beauty board here!
This is not a sponsored post. We were given samples for review. All opinions are our own.