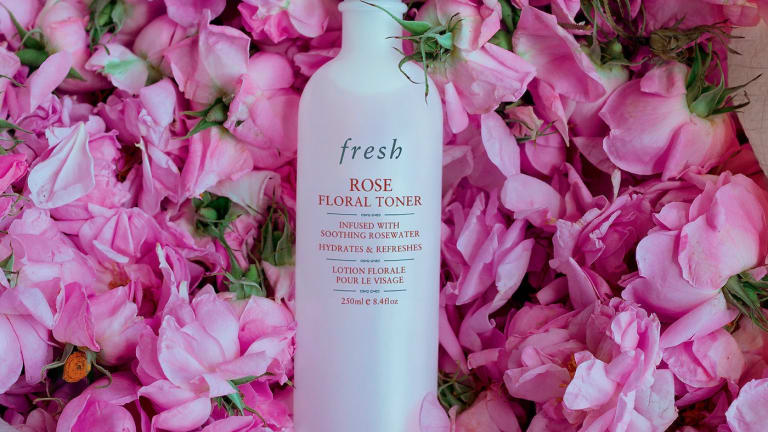 Treat Yourself to the Benefits of Rose in Beauty
With soothing and anti-inflammatory properties, rose petals can fight dullness and calm your complexion.
Roses are red,  violets are blue, self-love is important and good for you too! 
Happy Valentine's Day, friends! This week, I'm celebrating by showing myself some much-needed self-love and oft-neglected self care. That means I'm indulging in luxuriously long bubble baths, DIY spa treatments, and perhaps even a dry-bar blowout! 
Related: Best anti-inflammatory skincare products
And the key ingredient in my ritualistic routine will be... ROSES! Nothing says February 14, like a dozen red blooms. But rather than hit the floral shop, I'm going to get my bounty in beauty instead!
Roses aren't just pretty to look at, after all. They have some seriously amazing benefits. With soothing and anti-inflammatory properties, rose petals can fight dullness and calm your complexion. 
That's what I encourage you to be your own Valentine this week, and give yourself the gift of floral facials with these lovely products.
Kokostar Rose Sheet Mask, $7: The Rose Flower Mask Sheet features twelve individual rose petals in a variety of sizes allowing you to target specific areas of your face with intense nourishment. Infused with a botanically enriched serum the treatment works effectively to boost cell turnover and skin smoothness for a glowing complexion. Innovative and effective, the petals can be placed on other areas of the body, too, for head to toe beautification.
Fresh Rose Floral Toner, $40: Spritz this on for a boost of hydration. A moisturizing and soothing mist toner blooming with aromatic rosewater helps to save makeup and refresh the skin throughout the day.
Rosebud Salve, $6: This must-have lip balm calms and heals irritation, and soothes the sting of minor burns. Easy-to-use and versatile, dab it on chapped lips, elbows, or knees to condition and relieve dryness. It is also an excellent remedy for the treatment of diaper rash.
More Beauty Picks from Momtrends
PIN IT!
Save our favorite beauty tips and follow along for even more with our Pinterest beauty board!
This is not a sponsored post. It contains affiliate links. All opinions are our own.