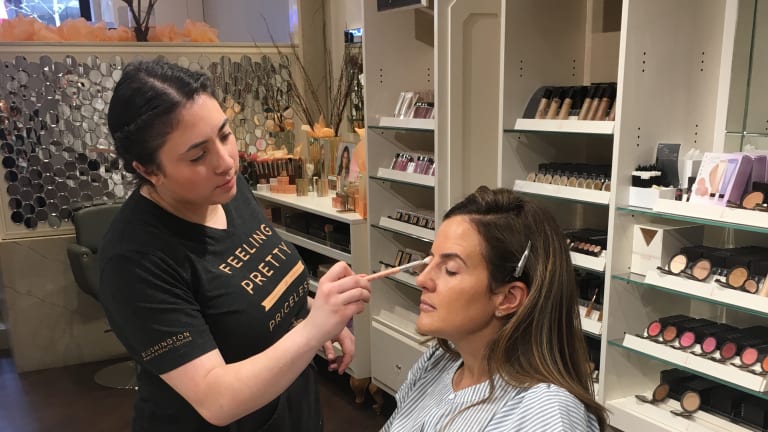 Treat Yourself to a Blushington Makeup Application
Pretty Options for Busy Moms
Beauty ruts are common amongst moms. For many of us, "lipgloss, sunscreen and go" is the best case beauty scenario. Sometimes a girl just needs a little pick-me-up. That's where Blushington comes in. Why not treat yourself to a Blushington makeup application this summer?
Why Treat Yourself to a Blushington Makeup Application?
It could be a big event on the calendar or a quest to figure out if the lastest makeup trend works for you (hello airbrush foundation?). The makeup pros at Blushington can help you with all your pressing beauty questions. Professional makeup is NOT just for weddings and prom. A few weeks ago I popped into the Upper East side location to find out what's new at Blushington.
A big trend is booking a subscription to Blushington, this is how you can make sure your makeup is flawless every day. For me, I want to polish my look for photo shoots AND I wanted to find some good new makeup recommendations. Blushington has been helping women with makeup since 2011. They have expert makeup artists and estheticians who can attend to almost every beauty question you have. 
Treat Yourself to a Blushington Tata Harper Mini Facial
I stopped in for the Tata Harper Glow Getter Mini Facial (add $20) with the Sara Hap lip treatment (add $10) and a professional makeup application.
The facial is a speedy way to give your skin a boost. You'll start with an exfoliation and then get a mask and hydration. The makeup artist removed the cleanser with a warm towel, it was quite pampering. I loved the Tata Harper products so much I ended up buying the cleanser. The mini facial took about 15 minutes and was extremely relaxing. 
The add-on Sara Hap lip treatment was perfect. My lips tend to get chapped and I loved how this three-step treatment left them moist and plump.
Blushington has a ton of little add-ons like this. Be sure to check out the menu before you book.
Treat Yourself to a Blushington Makeup Application
After my skin got its glow back, it was time for makeup. My makeup artist gave me a menu book to look at. I wanted something professional, polished and not too heavy. 
It's great to have a makeup artist that really listens. I was thrilled with the finished product - especially how she made my eyes pop. The process took about 20 minutes and it was extremely interactive. My advice: ask lots of questions so you can try the makeup tips at home.
What will it cost for a Blushington Makeup Application?
Prices vary depending on how much time is involved. A full face will be $68 and a red carpet look is $100. I like the "on the move" option for $40 - this is perfect for every day. And for teens, prices start at $50. 
There's a whole host of lash and brow options too. As I said, you really need to give yourself time to review the menu. You can also pop in for a class (how cute is the Dad & Daughter class that they offer?) 
If you really love the service, I recommend the Carte Blush. For $299 a month you can visit a location every day (there is a three month minimum requirement) if you work in media or do a lot of instagramming, this is your package!
Blushington Upper East Side also has a special "good hair day" offer. Come in with dry hair and you can get braids, beachy waves, a bun or a straight look for $35. 
What I purchased at Blushington
Blushington sells all the products they use, making it easy to replicate the look at home. Since I can never leave a beauty appointment without at least one new lip gloss, I got this Kevyn Aucoin Tulapina gloss and I adore that it's not sticky.
I've had a few breakouts lately (unbelievable considering I'm 40++). My beauty expert convinced me to try the Tata Harper cleanser. During the summer I need to keep the impurities away. This foaming gel cleanser is perfect for the filthy air in NYC.
I also wanted to update my first layer of defense on my face. I hadn't used Erborian before but I was really impressed with the  CC Creme. Though it comes out of the tube white, it quickly blends in to color correct and to leave skin prepped for makeup. I also like that it has broad-spectrum SPF 25. Most days I will just wear this, but when I want to look polished I can layer on the Erborian BB Creme au Ginseng Caramel. Thank you Blushington for this tip!
Book Your Blushington Makeup Application?
Blushington currently has five locations - two in LA, two in NYC and one in Dallas. They are opening one in Brentwood in June 2018 and the Southampton popup will open on July 4th. Book your makeup appointment at https://www.blushington.com/
This Treat Yourself a Blushington Makeup Application feature is not sponsored. Treatment was provided for review purposes and I purchased all the products.