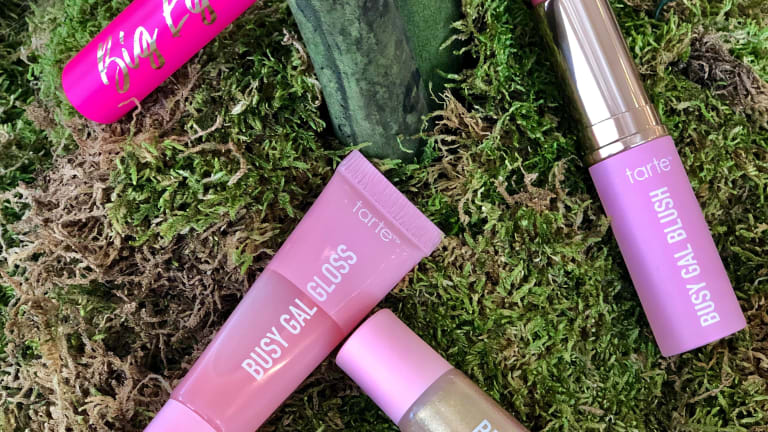 Hitting the road or the skies this summer? Whether you are traveling by boat or train, car or plane, trying to pack up all your beauty favorites can lead to a bulging beauty bag. The solution? Our four travel beauty tips for making it easy to pack your beauty essentials on your next trip.
I'm in the middle of trying to pack for two back-to-back trips this summer: a two-week European vacation and a two-week camping trip around the Western US. While the trips are vastly different from each other, both demand that I pack light and keep my beauty routine simple without having to sacrifice all style. Here's how I'm hoping to do it.
Rule 1: Make it a mini.
Limited space means the beauty tools and products I bring need to be compact and portable. Since I don't want to rely on the often sub-par hairdryers available in hotels and we are also doing some vacation apartment rentals on our trip, I need to make space in my suitcase for a hair dryer. Luckily T3 makes a mini version of my favorite hair dryer - the T3 Featherweight Compact - that folds in half to save space while still providing two heat levels, a cool blast option, and T3'sTourmaline SoftAire™ technology that helps seal the hair cuticle to battle my flyaways and keep my locks shiny. T3 also makes a mini flat iron that I'm considering though I think their Whirl Convertible Styling Wand may win out for space in my suitcase. Even though it's not technically a mini sized, the interchangeable wand heads means that the curling rod separates in half making it perfectly portable for good hair on the go.
Rule 2: Save space with sample sizes.
You know those freebie samples you get in magazines or with your foundation purchase? Or how the cashier line at Sephora has you snake between rows of eye-catching sample-sized products? Now's the time to use up those product samples or justify picking up a few favorites that you can't easily move into a mini bottle. I scored by getting a deluxe sample size of my latest foundation fav in my last Sephora order and am also eyeing sample sizes of loose powder and mascara. One of the great things about packing samples like these mini eye cream testers from BeautyCounter I got from a consultant friend is that when they are used up, I can simply toss them, making my cosmetic bag lighter and, you know, have more room for new purchases from my Parisian adventures.
Rule 3: Make it a multi-tasker.
This summer I'm looking to pack beauty products that are multi-taskers to save me both space in my carry-on and time getting ready on the road. Lately I've been loving these blush tins from Maskcara Cosmetics. With seven shades to choose from ranging from bold wines to natural neutrals to pretty pinks, these blush tins work just as well on your lips as they do on my cheeks. I love how I can mix and match the shades to create different looks and apply them with my fingers, so I don't even need to pack a brush (though the Maskcara blush brush is divine!).
So instead of packing all of my lip sticks and blushes (top) which is too much for our European vacation and impractical for camping, I'll just be bringing along these four cute tins that provide me a range of options for cheeks and lips. Plus, how cute are those tins??
Rule 4: Eliminate products with with a pre-packing solution.
Another great way to save on space is to take a little time before you leave for some pre-trip primping to save on what you pack. I have one friend who gets a Brazilian blowout before her travels to prevent having to bring as many hair care products. Another friend opts for a spray tan before a week away to limit her need for foundation. This summer, I'm hoping to try lash extension so I can skip packing mascara and eye makeup remover and cut down my beauty routine both in the morning and at night.
What are your travel tricks for packing your beauty supplies?
Momtrends was not paid for this post. Some samples were provided. Purchase links may be affiliate links.