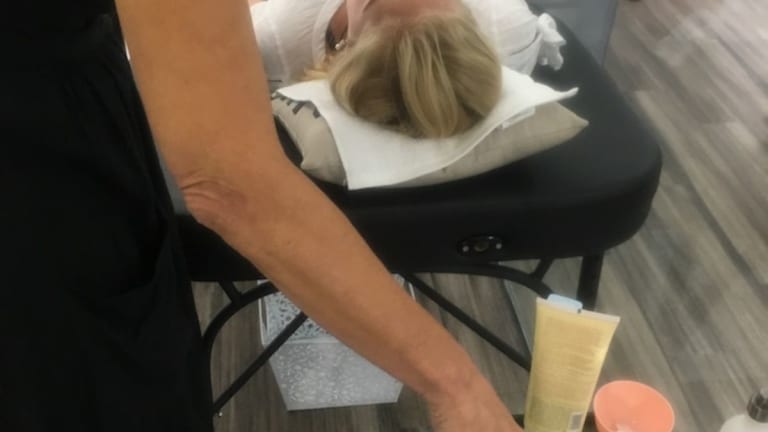 Tips for Taking Care of Teen Skin
Momtrends had the BEST intern this summer. Lily joined us for a week in August and took some amazing photos and (I hope) learned a ton about social media. Since we talk about skincare so much at Momtrends, I wanted her to experience writing about it.
Related: Acne solutions that work for boys
To tackle the topic, Tips for Taking Care of Teen Skin, I set up a meeting with my friend at the City Chemist. They have wonderful stores brimming with delightful skincare goodies, but, better yet, they have a trained staff. The team there makes expert recommendations and knows the ins and outs of all the different product lines. Diana treated Lily and my 12 year-old-daughter to facials. In her session with each girl, she gave skincare tips just for teens.
Lily, wrote up her experience here...
Tips for Taking Care of Teen Skin
Hey girl, yes you, I'm talking to all teens and 'tweens. Don't you ever feel like your skin is gross? Do you cower if you get even a small pimple or blemish?
We all do, so why not treat you skin. This week Momtrends headed to City Chemist to educate ourselves about skincare and get some facials while we were at it. We met with a "skintritionist" who analyzed our skin. Here's the thing: you've got to know what you are working with before you begin. On me, Diana noticed slightly sensitive skin, so she picked products accordingly.
After the analysis, Diana gave us face masks best for our skin type. My skin is very sensitive, so I learned a lot about which products work best for my sensitive skin. Diana recommended two lines that City Chemist carries, Fresh and Avene.  She picked these because they are not too aggravating to the skin, but they deep cleanse as well as shrink the pores.
Tips for Teens
Teen Tip: Be wary of certain harsh exfoliators. Diana feels it's too rough on sensitive skin.
Chillaxing time...The facial experience was pure bliss. After cleaning my skin with Fresh Soy Face Cleanser, Diana put a Fresh Umbrian Clay Purifying mask on my nose and forehead (those are the spots that contain the most oil causing more breakouts). Next, she used a Fresh Rose Mask which she applied on my cheeks, this hydrates the skin when it's dehydrated. It also moisturizes and deep cleans.
It's heavenly! The products not only smelled incredible, but my skin felt great. After cleansing and applying my mask, it was time to moisturize. Diana used a facial roller to apply eye cream and my moisturizer. This trend is one that is not to be missed because whether you go out for a facial or have a relaxing facial at home, anybody can take part.
I learned a ton from Diana, and though I can't always stop in for a facial at City Chemist in DUMBO, I can take great care of my skin with the products she recommended.
Diana did a great job with the girls. Lily really "soaked" it all in. I knew she'd be great for this assignment because it seems like all the teen girls are crazy about skincare. They love the inexpensive masks they can buy at drugstores and pharmacies to do little spa treatments at home. How can you go wrong with this trend!
The teen facials at the DUMBO location are a great way to encourage your girls to take better care of their skin. I remember my mom taking me to the Clinique counter when I was 14 and getting me the three basics: soap, toner and moisturizer. Now it's my turn. A huge thanks to Diana for the skincare tips and treats. 
MORE IDEAS ON PARENTING TEENS FROM MOMTRENDS
PIN IT!
Use Pinterest to save your favorite ideas from Momtrends. Be sure to follow our Parents of Teens & Tweens board here.
This is not a sponsored post.