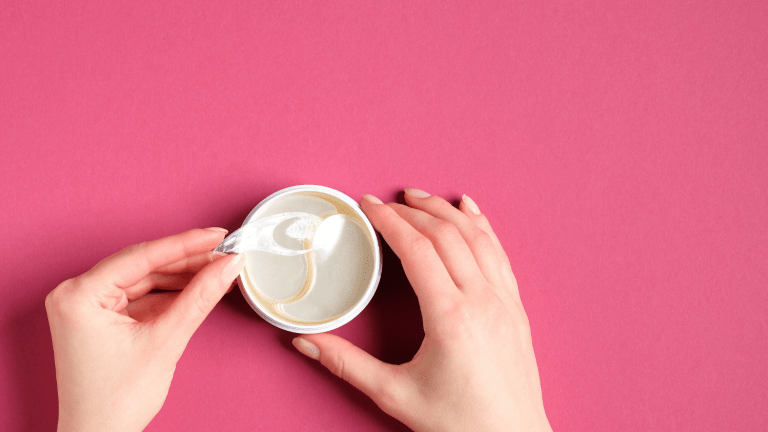 Momtrends MVP'S: The Best Dark Circle Treatments for Under Your Eyes
Our favorite creams, serums, and masks that tackle a multitude of issues for women with dark under eye circles.
If I could only use one skincare product for the rest of my life, it would be eye cream. I have a fair complexion which means my dark circles are no joke. And the older I get, the more prominent they become.
Fair-skinned people typically have thinner skin which means under-eye circles are more prominent. Plus, being an over-mom who could probably use more rest who suffers from seasonal allergies doesn't do me any favors. It's a recipe for dark circles. Sigh.
Thankfully there are plenty of under-eye treatments out there to help all of us who would like to diminish those dark circles. And that is our Momtrends Beauty MVP's topic of choice today. Let's banish those under-eye circles together, shall we?
Why You Need an Under Eye Treatment
Let's be real. Many of us are in the anti-aging product-loving stage of our lives and tired eyes look anything but youthful. When you target dark circles, you reveal younger-looking skin.
Wearing oversized sunglasses might be one of my favorite tricks, but I prefer it when my eyes are in such great shape that I only wear those sunnies for style, not to cover angry under-eye circles.
Now your under-eye treatment needs might be more than dark circle banishment. Perhaps you also want to de-puff, fight fine lines and hydrate that delicate skin too. Never fear, I included a bunch of creams, serums, and masks that tackle a multitude of issues!
Best Puffy Eyes Cream
Oftentimes under-eye bags and dark circles go hand in hand and at the very least puffiness. This Fenty eye cream will tackle both AND it's a primer to boot. Did I mention it's super hydrating too? This product does so much it's the secret weapon you never knew you needed and won't be able to give up once you try it!
I love how after you use this Fenty eye cream you're primed and ready for a concealer which you will need far less of thanks to the way it brightens and firms the skin under your eyes!
Fenty Flash Nap Instant Revival Eye-Gel Cream 
Best Eye Patches
Much like a strong cup of coffee wakes you up in the morning, these patches wake tired eyes up! Caffeine is a powerhouse ingredient that helps de-puff eyes. Think of this mask as your go-to product to turn to when you were up too late the night before.

I love how soothing the hydrogel is for dehydrated skin and how smoothing it is over fine lines. Bye-bye crow's feet! I may not use eye patches every night, but I always use them when I want to look super refreshed.
Good Molecules Caffeine Energizing Hydrogel Eye Patches
Best Retinol Eye Cream
Retinol is another ingredient that's a vital part of my skincare regimen. This retinol eye cream from Murad tackles your current wrinkles and prevents future issues as it releases a dose of retinol over time even after that initial instant dose.

What makes this eye cream so special for me is that it not only helps your under eyes look younger, but it's effective ALL around your eyes and on your lids too! I'm talking smoother, firmer, more supple eyes from one cream.
Murad Retinol Youth Renewal Eye Cream

Best Vitamin C Eye Serum
Vitamin C is yet another ingredient that I live for. It's a miracle worker for dark spots and, no surprises here, it works against dark circles too. And it's yet another product that fights puffiness and fine lines too. Vitamin C is potent and can lead to irritation sometimes, but this formula was specifically created with delicate skin in mind.
I really love how this eye serum reduces the look of both blue AND brown-toned under-eye circles. I have blue, and my friend has brown, yet we can use the same serum!
Kiehl's Powerful-Strength Dark Circle Reducing Vitamin C Eye Serum
Best Fast Absorbing Eye Cream
Typically we select our skincare products based on what type of skin we have. If we have oily skin we don't want to over hydrate it or under hydrate it because both situations can make your skin produce even more oil, so we need the right product. Well, whether you have oily or dry skin this eye cream will do the trick and hydrate your under-eye area. And it's illuminating too. So, your dark circles will be lighter and your eyes brighter!
I particularly enjoy how fast this eye cream absorbs. I'm a five-minute face kind of girl, so I don't want to have to wait long in between my eye cream and concealer steps.
Peach & Lily Saturday Skin Wide Awake Brightening Eye Cream
Best Green Eye Cream
If you prefer green products, you probably want green eye cream since it's a product you use every day. Well, it's a product you should use every day in my humble opinion. I actually use it twice a day and sometimes if that area is feeling extra dry I'll dab it on during the day too. I'm sure you will want to as well once you see how well this cream takes on your dark circles.
I love how gentle the formula of this eye cream is. And the anti-inflammatory properties are pretty darn fabulous too. I have a problem with inflammation all over my body, so I am thrilled when products address that.
100% Pure Coffee Bean Caffeine Eye Cream
Best Lifting Eye Serum
If anti-aging is your focus this eye serum will firm, lift AND fight dark circles. My eyelids love a little lift, haha! And they even suggest popping that eye cream on between your eyes. Why didn't I think of that? I focus on the skin under my eyes and upon my lids, but not between. I can't wait to try this trick.

But it's really the lifting that does it for me. I'm at the stage in the game when a fresh, youthful appearance is worth its weight in gold.
Korres Black Pine 3D Eye-Lift Super Serum
Best Leave on Eye Mask
I use an overnight face mask regularly and sometimes I add an overnight eye mask to the equation too. Your skin feels so good in the morning after being treated all night! The Vitamin E in this formula is super soothing.
I love how after using this eye mask I wake up with a firmer, brighter under-eye area. Sleeping nourishes my body and the mask nourishes my eyes!
Elina Organics Leave On Under Eye Recovery Mask
So, are you ready to get rid of those dark circles and tackle your other under-eye skin issues too? I can't wait to hear which eye treatment helps!
Stay tuned for our next Beauty Momtrends MVPs list…
More Momtrends MVP's Winners
Follow the Links Below:
Pin It!
Save your favorite baby gear and ideas on Pinterest and follow along with our Beauty board here!
How we pick our winners
Momtrends MVP's is a non-sponsored series. Brands must meet our strict standards to be included. When naming winners we take several factors into account, including expense, convenience, and style.
We make our picks annually based on editors' research. In some instances, we may request and receive samples so that we can more thoroughly assess products. Our opinions are our own, and our goal is to help our community of moms make more informed decisions on everything from baby gear to beauty products to vacation destinations and more. We scour the abundant options and painstakingly hand-pick our favorites, so you don't have to. Our hope is that our most valuable players become your most valued purchases.