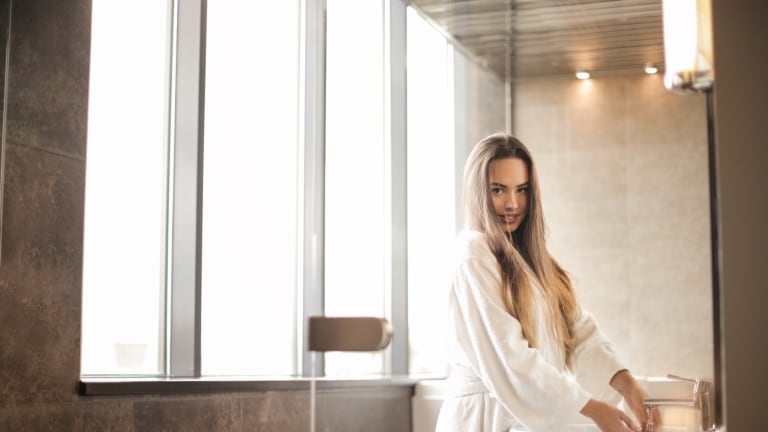 Publish date:
Three Tips for Smoother Skin
We shared three easy tips for how to get smoother skin. From Vitamin C treatment products, to peels and even sheet masks, we've got you covered!
We shared three easy tips for how to get smoother skin. From Vitamin C treatment products, to peels and even sheet masks, we've got you covered!
Refining the texture of my skin is always a focus of my skincare routine. It seems the older I get, the ruddier my complexion gets, so I'm forever on the lookout for ways to get smoother skin. Hey, I'm full on enjoying my thirties, but I wouldn't mind it if my skin looks like it's twenty something. Bwah! So, while traditional masks and renewing creams are already a part of my smoother skin regimen, I now have some more tricks up my sleeve that are helping in my smoother skin quest too!
Related: Perfect makeup for a low key summer
Vitamin C
I've been singing Vitamin C's praise for years and I'm not stopping any time soon. Vi Derm Complete Care product comes complete with Vitamin C, Glycolic Acid AND Retinol. Talk about your anti-aging powerhouse! It can help repair your skin's existing damage (let's face it, we all have it at this stage in the game) leading to, you guessed it, improved texture. If you're not a multi-step kinda girl when it comes to your beauty routine, this product is for you. It packs quite a punch!
Peel
The Anew Clinical Retexturizing Peel can be used in place of the chemical peel you're not quite ready for at the doctor's office. What you can get ready for is smoother, brighter and YOUNGER looking skin. This miracle worker helps resurface your skin without drying it out. Not having dehydrated skin after treatment is worth trying it for alone! Not to the mention that you'll see results after using it just two times a week. I found that extra time easily. I guarantee you have a few moments to spare too!

5 Pretty Ways To Organize Your Jewelry
I admit - I'm guilt. Despite my best efforts, my "jewelry drawer" has become a tangled mess of necklaces, bracelets and earrings. This cluttered collection not only makes it hard to see what I have, but difficult to untangle the pieces I do want to wear! This summer, I'm ...read more
This Year's Coolest Jumbo Pool Floats
Pool season is almost here! I can't wait to relax, read a book, and sip a cocktail while lazily drifting in an oversized float. (Just kidding, I have two toddlers--but a swim mama can dream, right?). If you've got a staycation planned, check out this year's coolest jumbo pool ...read more
Crystal Clear and Pristine: Pool-Cleaning Tips
Tropical Storm Isaiah gave us quite the midsummer surprise here in the suburbs of New York City. We just got our power back on after a whole week of darkness! With trees down, debris everywhere, and lots of uncertainty, one thing we forgot to check on: our above ground Intex ...read more
At-home Peel Pads
These Dr. Gross pads are simple to use and they give fast results. A patented two-step anti-aging AHA/BHA peel pad pre-dosed with five acids to visibly reduce dullness and uneven texture, pores, and dark spots. It's is a great way to finish out your skin smoothing routine. The formula both moisturizes and refines your pores. We all know that noticeably enlarged pores do not make for smooth textured skin right? And, on a side note, my skin feels much firmer after I use this mask. Just sayin'. Get them on Sephora here.
MORE SUMMER BEAUTY FEATURES FROM MOMTRENDS
PIN IT!
Use Pinterest to save your favorite beauty finds. Be sure to follow our Beauty board here.
So, there you have it...My three tips for smoother skin. Try just one of them and I guarantee your skin will feel and look better!
We were not paid for this post. We did receive samples.
For even more Momtrends, follow us on Facebook, Twitter, Pinterest and Instagram.