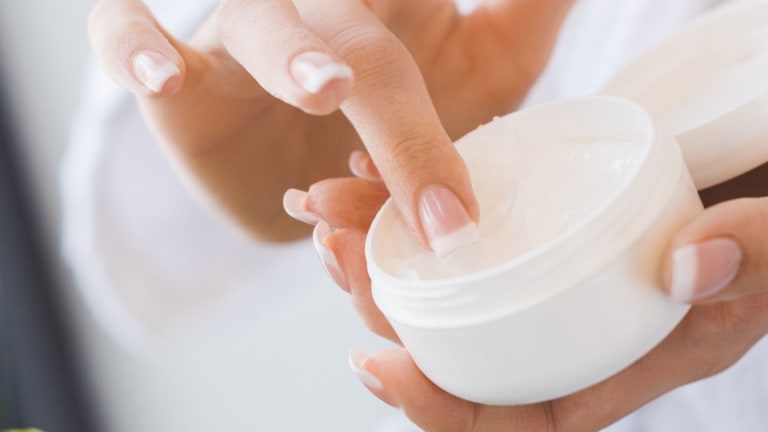 If you know me in real life, you know I'm kind of a face mace junkie. I've even turned many a lady here at Team Momtrends onto my favorites like the Kiehl's Turmeric & Cranberry Seed Energizing Radiance Masque for instance. Well, I'm back with some more face mask love because you know I'm over here forever testing another one out so I can give you the skinny on the latest beauty must haves...and the ones I'm sharing today are definitely must haves. 
They're face masks to try NOW. And these masks are especially perfect for summer when you tend to want a pared down beauty routine, but you don't want to totally neglect your skin. Ok...Shall we get started? Great! And away we go...
Since we we were talking about Kiehl's, let's start with another of their face masks that I'm all over. This Cilantro & Orange Extract Pollutant Defending Masque was made for you city dwellers. Your skin is faced with harsh exposure to pollutants and the elements daily, so it just makes good since to add something to your skincare routine that will combat that! Take some time to detoxify and replenish that precious skin of yours. You won't regret it!
I got this Karuna Hydrating+ Face Mask in one of my FabFitFun boxes and it's just what you fellow dry skinned folks need. I know my skin always feels dehydrated even in the summertime and I love the deeply moisturizing feeling that a mask focused on hydration can give me! Plus, this one has hyaluronic acid which is one of my current favorite anti-aging ingredients. And who does't love a sheet mask? You know this girl does!

Save Money at a Ski Swap
Are the slopes in your future? If you want to save money on ski gear, consider a ski swap. A swap is a great way to buy and sell used equipment. Most swaps consist of a variety of gear, from brand new to used skis and snowboards to skis; from poles to boots to bindings and ...read more
The Ten Best Wooden Play Kitchens For Kids
Cooking is a timeless fascination for children. This type of play goes beyond gender and teaches kids loads of life skills along the way. An investment in a play kitchen is money well spent, as it can provide hours of entertainment. We've rounded up the ten best wooden play ...read more
New Victory Announces a New Season of Shows
We know you're busy planning picnics and summer outings, but we wanted to let you know that The New Victory just announced their new season and it looks fantastic. We thought you'd like a sneak peek of what's in store! Each year the New Vic theater brings culture to tourists and ...read more
And finally we have the last of my recommended face masks to try, the CVS Cucumber Cooling Peel Off Facial Mask. I know I'm not the only girl obsessing over peel off masks at the moment right? This one is ridiculously soothing making it perfect for those times when you might have gotten a little too much sun. Even if we're hyper diligent about sunscreen, it happens to the best of us from time to time right?
So, there you have it. I've given three fabulous face masks to try now. Now go forth and pamper yourself with a little extra skincare action!
MORE SUMMER BEAUTY FEATURES FROM MOMTRENDS
PIN IT!
Use Pinterest to save your favorite beauty finds. Be sure to follow our Beauty board here.
We were not paid for this post. It does contain affiliate links. 
For even more Momtrends, follow us on Facebook,Twitter,Pinterest, and Instagram.