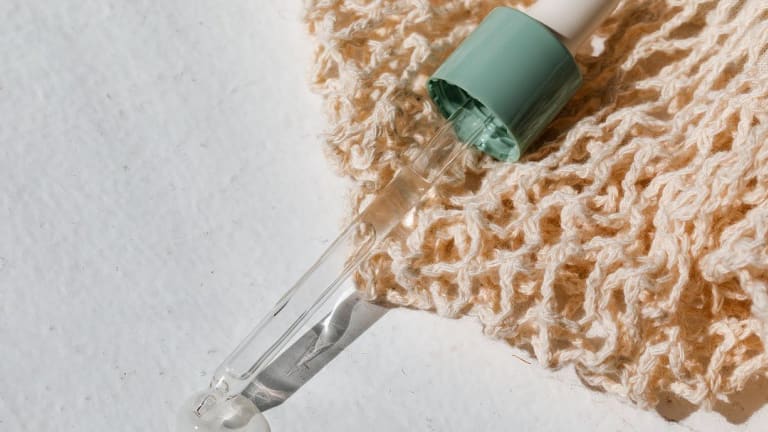 Momtrends MVP'S: The Best Waterless Beauty Products
Waterless beauty products are known for being more sustainable and having a higher percentage of active ingredients than those that contain water. Read on for our new favorite waterless beauty products that we think you should add to your regimen.
In our best sustainable beauty products Momtrends MVP's piece, we focused a lot on eco-friendly ingredients and packaging, but there is another sustainable element to think about, water. And that is why today's topic at hand is the best waterless beauty products.
Many beauty products are actually made up of mostly water. And with water scarcity being one of our planet's major issues, overconsumption of water-filled products is a problem.
Happily, waterless beauty products have become more and more popular and are, therefore, readily available to most of us. There are plenty of options for everything from cleansers to serums and beyond.
On that note, let's dig into why waterless beauty products are a good idea a little more…
Why You Should Try Waterless Beauty
Why do you need waterless beauty products? As I mentioned, if you care about sustainability, substituting waterless products for some of those currently in your routine is a great way to help support the planet. The lack of access to water is a global crisis that affects too many regions around the world.
So, reducing water usage takes care of one solid reason to try waterless beauty products. Another reason is that they contain higher amounts of active ingredients making them more effective because water isn't there to dilute them. Work smart, not hard friends.
And with that, I bring you some of my favorite new waterless beauty products. I am willing to bet that there is at least one you'll want to try STAT!
The Best Waterless Gel Cleanser
If you have acne-prone skin, you are probably already familiar with gel cleansers. They aren't oily and give your skin a good clean.
Aloe Attiva pH POWERBALANCE does all that without the added water AND it works as a solid makeup remover too!
I love that it still feels hydrating even with the deep cleaning properties! It's hard to achieve both and this waterless cleanser succeeded! So, it works for my somewhat dry, sensitive skin too.
Get Aloe Attiva pH POWERRBALANCE here.
The Best Waterless Face Balm
Another product that can function as a waterless makeup remover and more is One Love Skin Savior Multi-Tasking Wonder Balm. In fact, it can be used as a face mask or even on extra dry or chapped skin areas.
This waterless face balm is really named right! This is the kind of product that travels well because it does so many things, you can cut down on the products you pack!
And I love how very little you have to use to achieve results. Skin Savior is super concentrated so you need little more than a pea-sized amount at a time!
Get One Love Organic Skin Savior here.
The Best Waterless Face Mask
If you want a dedicated face mask, the Terra Beauty Bar Match Sea Clay Dry Mask is a great waterless option! Plus, it's all natural and vegan too. I mentioned that because I know it's very important to many of you.
Just like with most of the waterless beauty products here, a little goes a long way with this dry mask. That means you don't have to replace it as often as other masks.
The Matcha Sea Clay Dry Mask is filled with antioxidants. I love being out in the world, but I don't love what environmental pollution does to my skin. This mask fights free radical damage while leaving skin glowing!
Get Matcha Sea Clay Dry Mask here.
The Best Waterless Serum
Most of the time I use a serum in the daytime and stick to night cream and sometimes a face mask at night. Well, this next Momtrends MVP'S pick has me switching up my routine!
Milk Makeup Melatonin Overnight Serum is waterless of course. That is what today's focus is after all. But it's so much more!
Not only does this Milk Makeup night serum have one of my go-to moisturizing ingredients, hyaluronic acid, but it also has topical melatonin in it so it's relaxing too. And that secret ingredient is why I love it so much. Just slick it on before your favorite nighttime moisturizer and you're good to go!
Get Milk Makeup Melatonin Overnight Serum on Amazon here. (note: this is an Amazon Affiliate link)
The Best Waterless Shaving Stick
What if I told you that you could shave without water? How many times have you tried to get a spot you missed or quickly shave that bikini line and ended up totally irritating your skin?
Hanni Shave Pillow is a hydrating stick that solves that problem. You simply slick it on, shave and then rub in any leftover product.
You can bet that Shave Pillow is another waterless product that is landing on my travel must-haves list!
Get Hanni Shave Pillow here.
The Best Waterless Body Wash
A shaving stick probably isn't too hard to believe in, but what about waterless body wash? That exists too!
Ok, Everest Waterless Body Wash Concentrate is meant for the shower, so you need water to use it, but it doesn't contain water which means it's super concentrated and has over 30 washes in each tube!
I love how gentle and environmentally friendly Everest Waterless Body Wash Concentrate is, while also being super effective at hydrating your body's skin! Clean ingredients and zero waste packaging for the win!
Get Everest Waterless Body Wash Concentrate here.
So, now that you have some super effective skin care options to choose from, are you ready to stock your bathroom with waterless products? I knew you would be! Start with one and I bet you'll be ready to add more in no time!
The Best Waterless Shampoo
Solid shampoo is great in theory, but it doesn't always translate to an effective product especially if you have dry hair like this girl. Ethique was up to the challenge!
Their Frizz Wrangler Solid Shampoo is made with hydrating coconut oil and cocoa butter. Plus, it's soap-free.
But my favorite part about the Frizz Wrangler Solid Shampoo is that it's safe for color-treated hair! I can feel great about using it while also protecting my investment, bwah!
Get Ethique Frizz Wrangler Solid Shampoo on Amazon here. (note: this is an Amazon Affiliate link)
The Best Waterless Dry Shampoo
And the shampoo fun isn't over. Well, the dry shampoo fun isn't over that is, haha! I am a firm believer in keeping a good dry shampoo on hand to extend blowouts and save the day when you don't have time to wash your hair.
You know like when you squeezed in that workout, but only had time for a quick body rinse before you picked your kid up from day camp…or is that just me?
The Earthling Co. Dry Shampoo is a waterless product that does an amazing job at getting rid of the grease and giving your roots a nice boost!
Get The Earthling Co. Dry Shampoo here.
Please stay tuned for our next Beauty Momtrends MVP's list…
More Momtrends MVP's Winners
Pin It!
And don't forget to save our favorite beauty tips and follow along for more with our Pinterest beauty board!
How We Pick Our Winners
Momtrends MVP's is a non-sponsored series. Brands must meet our strict standards to be included. When naming winners we take several factors into account, including expense, convenience, and style.
We make our picks annually based on editors' research. In some instances, we may request and receive samples so that we can more thoroughly assess products. Our opinions are our own, and our goal is to help our community of moms make more informed decisions on everything from baby gear to beauty products to vacation destinations and more. We scour the abundant options and painstakingly hand-pick our favorites, so you don't have to. Our hope is that our most valuable players become your most valued purchases.