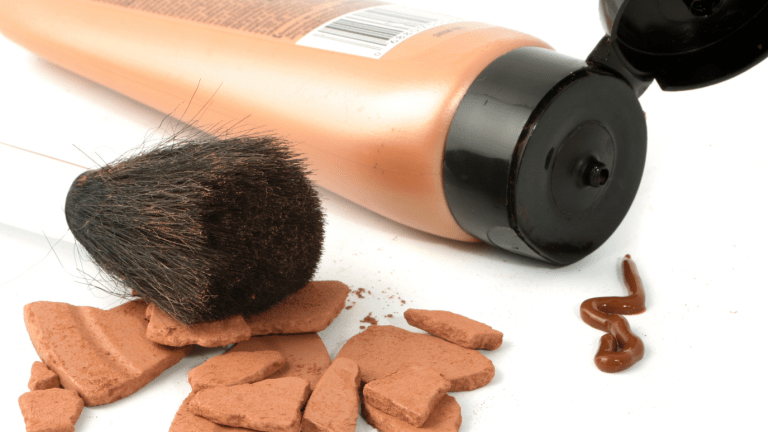 There's nothing healthy about a tan but nothing sexy about pasty pale. Conundrum. Since savvy beauties shun the sun (a far cry from Coco Chanels first intentional tan in the 1930s), we turn to sun-kissed color from a bottle. But self tanners require a bit of TLC when applying. We're sharing the secrets of using self tanners.
Related: Our favorite self tanners
9 Tips for Using Self Tanners
With May as Skin Cancer Awareness Month and our high wedge sandals shimmying head-on into shorter skirt season, here are a few tips for applying self-tanners.
Exfoliate beforehand. Give yourself a nice dry brush before your shower, instead of using a salt or sugar scrub that can leave behind oil on your skin.
Keep your hands clean. Use plastic gloves from at-home hair color kits.
Don't go too dark. Just don't. Choose a shade that might match your natural sun worshipping self.
Customize the mix. If you're nervous that you grabbed a too dark formula, get a lighter glow by mixing 1/2 lotion (oil-free or it'll be Streak City) and 1/2 self-tanner.
Protect Your Hair. Apply body lotion around your hairline and eyebrows prior to self-tanning application so you don't discolor your hair.
Buff it out. After applying the cream to your body, use a tube sock put over your hand a la sock puppet and rub in circular motions to ensure no areas have too much tanner.
Rely on tools. Use makeup sponges to apply to face, tops of feet and tops of hands.
When you're done, put a quarter-sized dollop of hand cream on your hands and rub it in around the wrists to blend any tan lines. Do the same with your feet.
Spot remover. Mess up? Panic not. Lemon juice mixed with sugar, rubbed in small circles at the offending streaky spot should do the trick.

Save Money at a Ski Swap
Are the slopes in your future? If you want to save money on ski gear, consider a ski swap. A swap is a great way to buy and sell used equipment. Most swaps consist of a variety of gear, from brand new to used skis and snowboards to skis; from poles to boots to bindings and ...read more
The Ten Best Wooden Play Kitchens For Kids
Cooking is a timeless fascination for children. This type of play goes beyond gender and teaches kids loads of life skills along the way. An investment in a play kitchen is money well spent, as it can provide hours of entertainment. We've rounded up the ten best wooden play ...read more
New Victory Announces a New Season of Shows
We know you're busy planning picnics and summer outings, but we wanted to let you know that The New Victory just announced their new season and it looks fantastic. We thought you'd like a sneak peek of what's in store! Each year the New Vic theater brings culture to tourists and ...read more
WANT MORE BEAUTY MVP'S FROM MOMTRENDS?
PIN IT!
Use Pinterest to save your favorite beauty finds. Be sure to follow our Beauty board here.