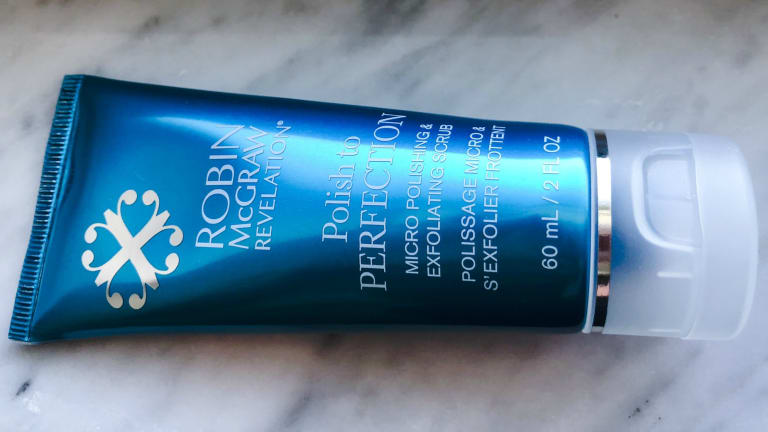 The Robin McGraw Skin Care Product You Need Now
Check out our Robin McGraw Revolution Skincare review for all the details on the exfoliator you need now to take care of your dry skin!
Have you ever shopped a celebrity beauty line? I think at this point most of us could say yes to that question. But the bigger question is, did you like what you bought? That answer isn't always a slam dunk yes, at least not for me. I have to admit that I've been swayed by an infomercial or two, only to be disappointed when I tested out the product once it arrived. And the worst part is, most of those said purchases weren't exactly bargains. Sigh. Well, I'm happy to say that this is not the case with the Robin McGraw Revolution Skin Care product you need now. Hey, if my skin can look as smooth as Dr. Phil's wife down the road, I'll be one happy girl. Bwah!
Related: Perfect makeup for a low key summer
Robin McGraw Revolution Skincare Review
That's right. If you have dry, dull skin thanks to winter, you're going to want to exfoliate with the Robin McGraw Revolution Polish to Perfection Micro Polishing and Exfoliating Scrub. Thanks to the previous season, my skin has been in serious need of some exfoliation so I can rock the bare face look I prefer when the weather warms up. Soft, smooth skin looks much better without makeup than dehdyrated, ruddy skin. Wouldn't you agree?

Now not only does this particular exfoliator buff away dead skin, but it soothes it too. If you exfoliate regularly, you know that's why you need this product. A soothing element is nearly unheard of in exfoliators. And it's rich in antioxidants which will help you protect your skin from the elements when you step outside. How's that for multi-tasking? If you've read my beauty posts before, you know how much I prefer multi-tasking products. Take care of all my issues, not just one, won't you? Bwah! Did I mention that it can help stimulate collagen production too? Hello firmer skin!
Ok, I think you're ready to add exfoliating to your skincare routine right? Use this product at least once a week and I bet you'll see a difference. I always do. I've slacked off on that step in my beauty routine from time to time and I always see a difference in my skin fairly quickly when I work it back in. And once you've done that, you can continue on with the skin healing by spritzing on some hydrating face mist. Because no skin looks healthier than properly moisturized skin in my book!
MORE BEAUTY FEATURES FROM MOMTRENDS
PIN IT!
Use Pinterest to save your favorite beauty finds. Be sure to follow our Beauty board here.
We were not paid for this post. We did receive samples and it does contain affiliate links that could generate income for us to help us bring you this site.