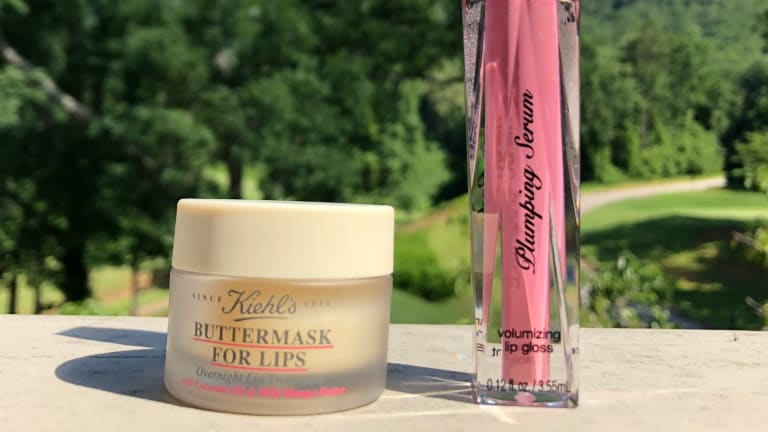 The Perfect Summer Lip Color
Give bold colors a break this season and opt for the perfect summer lip color instead...
What do you think the perfect summer lip color is? Well, I'm going to tell you what I think it is. Haha! If you know me in real life you know I LOVE my uber bright lipstick. On any given day you'll typically find me sporting some form of bright red, pink or coral. But this summer I've decided to give some subtle shades a chance to shine. Let's talk nudes. Now I love a nice nude lip color on other people, but on me? Eh. I always seem to look washed out. That was until I find my new go-to natural looking lip color...
The Hard Candy Plumping Serum in Birthday Suit (how perfect is that name) is a lovely nude/pinkish hue that I'm finding myself turning to again and again. It's like my own lips' natural color, but better. And not only does it leave a perfectly subtle wash of color, but it doesn't feel too thick or sticky either. It's a lightweight volumizing gloss that simply belongs in your makeup bag. Are you starting to see why this lippy is the perfect summer lip color? I love it so much, in fact, it just might be my go-to fall lip color too. I'm a sucker for anything that I can slick on in the car without needing a mirror. Bwah! Plus, that volume y'all. Who needs injections?

Now I may have gotten a little ahead of myself. No lip color is going to look its best if your lips aren't in shape. Enter the Kiehl's Buttermask for Lips Overnight Lip Treatment. If your lips are at all dehydrated you're going to want to try this treatment. I admit...I may be a bit biased as I'm fairly obsessed with all Kiehl's masks (hello Turmeric & Cranberry Seed), but I doubt you'll be disappointed if you're willing to give the Buttermask a whirl! It can treat your dry, flaky lips overnight! THEN you'll be ready to rock the perfect summer lip color!
And for more beauty tips and tricks, check out what we think is the only eyeshadow palette you need this summer!
We were not paid for this post. It does contain affiliate links.