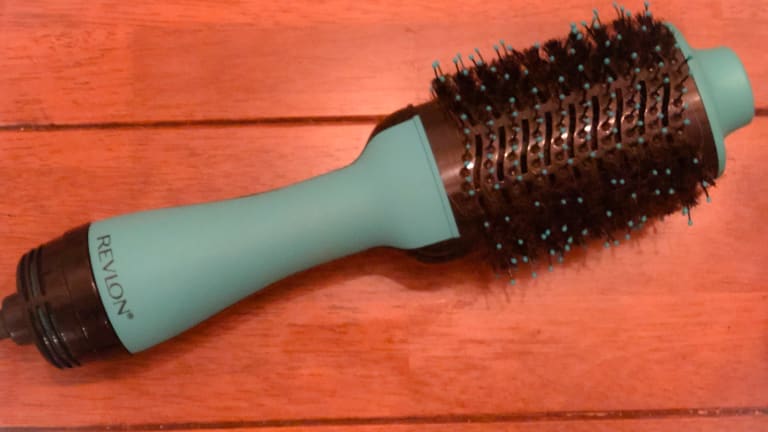 The One Hair Tool You Need Right Now
I, like many other moms, am absolutely at my wit's end. The last eight months of pandemic parenting have left me exhausted and burnt out. I'm stretched thin, and have all I can do to finish my work, feed, teach, and entertain my kids, and keep us all relatively (yes, relatively) sane.
I have more or less given up on any attempts to look good whilst doing all of the things. I hate admitting this... because, we at Momtrends, have always strived to help moms feel their best, look their best, and be their best. 
But, lately, I just couldn't muster the strength or will power. I live in athleisure wear, and maybe -- just maybe, I try to put mascara on every once in a while. But when I drop the kids off at school like a frazzled hot mess in the morning, you better believe, I haven't brushed hair (and most likely my teeth), and I am counting down the minutes until I can put my littlest down for a nap and catch an hour or so (fingers crossed) of solid quiet time. And, sure, if I can manage to shower in the time frame, it's a bonus. But don't plan on it.
Needless to say, my highlights have gone neglected, and my eye circles are as dark as my roots. (Actually, that's a lie. My roots are just gray now.) I haven't had a hair cut in almost a year and my beauty booty is all but nonexistent.
Suffice to say, I could use a little pick me. A little primp me up. A little something to make me feel less haggard. 
Maybe I should have been writing in the past tense -- because, last week, I found this pretty-me pick me up. And it has made all the difference in putting a little pep in my step and oomph in my otherwise lacking beauty routine.
Here it is: The Revlon One-Step Hair Dryer and Volumizer Hot Air Brush.
On a whim during Prime Day, I purchased this hair-drying, voluming-boosting hair tool -- and you need to hear me when I say that I believe this is the ONE hair essential all time-starved, beauty-starved moms need right now. 
It was on sale for $29 (usually $59), but I would pay every saved penny and then some -- that's how much I love this thing. 
What's so special about it? This thing is powerful! I have a lot of hair, and this baby dries it all in 10 minutes flat. What's more, I don't need a separate curly brush to get the  voluminous type of blowout I love slash usually pay $60 for at the salon. It smooths strands, it provides buoyant movement, and it has restored the bounce in my hair and the pep in my step.
It is designed with Nylon Pin & Tufted Bristles that are ideal for detangling and adding volume. Unlike conventional hair dryers, this volumizer can be placed closer to the scalp for lift -- so you can get more va-va-voom effect in a few minutes time.
When my hair looks good, I have more desire to get dressed in actual clothes (no offense sweats!) and put on a little under eye concealer. And when I don't have time to shower and wash my hair? I can just spritz my scalp with some water, and run this baby through the front for two minutes. It instantly lifts.
I may still have gray roots, but at least they've got volume! Overall, this one beauty tool has helped restore my confidence and given me the energy to care about how I look again. And if that's not worth $29 (or $59), I don't know what is. 
Want more beauty tips from Momtrends?
1. Momtrends MVP's: The Best Facial Oils and Serums
2. The Real Reason You Should Try a Razor Subscription
This is not a sponsored post. It contains affiliate links. All opinions are our own.