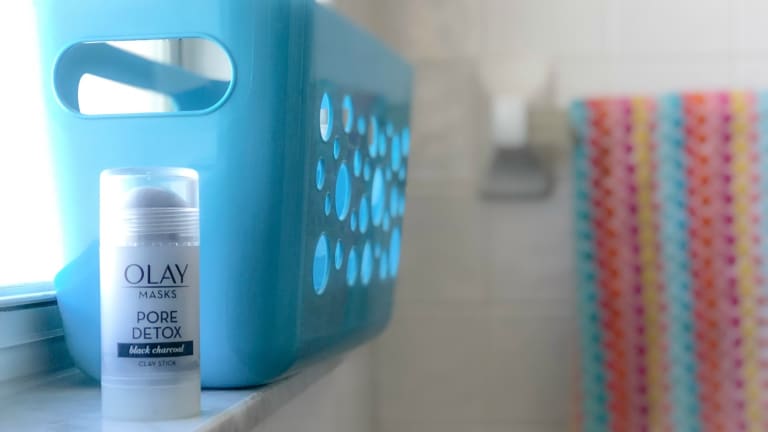 The Clay Face Mask Stick You Need to Try
Have you been meaning to use a face mask, but just haven't taken the time to work it into your skincare routine? Well, my friends. You will not be able to find an excuse to avoid this all important step any longer. Don't get me wrong. I get it, really I do. I too am a busy mom who never seems to have enough hours in the day for the million and one things on my to do list.
That being said, I also know that if I don't take care of my skin now I'll pay for it later. So, while I'm all for streamlined beauty routines, I'm not a carefree twenty something who can think about the effects of aging tomorrow. It's a seize the day situation over here people. Now don't stress. It couldn't be any easier to ramp up your skincare thanks to Olay's new face mask sticks.
The Easiest Face Mask Ever
I recently tried out the Olay Pore Detox Black Charcoal Clay Stick. It didn't take long for me to realize that it was the easiest face mask EVER to use. Anyone who's applied a charcoal mask before knows how messy things can get. Not only does that dark gray gooey stuff go everywhere, but you don't necessarily need it to be everywhere on your face. You may only want it on your t-zone for instance. Well, since the this face mask is in stick form you can easily apply it anywhere you want!
I decided to apply it to my whole face since I was testing it out for you guys so it defintely had the potential to be the usual mess, but I can happily report that it wasn't. In fact, I used it right in the shower. This particular clay stick face mask is meant to be left on for 10 minutes making it the perfect mask for the shower. So, it wasn't messy going on AND any residue ran down the shower drain when I washed it off. Easy peasy!
Olay Clay Sick Face Mask Pros and Cons
Pros:
* My face felt sublimely soft after use. I mean baby soft.
* Ease of use. Not having to stick my fingers into a gooey mask was clutch.
* It drew out impurities that were clogging my pores right away. I could see that ickiness on surface of my skin, no longer in my pores.
Cons:
* I had a scratch on my face and the product stung a bit in that area. So, I would suggest you only use it when you're free and clear of any irritation.
* Because it is so great at drawing out impurities, you could see some blemishes. I wouldn't use this the day of a big event.
* If you don't rinse it off well, the color could rub off on your clothing, so make sure you do thoroughly rinse.
As you can see the effectiveness of the pros far out weigh the minor cons. You can bet I'll be using this clay face mask stick again soon!
More Beauty Inspiration for Moms
For more beauty tips and tricks, check out the metallic eyeshadow palette we can't get enough of! And for the days you do have a little extra time and you don't mind getting messy, check out our friend Krystal's snickerdoodle sugar scrub! It smells sooooo good!
We were not paid for this post. We did receive a sample.