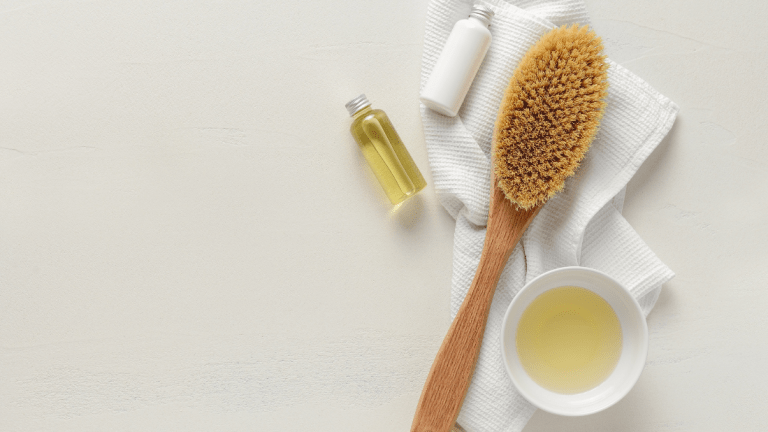 Momtrends MVP'S: The Best Body Care Products to Get Smooth Skin
Get ready for summer with our top picks for the best body smoothing skincare products from exfoliating scrubs, to smoothing body lotions, ultra-hydrating body butter, and more!
With the warm weather months nearly here for most of us and already here for some of us, it is a great time to think about your body skin. We spend so much time focusing on the skin on our face, but sometimes our body gets neglected!
And that is why our latest beauty edition Momtrends MVP'S is all about body smoothing skincare products to help your skin get in the kind of shape that you're proud to bare.
I am talking about soft, clear, smooth skin!
Why You Should Focus on Body Care for Smooth Skin
I don't know about you, but when those hot temps hit, the last thing I want to be is covered up. Give me all the tank tops, shorts, and flowy sundresses thank you very much, haha!
So, you can bet that body skincare is officially a part of my daily skincare routine now! And depending on how my skin feels, I turn to a variety of different body smoothing skincare products.
You may only need or want to try one or two of these or you may want to add more of these products to your own regimen. Either way, you are sure to see a difference in your body's skin!
I have products here to give you softer, smoother arms, legs, back, tummy, and even decolletage, my friends.
On that note, let's talk about which body smoothing products we should try this season…
The Best Exfoliating Body Scrub
First up, we have an exfoliating scrub. Scrubs like this help clear away the dead skin and debris that can clog up your skin. If you don't clear all that away, get ready to live with dull skin. Blah! 
I have sensitive skin, so I have to be careful not to over-exfoliate, but once or twice a week really helps smooth out the skin on my body! Happily, Cocofind Scrubbing Clay is very gentle, so I could use it more often if I needed some extra smoothing!
And I love that Cocokind Scrubbing Clay is made with upcycled coffee grounds! I am definitely on the lookout for products with an eye on sustainability. There are so many ways to do your part, even if it's a small change here and there like swapping out a bathroom product!
Get Cocokind Scrubbing Clay on Amazon here (note this is an Amazon Affiliate link)
The Best Smoothing Body Lotion
Once you've exfoliated, using a treatment body lotion can continue the skin renewal process and support your skin's barrier.
A lotion like Krave Beauty Great Body Relief not only helps make that new skin that you've revealed thanks to your exfoliation dedication stronger, but it can also soothe any irritation that may arise from your exfoliation ritual. 
I love Great Body Relief in particular because it concentrates so heavily on protecting the skin barrier. You can't have smooth skin without a healthy barrier!
Get Krave Beauty Great Body Relief here
The Best Smoothing Body Balm
If you love anti-aging skincare products but have only used them on your face, it's time to give that attention to your body skin too! You may already have started treating your décolletage, but what about your arms, legs, and everything else?
An anti-aging body balm like Osea's that has hydrating AND firming properties will seriously smooth out your body skin.
I love that it contains one of my all-time favorite hydrating ingredients, coconut oil. And, bonus, this product can also be used as a hair conditioning mask! 
Get the Osea Body Balm on Amazon here. (note this is an Amazon Affiliate link)
The Best Smoothing Body Butter
We try to make sleep a priority, but things happen. So having a secret weapon body cream that will fight the effects of exhaustion-ravaged skin is clutch! 
Apply this body butter after a shower and your body will be nice and moisturized when you wake up in the morning!
I love how effective the Petal Fresh Pure Coconut Body Butter is without breaking the bank. Your skin will be super soft in no time thanks to the coconut, Argan oil, and shea butter! They're all hydration powerhouses!
Petal Fresh Pure Coconut Body Butter
Get the Petal Fresh Pure Coconut Body Butter here. (note this is an Amazon Affiliate link)
The Best Decolletage Smoothing Scrub
With tank top season on the way, you want your decolletage in great shape right? A smoothing body polish made specifically for that area will do the job beautifully!
Truly's Acai Your Boobies is made with retinol to help smooth, brighten and firm up your skin. It can help with stretch marks too!
I love that you can mix Acai Your Boobies with water, apply as a mask and go about your business for five or ten minutes before you take a shower. I am a sucker for a good mask. It's long been my favorite anti-aging beauty trick!
The Best Booty Smoothing Cream
Another body part specific skin smoothing product that I love and has a very loyal following is Brazilian Bum Bum Cream. It firms and hydrates at the same time leaving visibly smoother booty skin. 
With ingredients like Guarana extract which is caffeine heavy and a firming agent, plus ultra moisturizing coconut oil, it's a booty game changer! I know I keep mentioning coconut oil, but it really is the best!
Brazilian Bum Bum Cream is so popular because it works and smells absolutely divine! I can attest to this. I don't even wear a fragrance on days I use this, it smells that good!
Get Brazilian Bum Bum Cream here (note this is an Amazon Affiliate link)
The Best Body Lotion for Acne-Prone Skin
If bumps or breakouts bug you, a lotion that contains salicylic acid, like Cerave SA Lotion, could be just the ticket! 
This super effective lotion soothes and reduces bumps while hydrating it at the same time. It also contains lactic acid and hyaluronic acid which work together to protect your skin's barrier.
I love this lotion because it is easily accessible at the drugstore but gives you big-time results. It's your ultimate multi-tasker because it exfoliates AND moisturizes!
Get Cerave SA Lotion here. (note this is an Amazon Affiliate link)
The Best Dry Brush
Dry brushing can help exfoliate and prepare your skin for any treatment products. Think of it as a primer for your body's skin.
Unlike exfoliating products that you might need to limit to one or two times a week due to sensitivity, you can dry brush daily.
I love the Kate McLeod Dry Brush in particular because it fits in the palm of your hand which I find easier to use than the ones with the long handles. Plus the bristles are soft so they won't irritate your skin, but firm enough to do the job.
Try any of these and you will be one giant step closer to smooth skin for summer! And we have plenty of other beauty product recs in all our Momtrends MVP's lists. Here are some of our favorites...
Get the Kate McLeod Dry Brush here.
Stay tuned for our next Beauty Momtrends MVP's list…
And for Even More Momtrends MVP's Winners, Follow the Links Below:
Pin It!
Don't forget to save our favorite beauty tips and follow along for more with our Pinterest beauty board!
How We Pick Our Winners
Momtrends MVP's is a non-sponsored series. Brands must meet our strict standards to be included. When naming winners we take several factors into account, including expense, convenience, and style.
We make our picks annually based on editors' research. In some instances, we may request and receive samples so that we can more thoroughly assess products. Our opinions are our own, and our goal is to help our community of moms make more informed decisions on everything from baby gear to beauty products to vacation destinations and more. We scour the abundant options and painstakingly hand-pick our favorites, so you don't have to. Our hope is that our most valuable players become your most valued purchases.