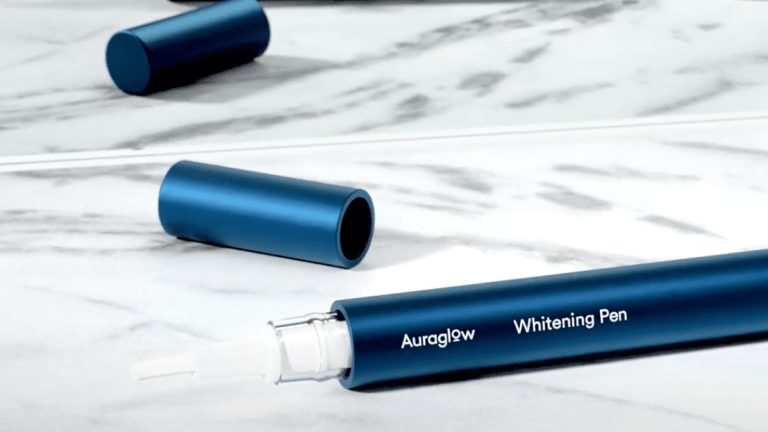 Momtrends MVP'S: The Best Teeth Whitening Products
Your smile says so much about you. The best teeth whitening products we rounded up can help brighten your smile right up!
What is the first thing people see when they look at you? Nine times out of ten I am willing to bet it is your smile. That's why teeth whitening products are so popular right? Bwah!
Unfortunately, each day we do so many things that contribute to our teeth' discoloration. I am looking at you fellow coffee and tea drinkers. I want a beautiful smile, but I'm not exactly willing to give up on my daily coffee drinking. Who can relate?
And then there is the whole aging thing. My teeth are definitely not the lily-white shade they were when I was younger, haha! Did you know that teeth actually discolor one to two shades every decade? Eeek!
Thankfully, there are plenty of helpful teeth whitening products out there to help us combat stains and give us the youthful smile we long for. And, don't worry, there are also plenty of products that don't lead to dreaded teeth sensitivity.
And there is a teeth whitening product for every level of commitment you are willing to subscribe to. Whether you just want a simple whitening toothpaste or want to go all out with an LED light teeth whitening system, I have you covered with today's beauty edition of Momtrends MVP's!
What is the best way to whiten your teeth?
A dentist would probably tell you that the best way to whiten your teeth would be in the office with them and their powerful products and light. That being said, they would also probably tell you that there are some really good at home products available that come pretty close to professional treatment!
So, there is no reason you shouldn't try out one of these at home teeth whitening products before you go a pricier route! On that note, let's get to the best teeth whitening products out there right now shall we? 
The Best Whitening Toothpaste
They don't call this High Impact White toothpaste for no reason. Even though Colgate Optic White Renewal is a budget-friendly toothpaste, it offers up serious whitening results!
Its hydrogen peroxide formula claims to tackle more than surface stains. As someone who has built up years of coffee drinking stains, I can personally attest to this. My teeth look noticeably brighter after brushing with this toothpaste!
I love how easy Optic White Renewal makes teeth whitening. Simply brush with it daily, something you would be doing anyway, and within weeks you will be amazed how much whiter your teeth look!
Buy it on Amazon here (note this is an Amazon affiliate link)
The Best Charcoal Whitening Toothpaste
Now, if fluoride is something you don't feel that you need and you have subtle discoloration, try the Hello Activated Charcoal Toothpaste.
The charcoal whitens teeth naturally without peroxide and is gentle enough for everyday use. Mint, spearmint, and peppermint work together to give your breath a kick of freshness too!
There is something I love about the black color of the Hello Activated Charcoal Toothpaste. Sure, it can be a little messy, but brushing your teeth with it feels very primal and natural while delivering whitening results at the same time!
Hello Activated Charcoal Toothpaste
Buy it on Amazon here (note this is an Amazon affiliate link)
The Best Teeth Whitening Pen
Another one to add to the easy teeth whitening category is a teeth whitening pen. You simply click the pen, swipe the product over your teeth, and wait for the whitening action.
The Auraglow Whitening Pen gently whitens up to 10 shades in just 7 days. That is like 10 or 20 years off. Just sayin'. And it doesn't damage your enamel which is a feature I always look for in teeth whitening products. 
What I love best is how portable the Auraglow Whitening Pen is. You can whiten that smile anywhere, anytime!
The Best Teeth Whitening Strips
Most of us have used Crest Whitestrips at some point in our lives. They were the first whitening products I tried and they have only gotten better through the years!
In fact, you can now find Crest 3D Whitestrips packaged with an LED White. My dentist said if you want to get serious about whitening, you need the LED light to accelerate and boost the process.
They do contain peroxide, but I noticed that if I use them every other day versus every day, that cut down on sensitivity and I still achieved many shades lighter teeth!
Crest 3D Whitestrips Original Whitening Kit with LED Light

The Best Fast Acting Teeth Whitening System
The options I shared previously take a little bit of patience before you see optimal results. If you're short on time or patience a faster acting teeth whitening system is probably more your speed.
The Oralgen NuPearl System, for instance, claims to give you visible results in just ten minutes! And over a week's time, it will continue to whiten them over 8 shades.
I love how quickly you can see results with the Oralgen NuPearl AND that it is formulated with sensitive teeth in mind! Plus, it comes with a bonus whitening pen. You can't beat that value!
Oralgen NuPearl Advanced Teeth Whitening System
Buy it on Amazon here (note this is an Amazon affiliate link)
The Best Smart Teeth Whitening Kit
It seems like there is an app for everything these days and, yes, there is an app for teeth whitening too!
The GLO Lit Teeth Whitening Device Tech Kit with Bluetooth was made for all you techies out there. You can customize your whitening experience by getting reminders, tracking your progress, etc. You can even turn on your device and see how much time is remaining with the app too.
I love that GLO has taken the discomfort out of whitening trays so you can go about your business and when it's done it shuts itself off. As they say, it's like your own little teeth whitening assistant!
GLO Science GLO Lit Teeth Whitening Device Tech Kit with Bluetooth
Buy it on Amazon here (note this is an Amazon affiliate link)
The Best Wireless Teeth Whitening Kit
I mentioned how an LED light can ramp up the whitening process, but what about blue AND red LED light which supports healthy gums? The Snow Blue Wireless Teeth Whitening Kit comes with both. 
And it comes with 75 treatments which is over two months worth! I love that you don't have to refill it after a month.
My very favorite feature of the Snow Blue Wireless Teeth Whitening Kit is that it's water resistant. You can use it in the shower! That would save this forever busy mom some serious time!
Snow Blue Wireless Teeth Whitening Kit
The Best Teeth Whitening Gum
A great way to help maintain your newly white teeth is to chew whitening gum. Supersmile makes one with a proprietary formula that cleans and whitens without causing sensitivity.
It tackles surface stains so those daily teeth-staining habits we talked about don't destroy all your beautiful teeth whitening results!
I love that Supersmile Teeth Whitening Gum does SO much! It fights surface stains, yes, but it also freshens your breath and helps prevent cavities!
Supersmile Teeth Whitening Gum. 
Get it on Amazon here. (note this is an Amazon affiliate link)
And that is how you get a brighter, whiter smile my friends. You try out one of these highly effective goodies from our best teeth whitening products roundup!
Stay tuned for our next Beauty Momtrends MVP's list…
For Even More Momtrends MVP's Winners, Follow the Links Below:
Pin It!
Don't forget to save our favorite beauty tips and follow along for more with our Pinterest beauty board!
How We Pick Our Winners
Momtrends MVP's is a non-sponsored series. Brands must meet our strict standards to be included. When naming winners we take several factors into account, including expense, convenience, and style.
We make our picks annually based on editors' research. In some instances, we may request and receive samples so that we can more thoroughly assess products. Our opinions are our own, and our goal is to help our community of moms make more informed decisions on everything from baby gear to beauty products to vacation destinations and more. We scour the abundant options and painstakingly hand-pick our favorites, so you don't have to. Our hope is that our most valuable players become your most valued purchases.