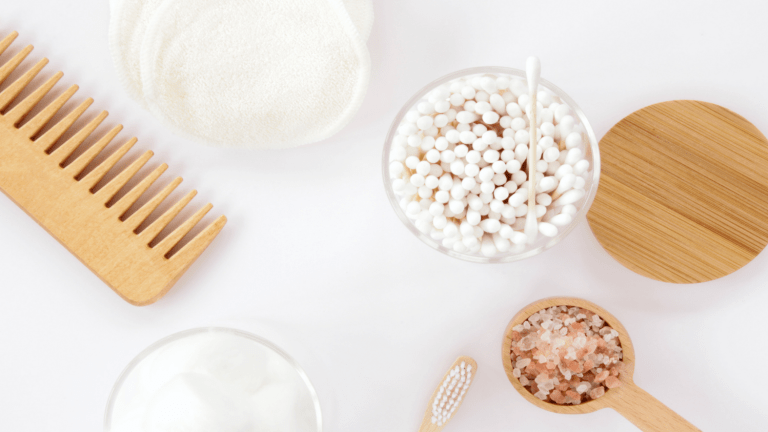 Momtrends MVP'S: The Best Sustainable Beauty Products
We shared some of our top picks for sustainable beauty products from skincare, to makeup and even beauty tools like eco-friendly makeup brushes!
If clean beauty is important to you, then sustainable beauty probably is too. I know how important eco-conscious choices are to many of you, so I try to include at least one organic product in most of my beauty Momtrends MVP's lists even if that isn't the primary focus. That being said, I haven't necessarily talked about sustainable beauty products.
Top Sustainable Beauty Picks
I am sure I have shared items that would be considered sustainable, but I haven't put together an entire list of them and called out what makes them sustainable. Well, my friends. That changes today. Get ready too elevate your beauty regimen with some must-try sustainable beauty products!
What makes beauty products sustainable?
Before we get into them, let's talk about what makes a product sustainable. That depends on how a company interprets the term sustainable. Do they use zero waste packaging? Do they use renewable resources? Do they use processes that don't do permanent harm to the environment? Any one of these could result in a sustainable label.
And, frankly, even if your new go-to product doesn't hit all the sustainable measures, one is better than none right? So, that is what I did. I looked for sustainable beauty products that checked at least one box!
I also pulled together a wide variety of beauty products including makeup, skincare and even tools. So, there should be a little something for everyone who wants to add a sustainability element to their beauty routine!
The Best Sustainable Facial Oil
A good facial oil has long been my holy grail product and this organic and sustainable facial oil from Kadalys is new favorite. I truly feel it keeps my skin looking youthful more than any other product I use.
Kadalys uses "undesirable" bananas that were discarded for their appearance to create their products including this glorious oil that can be used on your face AND hair! This cuts down on food waste which in turn helps reverse climate change. Also, all of their packaging is eco designed and recyclable.
What I like best about this facial oil is how fast it absorbs. Some oils leave your skin feeling pretty slick for quite a while, but not this one. Radiance Precious Oil definitely falls in the non-greasy category!
The Best Sustainable Moisturizer
There are many days were facial oil is my only moisturizer, but some days I just need more. A sustainable moisturizer like Cyan Pacific Moisturizer can give you the healthy dose of hydration you need, especially as the weather starts to cool down.
As far as sustainability goes, Cyan's packaging is fully recyclable and they will even make it easier for you to do. If you email them when you are finished with your product they will send you a prepaid shipping label and either use your empty bottle in new packaging or recyle it.
I love this gender neutral moisturizer from Cyan so much because my husband can share it! I always try to get him to use my anti-aging products and he can't deal with the scent. He can handle the Pacific Moisturizer, so I'd call that a win!
The Best Sustainable Primer
Much like the day that I only use facial oil, there are days I only use primer. I typically don't wear a full face of makeup unless I am being photographed for something, so a primer or a tinted moisturizer, if I'm really feeling frisky, is all I need.
The clean RMS Beauty primer gives you that lovely blurred out look that a very gentle Insta filter gives you. I am not talking about the overly aggressive ones, bwah! And they use what they call living ingredients that are as close to their natural state as possible. And their packaging is minimal, recyclable or reusable. 
I love the gel-like texture of "Re" Evolve Radiance Locking Primer. It really gives my house an extra dose of hydration thanks to the hyaluronic acid which my face always almost always needs in the winter! 
RMS Beauty "Re" Evolve Radiance Locking Primer
The Best Sustainable Eye Cream
Eye cream is definitely always a part of my beauty regimen, even the five minute version. Haha! Even if I am running late, I never skin eye cream. I just don't like how the skin in that area feels if it's not moisturized. Plus, my concealer doesn't work as well without it!
Tata Harper is sustainable brand with a cult following. Their products are all natural and all biodegradable, plus their packaging is recyclable So, they have the planet in mind with literally everything they produce, from product to packaging.
I appreciate that while this isn't a budget eye cream, a little goes a very long way. So, that little bottle is going to last you longer than you might think. And once you see how effective their Restorative eye Cream is you'll see that it more than earns its price tag! 
Tata Harper Restorative Eye Cream 
The Best Sustainable Concealer
Speaking of concealer, Sappho's Cream Concealer offers great coverage, which usually means a super thick formula, but this one glides on super smooth without irritating your delicate under eye skin and it comes in five diverse, global tones. 
This Canada based brand actually creates their products in a zero carbon footprint facility. That is no easy feat. And they are currently working on even more sustainable packaging like using lightweight metal, recyclable glass and biodegradable plastic.
I love how light and reflective the Sappho cream concealer is. If you're still in your twenties you probably don't care if your concealer makes you look younger, but I sure do. Bwah! And it's free from endocrine disrupters which seem to be in everything these days. As a woman who frequents the endocrinologist, I appreciate this!
The Best Sustainable Balm
If you know my beauty writing at all you know how much I love multi-purpose products. So, a balm that you can use on your eyes, lips and cheeks is obviously a dream come true!
Axiology really nailed it with their Balmie Set. These vegan balms not only deposit a ridiculously  pretty smear of color anywhere you use them, but they're hydrating too like a traditional balm would be! Neither my lips, cheeks and eyes don't like to be dry. Just sayin'.
And there's no packaging. They're simply wrapped in biodegradable paper to reduce waste. How smart is that? There is no tube and no cap, so they can claim the zero waste title!
Axiology Vegan Multi-Use Balmie Set
The Best Sustainable Eyebrow Filler
Another balm that I can't get enough of is brow balm. This Elate eyebrow filler seems to combine a lot of my favorite eyebrow products into one. The balm like texture keeps my brows in place like a gel would and fills them in with color like a pencil would. You just need to make sure you have an eyebrow brush. It's worth picking one up. Trust me!
You may be wondering how this product is sustainable. Well, Elate has their bamboo packaging assembled in the country where the bamboo is harvested as they believe that process is more sustainable than shipping the parts here to then have them assembled.
You've heard of soap brows right? The TikTok kids are all over them. I love how Elate's Brow Balm can help me achieve those younger looking brows without, you know, soap.
The Best Sustainable Makeup Brushes
I am not serious enough about heavy duty makeup to warrant super expensive brushes. That doesn't mean I don't like to use them however. They totally changed my concealer application. I just want them to be reasonably priced like EcoTools are!
And they're sustainable too of course. The packaging is actually made from paper that is biodegradable when you compost it. Composting is such an easy way to give back to the planet and I love that EcoTools embraced that. 
EcoTools has been around for a long time, but they continue to come out with new products that fascinate me like this Daily Essentials Face Brush Set. It comes with a large handle and a small handle, plus interchangeable heads. How cool is that? It's perfect to travel with and won't take up too much space in your train case!
EcoTools Daily Essentials Face Brush Set
Well, I hope I inspired you to add a little more sustainability to your life! The brands I highlighted make it pretty easy to do your part!
Don't forget to check for our next Beauty Momtrends MVPs list coming soon…
And for Even More Momtrends MVP's Winners, Follow the Links Below:
Pin It!
Save our must-try beauty tips and follow along for more with our Pinterest beauty board!
Momtrends MVP's is a non-sponsored series. Brands must meet our strict standards to be included. When naming winners we take several factors into account, including expense, convenience, and style.
We make our picks annually based on editors' research. In some instances, we may request and receive samples so that we can more thoroughly assess products. Our opinions are our own, and our goal is to help our community of moms make more informed decisions on everything from baby gear to beauty products to vacation destinations and more. We scour the abundant options and painstakingly hand-pick our favorites, so you don't have to. Our hope is that our most valuable players become your most valued purchases.