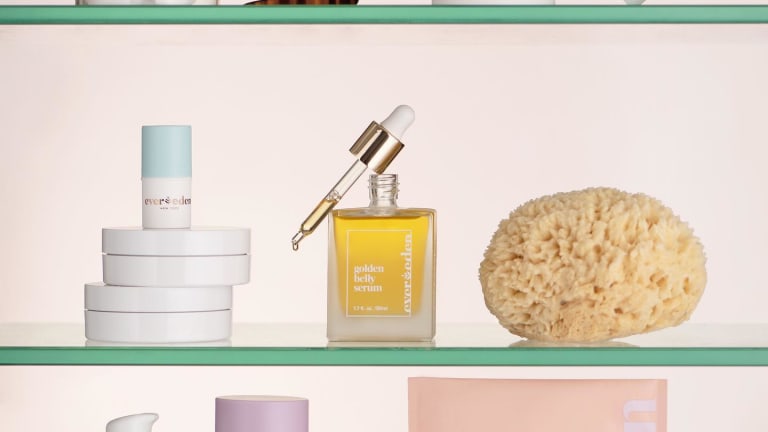 Momtrends MVP'S: The Best Maternity Beauty Kits
Favorite maternity beauty kits filled with everything from skincare, to makeup and even treats like tea.
Not too long ago we featured some of our favorite pregnancy-safe beauty products in a beauty Momtrends MVP'S piece. Well, I thought I would go a step further with the topic and share some must-try maternity beauty kits in our latest edition too!
As with our pregnancy-safe skincare product roundup, everything I have gathered together here is safe for expecting parents. They were all created specifically with pregnant people in mind! Essentially, you can safely practice some much-needed self-care with these kits that contain a slew of fun maternity goodies!
Before we go any further though, I feel that it is important for me to mention that I am not a doctor and you should talk to your own doctor before adding or removing any products to/from your beauty regimen.
Pregnancy is different for everyone. Some feel that blissful feeling practically the entire time while some, like myself, have a harder time. I had morning, noon, and night sickness with both pregnancies so self-care was kind of hard to wrap my head around. I was happy to just be able to get out of bed for a bit some days.
If you're in the same boat, a maternity kit that comes with everything you could possibly need to pamper yourself is right up your alley. You don't have to shop, instead, the ultimate maternity self-care kit arrives pleasantly packaged together all in one box.
What is in a maternity beauty kit?
I am sure you know how popular subscription boxes are these days. Personally, I love them. In fact, over the summer we shared our preferred baby subscription boxes and there were SO many fun ones to choose from. That being said, I recognize that not everyone wants or needs a new box of products each month.
With a maternity beauty kit, you can sample a few new goodies and pick up another one the next time you want one without having to worry about auto-renewal. And these kits come with a wide variety of products. In a maternity beauty kit, you could find everything from skincare, to makeup, or even a little treat like tea!
I wasn't kidding when I said that maternity beauty kits were the ultimate! They make self-care SO easy. You deserve to take it easy and then some my friends. Growing a human is hard, albeit, the best kind of work! There are just no off days. So, you have to create your own. A pampering sesh helps you get away from the realities of life for a bit!
And even if you aren't pregnant, if you know someone who is, a maternity beauty kit makes a perfect present! You could add it to a baby show gift or just show up with one as a surprise. So, now that we know who could use a maternity kit and what is in a maternity kit, let's get to our Momtrends MVP's…
The Best Overall Maternity Beauty Kit
We actually featured this Clarins kit last year, but it's so good I think it deserves another mention! It includes SO many fabulous products for both during and after pregnancy. So, even if you don't finish up everything before your baby is born, you will still want to use them later, I promise!
In this epic kit, you get stretch mark cream, a face mask, body scrub, eye balm, mascara, and body oil. Plus, it all comes in the cutest vanity case!
I love that this Clarins Maternity kit is focused on making a pregnant person or new parent feel refreshed even when fatigue has most definitely set in. Plus, it never hurts to start nurturing those stretch marks early!
Get the Clarins Maternity Kit on the Clarins site here (online exclusive).
The Best Organic Maternity Beauty Kit
If you try to only use organic products, you don't have to look too hard when it comes to pregnancy skincare. And maternity beauty kits are the same, there are so many organic versions, but the Zoe Organics Pregnancy Gift Set is one of the best!
It comes with their belly butter, belly oil, and refresh oil. As you can see, this kit is all about the belly. As someone with a very short torso who carried a very large baby, my belly was itchy ALL the time. Those stretch marks are no joke!
I love that the Zoe Organics Pregnancy Gift Set comes with everything you need to soothe your growing belly as well as a little refreshing pick-me-up!
Get the Zoe Organics Pregnancy Gift Set here.
The Best 3-Step Maternity Beauty Kit
Earlier in this post, I mentioned that all of these kits simplify pregnancy self-care. Well, that goes double for the Ever Eden Luxe Skincare Bundle because it is actually a 3-step beauty routine or ritual if you prefer.
This kit includes a belly mask, stretch mark cream, and a belly serum. With each product, you will focus on hydrating the skin on your body, along with improving elasticity. As a result, your skin will look more radiant!
In case it wasn't obvious, what I love best about this maternity kit is that the products in it make up an easy-to-follow belly skincare routine!
Get the Ever Eden Luxe Skincare Bundle here.
The Best Maternity Skincare Kit
If I had to name my all-time favorite skincare lines, Sunday Riley would definitely be in the running for top billing. I use at least one, usually more, of their products in my daily skincare routine all year long and have for years.
So, I was super pumped about their pregnancy care kit. You won't believe how many game-changing products are in it. From cleanser to facial oil, to moisturizer, eye cream, and more, this is a skincare kit anyone would LOVE, including pregnant people!
My favorite part about this skincare kit is that it comes with my all-time favorite product, their Good Genes Lactic Acid Treatment. It has faded my dark spots like nothing else!
Get the Sunday Riley Pregnancy Care for Face (+ Belly) kit here.
The Best Body Maternity Beauty Kit
I have deemed the next kit best for your body because it contains an array of delightful creams formulated to comfort the various spots on your body that tend to get irritated when you're pregnant.
There are creams for your breasts, tummy, and legs that cool and ease itching and soften your skin. The kit also contains soothing a shower milk that you can use from your head to your toes. Score!
I remember so much of my skin feeling tight and itchy when I was pregnant, so I love that the Mama Mio Bloomin Lovely kit tackles so many of those spots!
Get the Mama Mio Bloomin Lovely Kit on Amazon here. (note: this is an Amazon Affiliate link)
The Best Pampering Maternity Beauty Kit
We have been focusing on self-care a lot here and nothing says self-care like a full-on pampering sesh. Pencil some me-time into your day and treat the body that's doing so much right now!
Honest has a maternity kit that's just perfect for pampering as it comes complete with soaking salts, nipple balm, body oil, soothing jelly, and body butter.
I can't get over the soothing jelly that instantly cools itchy skin. When it comes to discomfort there are no sweeter words than instant relief! Am I right? And the fact that the Honest Pregnant + Pampered Gift Set comes with so many other great products is gravy!
Get the Honest Pregnant + Pampered Gift Set here
The Best Maternity Beauty Kit for a Gift
Any of these kits would make a lovely gift frankly, but the Hatch Collection Mama Must-Haves comes in gorgeous pink and black packaging in the most beautiful box. It feels like it was made to be gifted!
Inside you will find some of their best-sellers like their Belly Oil that can be used to hydrate your skin all over, Down, Girl for swell relief, and Nipples+Lipes that can actually be used to soothe your nipples AND your lips!
That effective swell relief product makes this Mama Must-Haves Kit worth the buy for me. My legs and feet certainly could have used it when I was pregnant! Who am I kidding, they still could use it sometimes. Haha!
Get the Hatch Collection Mama Must-Haves Kit on Amazon here. 
(note: this is an Amazon Affiliate link)
The Best Moisturizing Maternity Beauty Kit
This SoKind maternity kit packs a serious dose of hydration. Each and every product was made to moisturize and protect a pregnant person's expanding skin. Plus, they do it with natural ingredients!
From belly sheet masks to body lotion and stretch mark balm, this kit will hydrate all those areas that need intense moisturization!
The SoKind Love Lines stretch mark balm is one I would use even after your baby has arrived. I continued to treat mine for months after. It's never too late to seek some improvement, but if you can treat stretch marks before they turn white you usually have a better shot.
Get the SoKind Pregnancy Skin Care Kit here.
With that, I think I've given you plenty of maternity beauty kit ideas! Whether you want to treat yourself or give a special someone some gift ideas, this should give you a good start!
More Features for Moms
Stay tuned for our next Beauty and Baby Momtrends MVPs lists…
And for More Momtrends MVP's Winners, Follow the Links Below. Although this is a beauty MVP's list since you're probably pregnant, or know someone who is, I think you might be interested in the below topics too:
Pin It!
Make sure you save your fave baby gear and beauty ideas on Pinterest and follow along with our Gear for baby and kid and Beauty boards!
Momtrends MVP's is a non-sponsored series. Brands must meet our strict standards to be included. When naming winners we take several factors into account, including expense, convenience, and style.
We make our picks annually based on editors' research. In some instances, we may request and receive samples so that we can more thoroughly assess products. Our opinions are our own, and our goal is to help our community of moms make more informed decisions on everything from baby gear to beauty products to vacation destinations and more. We scour the abundant options and painstakingly hand-pick our favorites, so you don't have to. Our hope is that our most valuable players become your most valued purchases.