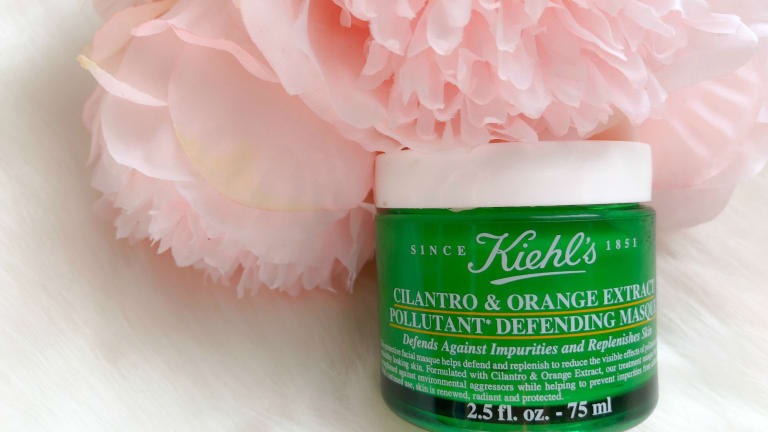 The Kiehl's Face Mask I Can't Quit
Do you have products in your beauty stash that you can't seem to give up no matter what? Well, there is a particular Kiehl's face mask that I can't quit. One of the perks of writing about beauty trends is getting to try out the latest and greatest beauty products. And, trust me, face masks are something I test a LOT. So, you can believe me when I say that the Kiehl's face mask that I'm going to share with you today is one that you're going to want to keep in your beauty routine for a long time!
Let's talk about the Cilantro & Orange Extract Pollutant Defending Masque shall we? I've actually written about this overnight face mask before, so you can consider this a follow up on why I continue to love it. You know something's good when restocking seems like a must. Of course, I probably feel that way about a few too many beauty products. Bwah!
There are a few things I pay attention to when I'm evaluating face masks. First, how it makes my skin feel when it's on. Second, how it smells when it's on. And, finally, and most importantly, how my skin looks after I use it. Well, the Cilantro & Orange Extract Kiehl's face mask checks all those boxes. Not only does it not burn or itch like some face masks can cause my face to do, but it's the most delightful, citrus/mint scent. It's definitely something you don't mind smelling as you drift off to sleep. Did you catch that this Kiehl's mask is an overnight mask?

That's right, you apply apply a thin layer of it to your cleansed skin and forget about it until morning! It's such an easy way to play defense against all those harsh pollutants that your skin faces daily when you step outside the door. Impurities are less likely to adhere to your skin thanks to the way this mask strengthens it. It makes your skin stronger, but it does so gently. It's not a harsh mask at all. So, you can use it a few times a week, which is great because unless you don't leave your house, you're faced with pollution daily!
And, on a side note, a face mask is a fun element to add to your self care ritual. If you don't already have a self care ritual, it's time to start one. I've found that having a nightly ritual allows my brain to recognize when it's time to shut down. So, whether you take a bubble bath, apply your face mask and read a book before you go to sleep, some sort of ritual does wonders. Practicing a routine regularly could help you get the rest your body needs for you to look and feel your best!
Now that you know which Kiehl's face mask I can't quit, I want to hear about your forever favorite beauty products! Do you have a face mask you'll stock until the end? Do tell! And for more beauty tips and tricks, check out the red lipstick makeup looks I'm not kickin' to the curb yet either!
We were not paid for this post. It does contain affiliate links.