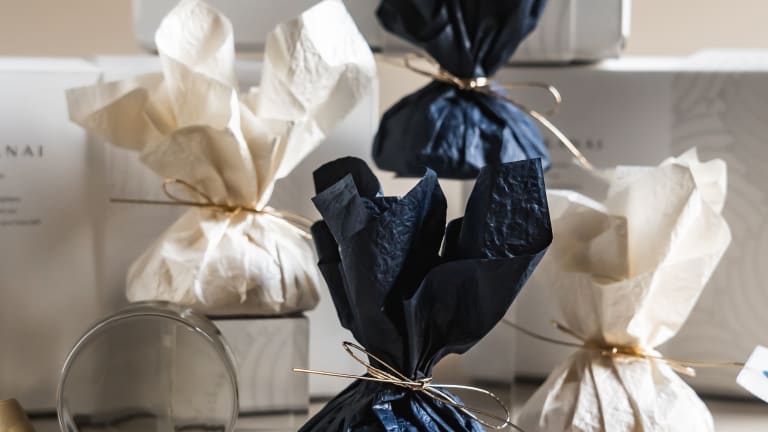 Momtrends MVP'S: The Best Japanese Beauty Products
If you prefer streamlined beauty routines with multi-tasking products and fewer steps, J-Beauty is for you. Read on for our take on the best Japanese beauty products!
I am sure most of you have heard about K-Beauty at this point. A K-Beauty skincare regimen involves numerous steps from cleansing, to toning and various levels of moisturizing. It is involved but yields serious results.
With that being said, maybe you can't commit to a routine that takes a good amount of time in the morning and evening. In that case, let's talk about J-Beauty! Japanese beauty products are made for less involved regimens. Think simple, multi-tasking products that are made to care for and emphasize your skin's natural beauty.
And Japanese skincare is very focused on prevention. Sunscreen is a must-have in Japanese beauty routines much as it should be in every beauty routine! So, don't forget to apply your favorite sunscreen every day along with whichever of the products on our best Japanese beauty products list speaks to you the most!
What should be in your J-Beauty skincare routine?
We already covered sunscreen, which should be part of any skincare routine you decide to try, but what else? You definitely need a cleanser, a moisturizer, and a treatment serum if you want to go the J-Beauty route.
That may not seem like much of a regimen considering the multitude of "must-have" skincare products that are out there, but if you choose the right products, a few is all you need! But if you're a product junkie like me, you can certainly add in more beyond the basics. I have plenty of fabulous options for you to choose from here!
On that note, I think it's time to share my top picks for the best Japanese beauty products for our latest Momtrends MVP's article! Even if you just want to add a product or two from this list to your current skincare routine, I dare say you won't be disappointed! Japanese beauty products are so fab because they use such high quality ingredients!
The Best Japanese Facial Cleanser
Remember when you were young and just grabbed any old bar of soap to wash your face. Eeek! Thank goodness we now know how important a step cleansing is to our skincare routine right? Haha!
I love KohGenDo Cleansing Spa Water because it's a gentle cleanser and makeup remover in ONE! I said these products would be multi-tasking, a busy mom's dream!
I love that I can say goodbye to raccoon eyes thanks to KohGenDo Cleansing Spa Water. I hate it when I cleanse my face and eye makeup still ends up on my towel, don't you?! That simply doesn't happen with this cleansing water!
Get KohGenDo Cleansing Spa Water on Amazon here. (note this is an Amazon Affiliate link)
The Best Japanese Face Sponge Exfoliator
I have sensitive skin so I have to be careful how often I exfoliate it and which products I use. So, I was thrilled to discover that an exfoliating sponge can do the trick without irritating my skin!
The Makanai Handmade Pure Konjac Sponge is a great tool to use along with a gentle cleanser for gentle cleansing and exfoliation! It's made from a root-based vegetable that you can find in Japan.
I love this face sponge in particular because it's so easy to use! You just wet it, squeeze out any excess water and smooth it over your face. Simple, yet effective is my favorite kind of skincare!
Get the Makanai Handmade Pure Konjac Sponge here.
The Best Japanese Moisturizer
Just like sunscreen, hydration is a step I never skip, so I am willing to splurge on moisturizers. Tatcha has one called The Silk Cream that is rich, yet not too heavy at the same time. That is quite the feat!
I love to use a rich moisturizer at night after I apply my moisturizer, but it's equally as fabulous to use in the daytime, especially in colder months and/or drier climates.
I can't get over how well The Silk Cream hydrates, yet also firms up the skin on your face. That is multi-tasking at its best!
Get Tatcha The Silk Cream on Amazon here. (note this is an Amazon Affiliate link)
The Best Japanese Emulsion
If you like a lightweight moisturizer, an emulsion is an excellent choice because it hydrates your skin, but doesn't weigh it down.
Sekkisei Emulsion Excellent, for example, is super hydrating and also contains brightening elements like Coix Seed Extract and Elecampane Extract.
I love to use a lightweight daytime moisturizer from spring right through early fall. And Emulsion Excellent is just what I need to moisturize my skin this time of year as the humidity where I live already gives my skin some moisture.
Get Sekkisei Emulsion Excellent on Amazon here. (note this is an Amazon Affiliate link)
The Best Japanese Brightening Serum
Speaking of brightening, that brings me to my next pick. I try to use a brightening serum daily to tackle dark spots and illuminate my skin.
Re.Earth's Illuminating Concentrate's name says it all. This treatment serum uses botanical ingredients like Japanese Spring Turmeric Leaf Extract and Cherry Blossom Flower Extract to help fade existing dark spots and prevent new ones from popping up.
I love that there is no added fragrance in Illuminating concentrate because they tend to irritate my skin and I don't exactly want my treatment to lead to inflamed skin!
Get Re.Earth Illuminating Concentrate here.
The Best Japanese Face Mist
There is nothing like spritzing on a hydrating face mist when you're on an airplane. I always keep one in my bag when I travel to perk up my tired, dry skin.
But I have found myself turning to my face mist even when I'm at home base. It's always a good time for a dewy glow no matter where I am!
Dam Dam' Paradisi Mist Hydrating Essence is one of the best because not only does it give you a refreshing burst of hydration, but it also doubles as a setting spray!
Get Dam Dam Paradisi Mist Hydrating Essence here.
The Best Fermented Face Gel
Skin smoothing fermented ingredients have long been used in Japanese skincare and started to hit the mainstream market in the past few years.
The fermented peat and rice water in Beauty Labo Ferment Gel work together with collagen and hyaluronic acid for ultimate hydration!
And that's not all! You can also use this ferment gel as a face mask. So, if it's perfect for those times you need some extra moisturization, but don't necessarily need a heavy formula every day.
Get Ishii Clinic Beauty Labo Ferment Gel here.
The Best Japanese Eye Cream
And finally, we have eye cream. I use mine at least twice a day because that area tends to get really dry, but once a day works too if that's better for your skin.
I'm at the age where an anti-aging eye cream is a must and I love the Shiseido Benefience Wrinkle Smoothing Eye Cream, because it does just that. It tackles those fine eye lines!
What I like most about this wrinkle-smoothing eye cream is that you can see results in as little as a week!
Get Shiseido Benefience Wrinkle Smoothing Eye Cream on Amazon here. (note this is an Amazon Affiliate link)
The Best Japanese Night Cream
The cold weather months are coming and that means drier skin, at least for this girl! That is why I usually switch to a heavier night cream versus a lightweight moisturizer when fall hits.
Decorté Hydra Clarity Restorative Concentrate Cream is my new favorite! Not only is this rich cream super hydrating, but it's gentle on my sensitive skin too. Double score! 
I also love how it only moisturizes my skin and  improve its appearance at the same time. Ingredients include Organic Shea Butter and Moringa Oil for ultimate hydration and Bihada-To which blends isomerized sugar, clove extract and mugwort leaf extract to help smooth and refine skin for less visible pores as they put it. What a wonderful skin care cocktail!
I can report that thanks to Hydra Clarity Restorative Concentrate Cream my skin feels softer and looks smoother!
Decorté Hydra Clarity Restorative Concentrate Cream
So, are you ready to try some of these fab Japanese beauty products or what? I promise that J-Beauty doesn't disappoint! And for extra skincare and beauty tips, check out our favorites below!
Stay tuned for our next Beauty Momtrends MVP's list…
For Even More Momtrends MVP's Winners, Follow the Links Below:
Pin It!
Don't forget to save our favorite beauty tips and follow along for more with our Pinterest beauty board!
How We Pick Our Winners
Momtrends MVP's is a non-sponsored series. Brands must meet our strict standards to be included. When naming winners we take several factors into account, including expense, convenience, and style.
We make our picks annually based on editors' research. In some instances, we may request and receive samples so that we can more thoroughly assess products. Our opinions are our own, and our goal is to help our community of moms make more informed decisions on everything from baby gear to beauty products to vacation destinations and more. We scour the abundant options and painstakingly hand-pick our favorites, so you don't have to. Our hope is that our most valuable players become your most valued purchases.