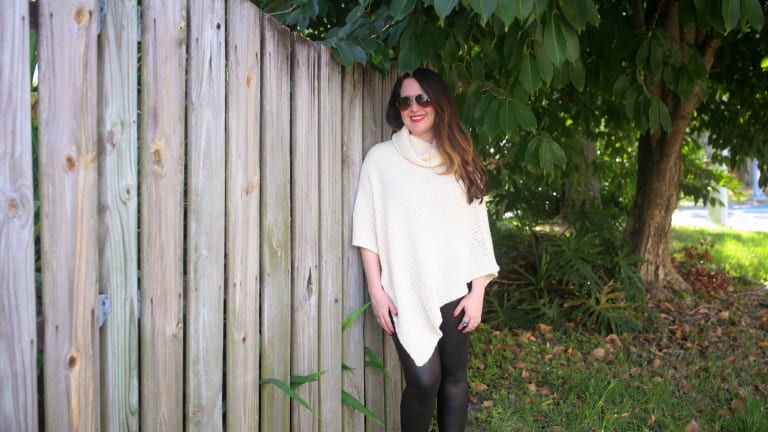 The Best Holiday Manicure
Are you ready to jazz up your look for the holidays? Well, I'm going to share a very easy way to get into the holiday swing of things with the best holiday manicure! It's a classic look that you might think is too typical, but I'm going to tell you why it's anything but conventional. You see, once upon a time, I was a little girl living for the day my Auntie / godmother, otherwise know as my mom's best friend who ALWAYS seemed to have a fresh mani, would arrive for a visit. When that knock on the door came my sister and I would squeal with excitement because we knew some serious fun was about to be had.
My Auntie would then sweep in, a flurry of animal prints and red nails, and take us on the kind of girlie adventures only she could. You'll also always find a red lippie in my bag thanks to her, but I digress...It was those early memories that have influenced my style to this day. And while my beloved Auntie may no longer be with us in body, she will always be with us in spirit. I will forever think of her when I get what I consider the best holiday manicure...So on that note, can I ask that you say hello to the RED mani again? It's time to become reacquainted with her!
It's Holiday Manicure Time
I know, I know. Red and green are just soooo typical when it comes to holiday colors. You want to sport edgier, more on-trend hues. Well, maybe there is something to be said about a classic that withstands the test of time. And maybe not subscribing to all the latest trends is trendy all on its own. Ha! You will never convince me that a red mani doesn't always work for the holidays. It goes perfectly with the majority of the colors we love to wear this time of year. Black, winter white, all the shades of green (well emerald and forest anyway, ha), metallics, you name it...
And not only does a red mani look great all season long, but I've always been amazed at the power red nails have over me. I instantly feel more polished and pulled together when my nails are that ragin' red. Even if I'm just rockin' a sweater and jeans, bright red nails give my look a holiday kinda vibe that requires very little styling effort out of me. And being that this busy mama is even busier than usual right now, I'll take it! Boy will I take it.
More Holiday Beauty Inspiration
On that note, I have shared some of my favorite red nail polishes below so you too can get the perfect holiday manicure! And for more holiday style tricks, check out my tips for how to be comfortable at holiday parties. There's no reason you can't look good AND feel good at the same time mama! Remember, we're here to make life easier for you and that includes during the mania that can be the holidays!
Shop the post: OPI She's a Bad Muffuletta! / Zoya Hannah / OPI Big Apple Red / Essie Lacquered Up 
This is not a sponsored post. It does contain affiliate links.