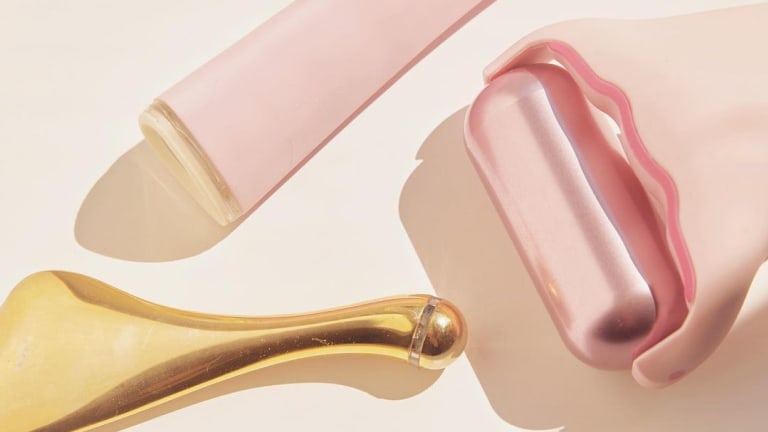 Momtrends MVP'S: The Best Facial Tools
In our latest beauty Momtrends MVP's you will find facial tools and facial devices like wands, face masks, derma rollers and moore!
I swear one day I looked in the mirror and my face had dropped. Hence, my obsession with facial tools began. Frankly, the difference in my skin wasn't noticeable to anyone but me, but the point is that I noticed. And that's all that matters right? We all want to be comfortable in our skin.
So, I started looking for non-surgical ways to improve my skin's tone. Happily, there are plenty of products that can help along with facial tools too. And what I have found with many, not all, but a good majority of the facial tools I have tried, they're worth the money.
Why Facial Tools are Worth the Money
Why are they worth spending a little more you ask? Because they're effective, plain and simple. I would like to stick with botox, maybe a smidge of filler, some laser treatments, perhaps, and my facial tools for as long as I can. Who knows? That may be all I ever do. You won't find any plastic surgery judgment over here. You do you has long been my mantra.

But if you want to try a facial tool or two to help your skin look its best, you came to the right place. I have something for everyone in today's beauty edition of Momtrends MVP's I think. We're tackling sagginess, wrinkles, acne...the works!
Which Facial Tool Do You Need?
In my facial tool journey, I found contentment by tackling the issue that was bugging me the most first. So, if wrinkles are your number one issue, start there. If it's acne...you get the picture. Maybe you can find a facial tool that tackles both? Actually, you can! More on that later...
Currently, my jowls are not my favorite, so the NuFace is my birthday gift to myself. If you have never bought yourself a bday gift, I highly recommend it. Haha! You will be delighted when it arrives because it will be exactly what you want, but I digress…
Let's talk about these fabulous facial tools I can't get over!
The Best Starter Facial Tool
I call this a starter facial tool because it doesn't charge. Haha! And while it may look very simple, it's surprisingly effective at doing ALL kinds of things! And that is why it is a bit pricier than the under $20 versions you can find on Amazon. It helps release muscle tension, sculpt and plump your skin!
This tiny little facial tool has several different edges, each one designed to fit the different parts of your face. The U edge, my favorite edge, for instance, is perfectly designed to hug your jaw, cheekbone, brown etc.
I love how good it feels in your hand. I have early onset arthritis, so ergonomic anything is my best friend. And even if you don't have an issue like that, you want a tool that fits well in your hand so you have good control over it. Plus, things can get slippy when you use a product, like a good facial oil, with your tool.
Wildling Empress Stone Gua Sha Tool
The Best Facial Cleansing Tool
When I think back to how I washed my face when I was in my twenties I shudder. Sure, I used a face wash, but I didn't wash it for nearly long enough to really get in there and remove all that grime. Think of it like brushing your teeth. If you don't do it long enough, it's not really effective is it?
Well, now I wash my face for a full minute. And you can go a step further than using your favorite cleanser alone. With the Foreo 3 Plus you get a gentle, heated waterproof device that not only gets rid of dirt, grime and makeup, but it also has microcurrents that help stimulate and plump up your skin.
I can't get over how much the Foreo 3 Plus does for your skin. It's seriously double-duty with cleansing and treating action!
The Best Toning Facial Tool
Remember that birthday present I mentioned? Well, this is it my friends. This facial tool tones and lifts sagging skin. Now there is a larger size, but I confirmed with my favorite makeup artist and skincare guru that most people can use the smaller version and see plenty of results.
With gentle microcurrents, the NuFace improves facial contour and tone...I'm looking at you jowls. Bwah! And I will tell you another piece of advice my friend gave me...Use the NuFace Hydrating Aqua Gel to kick those results into overdrive!
I really like the Mini Magical Results set because it comes with that magical activator gel I mentioned above! It's a fabulous deal and you don't have to worry about finding an oil or gel your own.
The Best Microneedling Facial Tool
There are plenty of derma rollers on the market, but they aren't all painless as they should be. If you feel pain when using a microneedling tool you might be using one with needles that are too long. I recommend consulting your dermatologist before using a tool like this for that exact reason.
Once you get the ok, you can go after that younger-looking skin so many see after using the GloPRO! Get ready for smaller appearing pores and firmer, smoother, more supple skin. AND if that wasn't enough, your products will absorb better too. Remember those serums and facial oils I shared earlier this year?
I can't get over how easy the GloPRO is to use! You feel a pleasant tingling and that's it! By gliding this handy dandy tool over your skin for merely a minute you will create vertical microchannels in your skin that will help target those fine lines and dull skin issues while leaving a prime surface to apply your products to afterward!
GloPRO Facial Microneedling Tool
The Best Facial Tool for Acne
If you've read a few of my beauty Momtrends MVP's articles, you probably noticed that I bring up adult acne...a lot. Haha! I know I am not the only woman my age who has seen a pimple or two or five, bwah, pop up long after those teenage years.
Yep, I'm a full-grown, and then some adult, so I am looking for adult solutions. And an acne-fighting mask is exactly that! The DRx SpectraLite Faceware Pro is an LED light therapy device that you wear for three minutes to fight both acne AND wrinkles. The red and blue lights work together by stimulating collagen-producing and fighting bacteria to smooth lines, soften pigmentation, and clear acne.
I am all about a hands-free facial tool that I can use while I relax in bed with one of my favorite TV shows. Hello Ted Lasso! And the FaceWare pro does all the work for you. You simply wash your face, secure the mask on your face and let it do its thing for a few minutes.
The Best Facial Tool for Eyes
As we age, our eyes give us all kinds of trouble. Puffiness, fine lines, and even dryness are all pretty common concerns. Lots of screen time can make that last problem worse. And as much as we probably don't want to admit it, all that Reels watching time adds up. Hahah!
Thankfully there is a facial tool, the Peep Club Heated Eye Wand, that offers a solution to your eye woes. This heated wand functions as a warm compress to help stimulate natural tears. An added benefit is that the gentle massage feature improves circulation and promotes collagen production which means less puffiness and less fine lines.
I love that you can use the Peep Club Heated Wand Tools independently from each other if you want to. So, if you really just want to focus on working up good quality tears to help hydrate your eyes all day or if the massage is only what your eyes need, that's ok too!
The Multi-Purpose Facial Tool
Along the same vein as the facial tool we just talked about, the Trilogy Wand System uses both light therapy and massage to stimulate the rest of your skin. The red LED light and lymphatic massage feature firms your skin and reduces the appearance of fine lines, while the blue LED cryotherapy light soothes and tightens it.
You see serious results from using it for less than 10 minutes a day. It takes longer than that to get in the car and drive to get a skin treatment. Am I right?
You can't beat a tool that firms, soothes, AND lifts your skin. I can't get over how the Trilogy wand makes you feel like you just had an in-office treatment right from the comfort of home!
The Best Soothing Facial Tool
I officially admit that I am full-on obsessed with the soothing effects of cryotherapy. My sensitive skin constantly feels inflamed, so I'm always drawn to cooling properties. The Cryo Recovery Mask from Charlotte Tillbury is, in a word, refreshing!
The cold therapy makes your skin feel divinely invigorated and the acupressure beads of the mask help relieve tension. This is one of my pre-event tricks. Whether I have a date night with the hubs, a family photo sesh, or a work event, I can turn to this mask for a quick pick-me-up.
And at under $60, the Cryo Recovery Mask is an amazing bargain considering you can just wash it, re-freeze and use it again and again for firmer, lifted, less puffy skin! This eternally tired mama fully appreciates how revived I look after using this miracle-worker!
Charlotte Tillbury Cryo Recovery Mask
And that brings us to the end of our latest beauty MVP's top picks. I hope you found a tool or two to help you tackle your skincare issues. I can't wait to hear which ones spoke to you the most!
Stay tuned for our next Beauty Momtrends MVPs list…
And for More Momtrends MVP's Winners, 
Follow the Links Below:
Pin It!
Don't forget to save our must-try beauty tips and follow along for even more with our Pinterest beauty board!
Momtrends MVP's is a non-sponsored series. Brands must meet our strict standards to be included. When naming winners we take several factors into account, including expense, convenience, and style.
We make our picks annually based on editors' research. In some instances, we may request and receive samples so that we can more thoroughly assess products. Our opinions are our own, and our goal is to help our community of moms make more informed decisions on everything from baby gear to beauty products to vacation destinations and more. We scour the abundant options and painstakingly hand-pick our favorites, so you don't have to. Our hope is that our most valuable players become your most valued purchases.