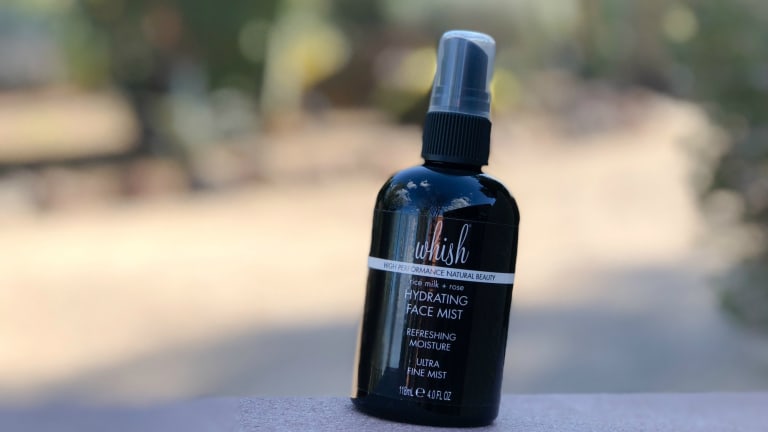 The Best Face Mist for Dry Skin
'Tis the season of dry skin...Am I right? While spring is nearly here, it's still pretty darn cold in many parts of our country. With that cold almost always comes cold air. So, I'd be willing to bet that you just might have use for, what I'm calling, the best face mist for drink skin! I'm actually currently on spring break out west where the air is very dry. It's not exactly cold, but the air is most definitely dry. In fact, my face was feeling quite tight and relatively uncomfortable until I spritzed on today's topic of choice.
Now, don't get me wrong. My dry skin situation wasn't dire enough to keep me inside. Oh no. I've been having too much fun outdoors taking in the beautiful scenery to twiddle my thumbs indoors. That being said, my skin was simply not happy about its dry state, so something had to be done. It's been missing the humidity that's ever present where I live, as it nearly always does when I travel. And that's why face mist is, and will always be, in my travel bag!
That's right. Face mist is one of my number one travel must haves because it cures a host of skin woes. And although I might not always be heading out west when I travel, the plane's air, at the very least, is always dry. So, let's talk about the best face mask for dry skin shall we? By the time you finish reading this, I daresay you'll want to run out and pick up your own bottle STAT!
What Can Face Mist Do for You?
And that face mist I'm talking about is the Whish Hydrating Face Mist. It is both moisturizing AND soothing at the same time. That's just the kind of combo this girl needs right now. Because, while I've been diligent about applying the sunscreen, I simply don't spend ALL day outside in my every day life, so my face was bound to get a bit too much sun. A face mist that helps reduce inflammation and calm the skin is clutch at times like these. I've found myself applying it quite liberally and it's made all the difference!
So, are you ready to treat your skin to a nice bottle of hydrating face mist too? After a winter being ravaged, I'd say your face deserves the splurge! And for even more beauty tricks, check out some of my must try travel beauty essentials. Not only is it the season of dry skin, but it's the season of travel. Even if you don't have a spring break trip on the books, I bet you'll be headed somewhere fun this summer. And you're going to want to pack this face mist and the rest of our travel beauty recommendations as well for that matter!
PIN IT!
We were not paid for this post. We did receive a sample and it does contain affiliate links that could generate income for us to help us bring you this site.