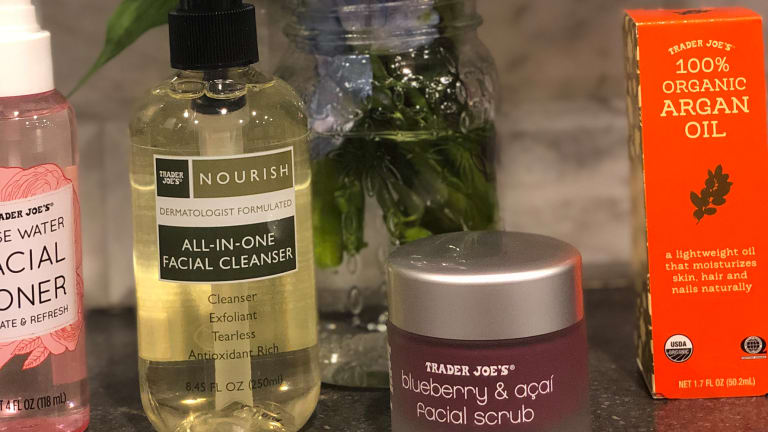 The Best Beauty Buys From Trader Joe's
The Best Beauty and Skincare Buys From Trader Joe's, affordable finds we've tested and approve.
My Monday mornings always start with a trip to Trader Joe's... With grocery list in hand, I roam the aisles stocking my cart with fresh fruits, veggies (we even sneak them into smoothies), snacks, and other must-haves for healthy, delicious meals (anyone else hooked on the frozen cauliflower gnocchi?!). But have you ever picked up a beauty product there? I'm sharing the best beauty buys from Trader Joe's.
Trader Joe's is the type of place where impulse buys just happen. Inevitably, I also wind up with a $4 mini bouquet (#treatyourself) and some not-so essential yummies (cannot wait to try the much-hyped pancake loaf I snagged this morning)...and let's not forget the awesome and affordable wines! Despite the impulse shopping, I never have guilt or regrets because of the incredibly affordable prices. (Thank you TJ's xo.)
Shopping Beauty at Trader Joe's
But one area of the store that, in the past, I had typically passed by: the personal-care aisle. I never thought to try their household, skincare goodies, and beauty items. That is, until I heard rave reviews from a pretty persnickety friend about TJ's own signature argan oil.
So I decided to give a few of their beauty options a go around--and, well there's no losing when: 1.) everything is less than $8 and 2.) the return policy guarantees satisfaction even if an item has been opened and used (btw, that goes for food too). But, needless to say, from the title of my post, I found a few major winners. And just like my inability to shut up about their "everything but the bagel" sesame seasoning, bargain nut assortment, and amazing cold-brew latté popsicles, I can't keep these finds to myself, either!
Blueberry & Acai Facial Scrub
I load my diet up with blueberries and add acaí packets to my morning smoothies knowing that these antioxidant-rich fruits are great for my overall health and well-being--why wouldn't all that berry goodness be beneficial to my skin as well? The nutrients in this deliciously fragrant scrub combined with alpha-hydroxy acids remove dull skin cells and revitalize the complexion. 
I apply all over my face and then immediately work water in to gently exfoliate. Fair warning: it's not a mask, so don't leave it on for more than a minute or so, especially if you have sensitive skin. The alpha-hydroxy is potent and effective and can cause irritation if not used properly. I may have made this mistake once, but even then after the initial redness calmed down, my face felt supple and soft and looked radiant.
Trader Joe's 100 Percent Organic Argan Oil 
This and coconut oil--what can't it do? Naturally rich in Vitamin E and fatty acids, Trader Joe's 100 percent organic argan oil is my favorite cure-all, especially in the harsh and harrowing winter months. I pat a tiny bit all over my face at night in place of a light and absorbent moisturizer. I apply to cracked heels and rough elbows and use it on my cuticles and nail beds, when they're needing some TLC. And I run a bit through my wet hair when it could use extra conditioning. 
Trader Joe's Rose Water Facial Toner 
A little spritz goes a long way to refresh and revitalize the skin and senses. With a gentle and subtle fragrance, rose water facial toner also boasts a few versatile benefits. I use it to prime and set my makeup; it brightens and gives me a dewy glow. And like all my favorite beauty products, it has multiple uses--you can spray on split ends and use to hydrate your hair and scalp. (Bonus: Your hair will smell lovely.)
Trader Joe's Nourish All-in-One Cleanser
I love a gentle daily cleanser; one that makes me feel squeaky clean without stripping my face of essential oils. I want the best of both worlds in my facial cleanser, and this baby delivers. Dermatologist formulated and loaded with antioxidants, it removes impurities without over-drying.
So there you have it... my latest obsessions from Trader Joe's--beauty bargains I can't stop raving about. Now hop to and head to your local TJ's--get their milk chocolate bars while you're there! And if you can get your hands on a bottle of their new rosé vinaigrette, pick one up for me too, will you?
P.S. Now go read about our four favorite and super cheap wines available at some Trader Joe's.
MORE BEAUTY FROM MOMTRENDS
PIN IT!
Use pinterest to save your favorite beauty tips. Be sure to follow our Beauty board here.
This is not a sponsored post.