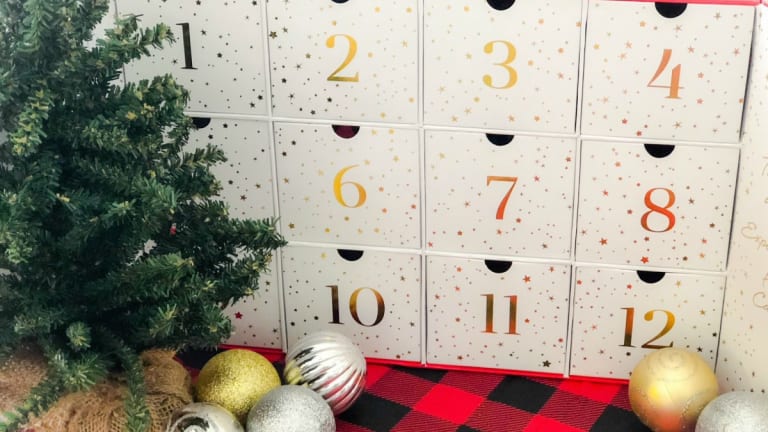 Publish date:
The Best Beauty Advent Calendars for Moms
The BEST kind of Advent calendar for moms is one packed with beauty products, we're sharing our favorites.
Hey fellow holiday fans, have you seen a beauty advent calendar yet this year? If not, you're missing out! Well, never fear, because I'm about about to share the best beauty advent calendars for moms with you! You see, as long back as I can remember, one of of my favorite holiday traditions has been the advent calendar my mom gives me each year. It's always different, yet always special. Some years it's a Victorian style paper advent calendar. Sometimes it's a chocolate filled advent calendar. No matter what it looks like, I so look forward to opening that tiny window each day during the holiday season.
Related: Best Advent Calendars on Amazon
This year I decided to pay it forward and gift my mom a very special advent calendar so she too could experience the joy they've brought me. And I decided to make hers a beauty advent calendar. What is a beauty calendar you ask? It's the BEST kind of advent calendar my friends. Imagine opening a drawer each day that contents a killer beauty product! You're sold right? I knew you would be. It's like Christmas morning for days! Trust me...Celebrating Christmas just got better!
The SkinStore Beauty Advent Calendar
Now there are a slew of fun beauty advent calendars out there, but the best beauty advent calendar is the SkinStore 12 Miracles of Beauty advent calendar. It's like a dream come true for beauty lovers. I'm talking, skin care, hair care and even fabulous makeup finds. Each and every surprise that you pull out will put a serious smile on  your face.  And they add up to over $340 in premium beauty products. At $150 for the whole calendar, that's a holiday deal worth snagging whether you gift it, treat yourself or do both! In case you need a little push, here are all the products you'll find insider the best beauty advent calendar for moms:r
Kiehl's Advent Calendar
Feel the joy with Kiehl's with this limited edition Advent Calendar here--a $207 value for $98 (a 53% savings!). This limited Edition Advent Calendar includes customer favorite skincare products including cleansers, face masks, facial serums, moisturizers and more!
This year they are partnering with Maite Franchi, a Lyon-based illustrator and graphic designer. Inspired by Art Deco, her designs combine geometric shapes, vibrant colors and subtle textures, bringing a warmth and richness to the world of Kiehl's. Get the Kiehl's Advent Calendar here.
Sephora Advent Calendar
A countdown to the holidays with 24 special gifts in a bestselling, limited-edition advent calendar. Each day, uncover a Sephora Collection beauty, skincare, or accessories item to get you excited for the holiday season. This advent calendar features 15 full-size, nine mini, and all exclusive gifts awaiting behind each door. Get the Sephora Advent calendar for $45 on Sephora.com
Body Shop Advent Calendar
Count down to Christmas day with this Make It Real Advent Calendar. I love it for teen and tweens. For under $70 you get a calendar jam-packed with treats to uplift, pamper and rejuvenate. There are items like bath bubbles, body butter, shampoo, conditioner and more. Get the calendar on the Body Shop website here for $69.
On that note, who's ready to pic up the best beauty advent calendar for moms? I daresay there's a lady in your life who would absolutely love it...including you! Which one will you get this season?
MORE HOLIDAY IDEAS FROM MOMTRENDS
PIN IT!
Use Pinterest to save your favorite ideas from Momtrends. Be sure to follow our Holiday fun parties recipes and crafts board here.
We were not paid for this post. We did receive a sample and it contains affiliate links.