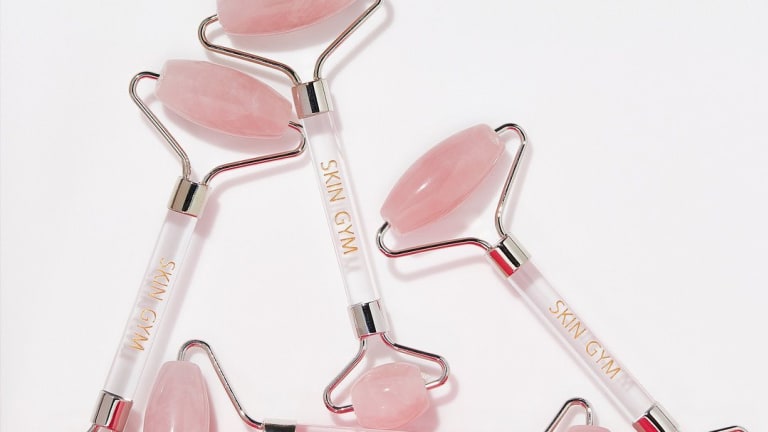 Momtrends MVP'S: The Best At Home Cryotherapy Tools and Products
Cryotherapy can do wonders for calming puffy skin and soothing irritation and now you can get some of those benefits without leaving your house. Read on for some of our favorite at home cryotherapy tools and products!
This latest beauty edition of Momtrends MVP'S is for all you fellow tired mamas out there...I know I'm not the only one who doesn't always get the rest she needs and then wears it on her puffy face, bwah! You all need the best at home cryotherapy tools and products and let me tell you why...
As a person with sensitive skin, I practiced cryotherapy long before I knew it was a thing. When my skin got irritated or sunburned when I was younger, my mom would have me rub an ice cube over it.
Cryo skincare is obviously more sophisticated than that, but the idea remains the same. You soothe your skin with cooling tools and products.
And thanks to its popularity, you can now get cryo benefits from at home treatments. There is a slew of easy to use cryotherapy products and tools available to try! You can bet I rounded up some of my favorites for you here.
Why You Should Try Cryotherapy at Home
Don't get me wrong. I love a good in-office treatment and visit estheticians and injectors for facials, Botox, and the like.
That being said, I equally enjoy having an at home treatment regimen I can turn to as well. It doesn't have to be an either-or situation. They both have their spaces!
And being that cryo skincare can help combat everyday issues like puffy skin, circulation, fine lines etc., I think you should at home cryotherapy is worth a try for anyone who takes care of their skin or wants to start!
On that note, let's talk about some of the best at home cryotherapy tools and products that I think you should try today! And did I mention that many of them are more than budge- friendly!
I will say that most of them work better with lubrication from a good facial oil. I'm partial to organic rosehip oil myself, but I digress…
Without further adieu, it's time for the Momtrends MVP'S version of the best at home cryotherapy!
The Best Stainless Steel Roller
First up, we have a stainless steel roller which is as soothing to your skin as it sounds! Irritated skin rejoices when the coolness hits it.
But what I love about a stainless steel roller the most is its depuffing capability. If you're anything like me, you wake up a bit puffier in the morning than you would like to.
The Skin Gym IceCoolie roller is made from stainless steel, it feels cool all on its own, but you can throw it into the freezer for a few minutes for optimal cryotherapy. The roller glides very smoothly over your skin to And it's super lightweight and portable, making it perfect for travel.
Get the Skin Gym IceCoolie Ice Roller
The Best Undereye Roller
Another area of my face that needs daily depuffing is my undereye area. So, a cooling roller is definitely needed, but they aren't all the right size for an area that small.
The Tarte Cryo Cool Tool, on the other hand, is perfect for under your eyes. It's small and fit's perfectly in the palm of your hand.
And I love that you can get a bundle with both the Cryo Cool Tool and Tarte's Wink of H20 Collagen Eye Cream. It's a holy grail kinda eye cream because it hydrates that delicate skin SO well. Between that and the roller, your under eyes will be smooth and supple in no time!
The Best Facial Wands
Cryotherapy is really having a moment, but so is facial massage. Watch one Reels on the topic on Insta and you will be served up a million more, haha. I'm not complaining. I've really learned a lot about facial massage and how it can tone my face.
So, I was so excited to see Tatra's Cryo Facial Set which combines two of my skincare obsessions! It comes with two ergonomically shaped wands.
You can use the cooling wands to give yourself a soothing, lifting, depuffing facial massage right from home. I love how the Tatra Cryo Facial Set Wands are designed to perfectly fit the curves of your face!
Get the Tatra Cryo Facial Set
The Best Cryotherapy Mask
I have written about Charlotte Tillbury products in my beauty pieces over the years for good reason. So many of them have a cult following. On that note, I think their cryotherapy mask should land on everyone's must-have Charlotte Tillbury products list.
The Charlotte Tillbury Cryo-Recovery Mask, to be exact, is a beauty splurge that I consider well worth its price tag.
This mask is perfect for those days you're simply exhausted and need maximum results with minimum effort. You just put it on and let it take care of with cooling metal beads and acupressure! All you fellow parents can relate I'm sure!
Get the Charlotte Tillbury Cryo-Recovery Mask
The Best Facial Ice Tool
Remember when I said I would use regular old ice cubes when I had burnt or aggravated skin when I was younger. Well, there was something to that.
The Detox Market Super Chill Face Pill is an easy-to-use mold that makes ice application so much easier and less messy! You just fill the reusable silicone mold with water, freeze, and apply to your skin.
I love to glide ice along my skin in the same spots I would use my gua sha. Not only is this facial ice tool another, but The Super Chill Face Pill wakes you up like nothing else in the morning!
Get the The Detox Market Super Chill Face Pill
The Best Facial Ice Pops
This next at home cryotherapy must-have is part face mask, part facial ice tool. The Love & Pebble Beauty Pops Ice Mask Kit is just what it sounds like.
You mix the formula with water, freeze and apply to your face like you would ice cubes except these cubes come with potent ingredients like turmeric and aloe vera to help soothe and tighten your skin.
My favorite part about the Beauty Pops Mask Kit is that it comes in powder form so they don't use preservatives and it's free from all other icky things like parabens, alcohol, synthetic fragrances etc.
Get the Love & Pebble Beauty Pops Ice Mask Kit on Amazon here.
The Best Cryotherapy Device
Who wants to get facial results from a device you can use at home? We're all raising our hands right?

The Foreo UFO 2 makes that possible. It not only has a cryotherapy setting, but it also offers massage and LED light therapy settings as well to really help you get the most out of your facial masks!
I love that you can tackle so many issues with one little device. The Foreo UFO 2 helps you customize your experience and lives up to their claim of it being a smart facial device!
The Best Hydrating Cryo Mask
One of my all-time favorite anti-aging and moisturizing ingredients is hyaluronic acid. My skin definitely doesn't look youthful when it's not properly hydrated!
One of my favorite cryo masks combines hyaluronic acid with cryotherapy. The Dr. Jart+ Cryo Rubber Mask will give you the softest, smoothest looking skin in mere moments!
I love how quickly the Dr. Jart+ Rubber Mask works. It's perfect for those times you need an immediate cooling effect!
Get the Dr. Jart+ Cryo Rubber Mask on Amazon here.
I think that should give you enough at home cryotherapy tools and products options to choose from, don't you? And don't forget to flip through our other beauty recs below…
Stay tuned for our next Beauty Momtrends MVP's list…
And for Even More Momtrends MVP's Winners, Follow the Links Below:
Pin It!
Don't forget to save our favorite beauty tips and follow along for more with our Pinterest beauty board!
How We Pick Our Winners
Momtrends MVP's is a non-sponsored series. Brands must meet our strict standards to be included. When naming winners we take several factors into account, including expense, convenience, and style.
We make our picks annually based on editors' research. In some instances, we may request and receive samples so that we can more thoroughly assess products. Our opinions are our own, and our goal is to help our community of moms make more informed decisions on everything from baby gear to beauty products to vacation destinations and more. We scour the abundant options and painstakingly hand-pick our favorites, so you don't have to. Our hope is that our most valuable players become your most valued purchases.