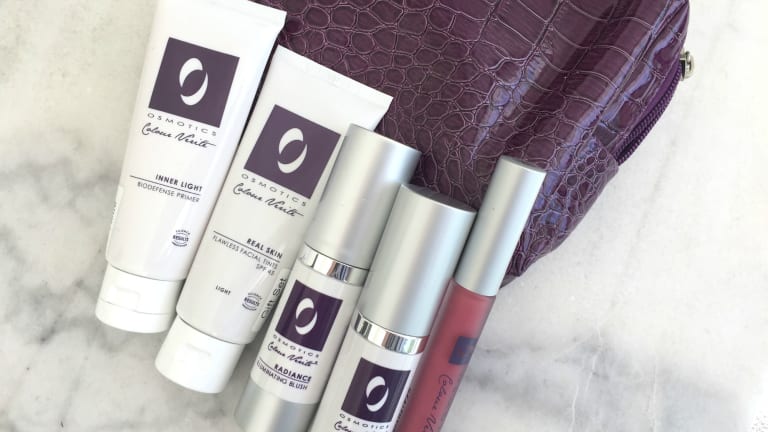 The Best All in One Makeup Kit
Cover most of your makeup needs with one handy dandy kit...
Who wants to hear about what I'm calling the best all in one makeup kit? I mean who wouldn't right? Haha! Let me start by saying I love multi-purpose anything. I'm a mom. It's just a fact that we're drawn to things that solve multiple problems at once! Well, my friends...The Osmotics Colour Verite Discovery Collection is just what you're need if you're looking for an on the go kit that can help you refresh your makeup anywhere, anytime!
Get Your Own All in One Makeup Kit
There are a few steps in my makeup routine that I rarely skip. You might find me at school pickup with no eyeshadow, but no concealer? Doubtful...And even more doubtful...no lip color. A swipe of concealer and lip gloss make me feel like a new woman. Bwah! Well, this all in one makeup kit comes complete with both of those products AND more! 
If I have a few extra minutes, you'll also find me throwing on some primer before my tinted moisturizer and then a quick swipe of blush. Guess what, you'll ALSO find those in the Osmotics Colour Verite Discovery Collection all in one makeup kit! Score! Plus, it all comes in a super cute bag. I love having a little dedicated pouch for my makeup that I can easily transfer from bag to bag.
What I Love About this All in One Makeup Kit
And the best part about all of the products in this all in one makeup kit is how subtle they all are. The concealer takes care of my dark circles without being too heavy, while the Flawless Facial Tint not only gives sheer coverage, but also contains SPF 45. And the Illuminating Blush gives my cheeks the natural kind kind of glow we're all after. AND the Lines Smoothing Color for lips? Consider it my new go-to. It leaves behind the perfect hint of pink!
So, if you're looking to find a fast and easy makeup routine for yourself...This all in one makeup kit makes it super simple for you. I promise! And considering just how many products it comes with, it's a total steal. Just sayin'.
This is not a sponsored post. We did receive a sample.