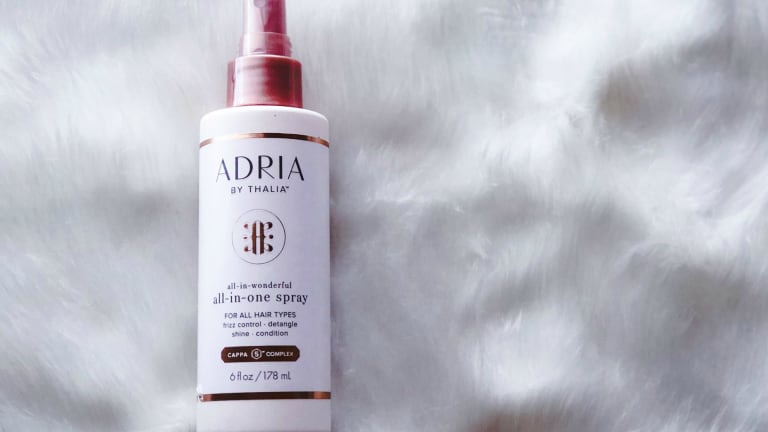 The All In One Hair Product You Need
When you travel, how concerned are you about your hair? I don't know about you lovelies, but I don't want to worry about anything, beyond the good time I'm having when I'm on vacation. So, I try to carefully select beauty products to pack that can take the worry out of doing my hair for instance. I obviously don't want my tresses to look like a hot mess, but I also don't want to spend a ton of time on it. Mama's got better things to do!
That was especially true on our recent dude ranch vacation. My mane spent a good amount of time under a cowboy hat. That being said, there were also a good amount of photo taking opportunities, but I didn't have to worry about my hair thanks to the all in one hair product I'm going to share with you today! And it's super budget friendly too, so double score!
Why You Need Adria by Thalia All-In-One Spray
Who wants a hair spray that can detangle, defrizz, condition and add shine ALL at the same time? Who wouldn't right? Well, then, the Adria by Thalia all-in-one spray is for you! This is the ultimate leave in treatment and the perfect product to pack for your next getaway. I found that it was a wonderful way to combat the super dry air out west. I simply spritzed it on after washing, then styled as usual. And did I mention that it also helps prevent your color from fading? I got my hair highlighted right before my trip, so it felt great knowing that I was protecting all that fresh color!

And while we're on the subject of my favorite travel beauty products, make sure you check out the best face mask for dry skin that I recently shared! It will keep your complexion nice and dewy. And it's especially great for the plane. We all know how dry and tight our skin can feel after the wheels go up! Am I right? And for even more beauty tricks, take a look at the face mask I can't get enough of! It's another major multi-tasker! And if us busy mamas love anything, it's anything that multi-tasks for us!
PIN IT!
We were not paid for this post. It does contain affiliate links that we could earn income from to help us bring you this site.