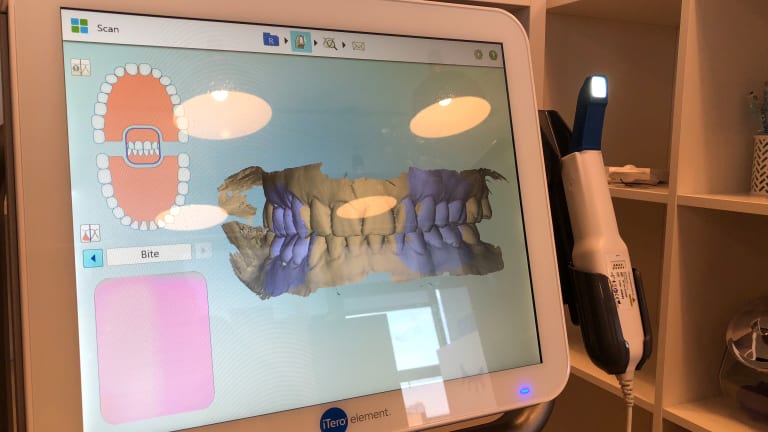 Testing Out Smile Direct Club
Dealing with braces as an adult, aligners are a great option to braces.
Like just about every other teenager in Annapolis Maryland, I had braces. I went to see Dr. Zaks for years to straighten out my smile. After I got my braces off in 8th grade, I wore my retainer religiously and my teeth stayed straight. Sadly, now thirty years later, my teeth are shifting. Now I'm dealing with braces as an adult. Rather than go back to being a "metal mouth," I am testing out Smile Direct Club.
Related: Starting kids young on their path to good orthodontic and dental health
I have a couple issues with my teeth. My top front teeth are overlapping a bit (you probably wouldn't notice, but I do) and I've got a bite problem. My back molars are curving in causing me to bite my tongue. It's painful. I like to keep my beauty routine simple and it all starts with a great smile. 
Get a Free Smile Direct Consultaion
MOMTRENDS SPECIAL CODE: I'm starting my smile makeover with Smile Direct and want you to join in too. If you use this link you can save 50% off an at-home impression kit or get a free scan in SmileShop markets. Use code: NICOLEF at https://smiledirect.co/NICOLEF
The Problems with Braces
My girls have both had braces. I love their orthodontists, the duo at The House of Orthodontia are great. The problems are twofold: the mouth full of metal and the unending appointments. I don't want to sign on for either.
Smile Direct is perfect for an adult who wants to upgrade her smile. No long office visits, no clunky metal braces. Most treatments take about six months, which in parenting years is the blink of an eye.
Getting Started with Smile Direct
Thankfully, there are Smile Direct offices popping up all over; they call them Smile Shops . The nearest one to me was only one block away in the WeWork Building on 81 Prospect Street. I booked an appointment online and was sent a few reminders about the consultation.
On the day of the appointment, I completed my profile and was given a program overview. I loved checking out all the BEFORE and AFTER photos. Smile Direct makes a big difference. 
After my introduction, I sat down for before pictures and a 3D image scan of my mouth. It was easy and painless. I was in and out in 30 minutes. The Smile Shop had a team that was incredibly patient. Go ahead, ask all the questions you can think of!
Next Steps with Smile Direct
My scan is sent to the orthodontist and she (or he) will take a look at them and develop my personalized plan. I'll find out how long I'll need to have my treatment in just a few days. Every client of Smile Direct will have her aligners prescribed by a state-certified and licensed dentist.
Once my plan is set, a complete box of aligners will be shipped to me. Each week I'll get a new aligner from my box. I'll wear the clear aligner for 23 or so hours a day. I'll take them out to eat and brush my teeth. Every 90 days I'll go in to have a check-in at the Smile Shop.
The process is great for busy women like me. No braces and just a few office visits.
Book your consultation here https://smiledirect.co/NICOLEF
Bright On Whitening
After my initial consultation, I was given a bright on LED accelerator light. My smile makeover includes whitening and straightening. For the whitening portion, I can start now. 
I think yellow teeth can REALLY age a person. I have used a variety of whiteners in the past including the Crest White Strips. The Smile Direct system is super easy to use.
The entire kit comes in a box. There's a tube of whitener, a mouthpiece, cord and instructions. This is an easy addition to your beauty routine that can be done every three months.
How Smile Direct Bright On works:
It's really simple to whiten and brighten your teeth with Bright On from Smile Direct. I was able to do my first treatment while my girls were at horseback lessons. This is how it works.
Start with clean teeth.
Brush the whitening gel on your teeth. Careful to cover just the front 8 teeth on top and bottom.
Bite gently on the mouthpiece and plug the mini USB cord into your smart phone.
Set your timer for 10 minutes.
Now, all you need to do is read a book or check your email. In ten minutes your are done.
When you are done DON'T RINSE. 
Repeat this process 2x a day, once in the morning and once at night for two days in a row. To get the best effects, avoid drinking dark liquids for a week.
I can't wait to debut my new and improved smile this year. If you are ready to join me, head here to get details https://smiledirect.co/NICOLEF
MORE BEAUTY FEATURES FROM MOMTRENDS
PIN IT!
Use Pinterest to save your favorite beauty finds. Be sure to follow our Beauty board here.
This Testing Out Smile Direct Club feature is not sponsored. Treatment is being provided to facilitate this post.