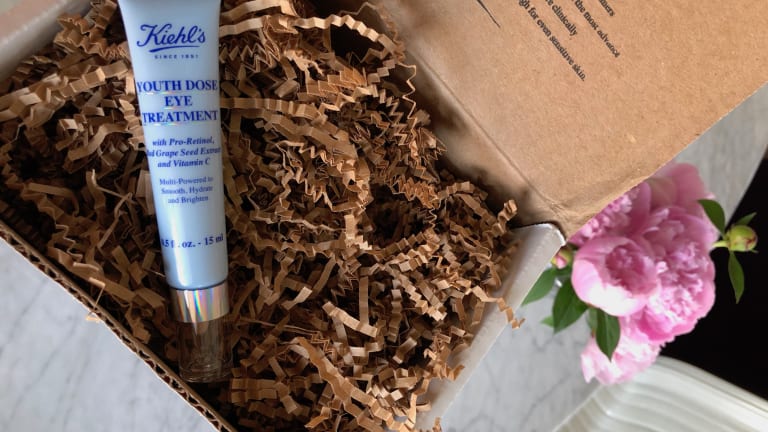 Testing Kiehl's Youth Dose Eye Treatment
Momtrends Beauty Labs
I love feeling comfortable in my skin. As I've gotten older, I've started wearing LESS makeup. Instead, I am focusing on my skin. I know my skin reflects what's going on in my life; am I sleeping well, am I eating well, am I staying hydrated. While I strive to give my skin the best nourishment I can, I also rely on skincare products to aid in my goal to glow without the benefit of highlighters and concealer. This month I've been testing Kiehl's Youth Dose Eye Treatment, a brand-new product that will be available later this month
Related: What you need to know about anti-aging skincare
I want my eye treatment to do three things: reduce fine lines, tackle my dark circles, and bring down puffiness.  I've tested this product in my "beauty labs" and I can give it my seal of approval. My eye area looks brighter and I've given up concealer. My beauty routine got much simpler.
Momtrends video review of Kiehl's Youth Dose Eye Treatment:
How to use Kiehl's Youth Dose Eye Treatment
I love trying new products. It's not scientific, but I feel like sometimes my skin gets a boost from a new product. I started using this just when the kids were finishing up school. My schedule was packed and I definitely wasn't getting my beauty sleep or eating super clean. 
This was taken after a workout on the first day using the product. Isee a bit of dehydration and fine lines. I needed something to help my skin look youthful and energized. Youth Dose fits perfectly with my skincare routine. My nighttime routine is pretty simple and starts with cleansing. I've been using the Midnight Recovery Botanical Cleansing Oil. After that, I use a serum (here are some of our favorites). Next up, I apply Youth Dose Eye Treatment. 
Application: Apply 3 dots under eye area first. THEN gently pat and smooth under the eye and along the orbital bone. I finish up my skincare routine with my moisturizer (I've been using Kiehl's Super Multi-Corrective Cream). 
Nighttime Beauty Routine
Cleanse
Serum
Apply Youth Dose Eye Treatment
Moisturize
In the morning, I simply rinse my face with warm water, then I apply my serum, Youth Dose and my moisturizer. Easy as 1-2-3.
The Results from Kiehl's Youth Dose Eye Treatment
Kiehl's did some testing of their own. The Kiehl's clinical results show that after 2 weeks, "Youth Dose Eye Treatment demonstrates an improved smoothness, brightness, and reduction in appearance of fine lines/wrinkles, dark circles and puffiness." Since I don't get too puffy, my biggest concern is discoloration and the fine lines. I'm not going to stop my appreciation of the outdoors, I rely help from my beauty products to protect my skin. My favorite feature of this product is the hydration. My eyes look fresher and brighter.
What's inside Kiehl's Youth Dose Eye Treatment
I know Kiehl's as a brand that cares deeply about ingredients. They've been around for 167 years and are always look to nature and science to advance skincare. Youth Dose has three key ingredients in it: pro-retinol, red grapeseed extract and vitamin C.  What they leave out is AS important as what they put in. Youth Dose is FREE OF phthalates, sulfates, parabens and fragrance. 
Head to the Kiehl's website for more information here 
MORE BEAUTY FROM MOMTRENDS
PIN IT!
Use pinterest to save your favorite beauty tips. Be sure to follow our Beauty board here.
This Testing Kiehl's Youth Dose Eye Treatment feature is sponsored.