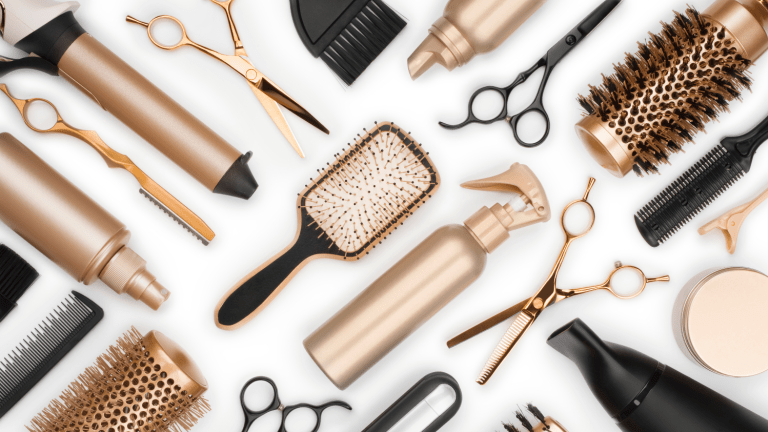 Momtrends MVPs: Best Hair Tools
Get your hair ready for summer with tools meant to make your mane look fabulous FAST.
I don't know if you noticed, but long hair is back, baby. I am not sure if it's due to all the haircuts we didn't get over the past year or what, but long manes are certainly in style for summer 2021.
I, for one, couldn't be more thrilled. I'm hanging on to my long hair for as long as I possibly can. Hey, if Demi can do it, so can I. haha!
Related: Our favorite hair removers for every body part
Now I may be dating myself in the same way my skinny jeans do, bwah, but I have had the same long locks for a couple of decades now. And I have to say that there is no shame in my long hair game.
So, I was thrilled to see that I don't have to have short hair to be hip. Not that I subscribe to what's in or out much, but you know what I mean. I don't need every Gen Z kiddo I pass on the street judging me. Haha!
Summer 2021 Hair Trends
If you too still find yourself looking to the seventies for beauty inspiration, you're in luck. I know you've already heard about the center part, but what about curtain bangs and Farrah Fawcett waves?
I actually convinced my stylist to give me curtain bangs in the winter and I'm so glad I did! Not only are they HOT, but they can also be styled so many different ways and they do wonders for making you look younger if you're into that sort of thing. Just sayin'.
Now depending on your cut, the texture of your hair, and how much time you have, your seventies-inspired style can be both wash and go and the type that plays well with hair tools.
And that brings me to today's topic...Let's talk about the best hair tools of 2021! Those Farah waves aren't going to just create themselves my friends.
But before we do that, make sure you ask your stylist about the money piece the next time you're at the salon. It's a face-framing highlight that will brighten up your look for summer. Chunky highlights are a big trend too right now, but I digress...
Hair Styling Tools to Try
Best Volumizer: Revlon One-Step Hair Dryer and Volumizer
Volume has never been a problem for me. I've always had relatively thick, wavy hair that almost had too much volume...that was until I reached a certain age. Then one day, seemingly overnight, it felt like my hair fell flat if I blew it out. This oh-so-popular hair tool solves that problem! With it, you can achieve a little volume at the roots for movement, along with a smooth shiny look. It's a fabulous anti-ager if you ask me!
Get Revlon One-Step Hair Dryer and Volumizer here
Best Hot Rollers: BaByBlissPRO 
Hair rollers get a bad rap. You may associate them with aging, but they can give perfectly youthful, on-trend styles like those Farrah Fawcett waves I mentioned earlier. This set isn't exactly inexpensive, but they're worth the investment. These aren't those rollers you remember from the 80s and 90s that damaged your hair. Far-infrared heat helps heat your hair evenly versus overheating a section.
Get the BaByBlissPRO Nano Titanium Professional 20-Roller Hairsetter here.
Best Hair Dryer: Dyson Supersonic Hair Dryer
I don't blow my hair out often, but if I am going to put in the time, I want it to work! A high-quality dryer like this Dyson beauty makes the process so much easier. It really cuts down on the drying time which is great for women like me who have little patience for it and don't damage your hair in the way some dryers do. You'll notice a trend here. I have no interest in tools that are going to fry our manes!
Get the Dyson Supersonic Hair Dryer here.
Best Hair Wand: T3 Whirl Trio
I just love the beachy waves look. And while most of the time I rely on a product to help coax my natural waves into doing what I want them to do, sometimes I want a more polished look and that's where a hair wand comes into play. I've named this one the best because it comes with a base and interchangeable wands, so you have options! Want a tighter wave, no problem. Want a looser, more tousled situation, this tool has you covered!
Best Hair Waver: Bed Head A Wave We Go Tourmaline Ceramic Adjustable Waver
If you don't feel confident with your wanding skills, this hair tool is for you. This waver makes short work of waved and crimped tresses! Plus, it's budget-friendly. I know I've shared some pricier options here, but this one won't break the bank. And it really allows you to customize your look thanks to multiple heat settings and an adjustable barrel. Those curtain bangs I hyped up look great with natural-looking waves!
Get the Bed Head A Wave We Go Tourmaline Ceramic Adjustable Waver here.
Best Hair Straightener: GHD Max
Where are thick, wavy, curly hair girls at? I know you feel the pain of not wanting to straighten your hair because it takes too long. Well, this straightener will change all that! Its 2 inches wide plates are a lot larger than regular straighteners so they do the job in at least half the time. And it heats up in 30 seconds. We don't have all day to wait around for slow-to-heat hair tools. Am I right? Score!
Get the GHD Max straightener here 
Best Curling Iron: Hot Tools 24 Karat Gold Curling Iron
I just love the versatility of a curling iron, don't you? You can create so many different hairstyles with one. And this one is extra long so you can really get a lot of hair around that barre making it perfect for long hair. Plus, it can double as a wand. Being that it can function as both types of tools, this curling iron is a real bargain! Plus, once it's hot, it stays hot. Your hair will be curled or waved, whichever look you're going for, in no time!
Get the Hot Tools 24 Karat Gold Curling Iron here.
Best Hair Diffuser: DevaCurl devafuser
The best part about this diffuser is its design. Those little arms get into your roots and dry them quickly. If you've ever used a diffuser, you know that it can be tough to get those roots dry along with the rest of your hair. You're left with damp roots and dry curls. The devafuser solves that problem and dries your hair much faster than most diffusers!
So, who's ready to pick up a new hair tool or two? If you use even just one of these tools you're sure to elevate your style this summer!
Get the DevaCurl devafuser here.
Don't forget to stay tuned for our next Beauty Momtrends MVPs list…You may have missed our self tanner recommendations, so make sure you head over there next. A great self tanner is just what you need to finish off your summer look!
WANT MORE BEAUTY MVP'S FROM MOMTRENDS?
PIN IT!
Use Pinterest to save your favorite beauty finds. Be sure to follow our Beauty board here.
Momtrends MVP's is a non-sponsored series. Brands must meet our strict standards to be included. When naming winners we take several factors into account, including expense, convenience, and style.