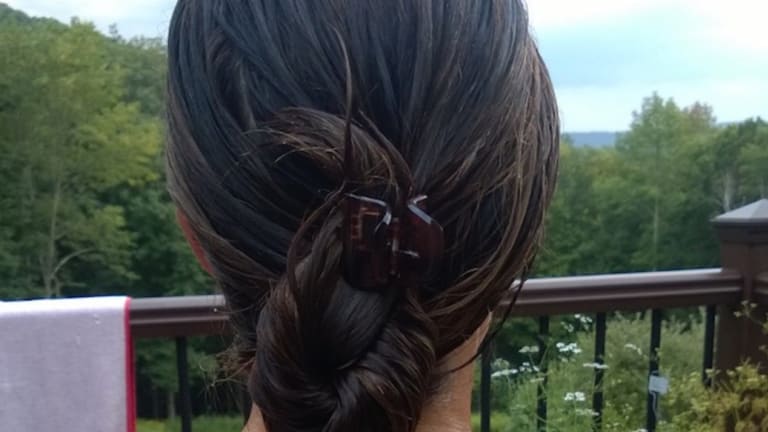 Summer Hair Rescues
The best haircare tips to get you through summer with healthy hair.
My hair is taking a beating from the sun. But now I'm armed with tips to stop the damage and protect my tresses for the rest of the summer. Joey Noufal--hair expert and salon owner shares his advice on how to rescue sun damaged hair.
Related: Top powder sunscreens
Get a Better Shampoo
Purchase a clarifying shampoo to take out the build-up from the chlorine. Warning: Not recommended if you have color-treated hair these shampoos strip color. And note this is not meant as a daily shampoo. To get rid of the build-up, use two to three times per week maximum.
How to Use Your Conditioner More Effectively
When washing hair, follow up with a good conditioning treatment (we like these damage treatments). Blot your hair before applying conditioner. "Nearly 90% of people don't follow this application order and are wasting product," Joey says. "Hair is like a sponge. If you apply to wet hair the hair is full and the product is not as effective." Leave the conditioner on for two to four minutes--the longer the better.

If you've been in sun a lot, but no chlorine, then a moisturizing shampoo coupled with a moisturizing conditioner is recommended following the same application process as the stand-alone conditioning step. 
Intense Summer Hair Care
"If hair is really dry, you should wet the hair first, then dry it out," Joey adds. Apply the conditioner and put hair in warm towel and sleep with it tied up or buy a shower cap (we like the ones from O.R.E.) and wet hair lightly and then apply conditioner followed by the shower cap. Then use a hair dryer to heat up the conditioner for about 10 minutes. This serves as a type of hot oil treatment, he says. Let cool for 10 minutes. "This method is heavy duty," advises Joey. "Don't sleep overnight with the shower cap on."
Protecting Your Color
To correct color, consider "color balancing" if hair is very light. Be sure to balance hair color to roots. For example, if you are blond, use a golden color shampoo. "You're refreshing color again," Joey explains. "This treatment puts tone back into hair."
Last Summer Hair Tip
Avoid getting hair wet in Jacuzzis and hot tubs if 60 to 70% of your hair features blond highlights. Be sure to keep it pulled up as when the water is warm it blows up the cuticle in the hair and then the chlorine soaks in and turns hair green compared to a cool chlorine will not turn hair green unless in for many hours. If your hair does turn green, seek a professional hair stylist to correct.
MORE SUMMER BEAUTY FEATURES FROM MOMTRENDS
PIN IT!
Use Pinterest to save your favorite beauty finds. Be sure to follow our Beauty board here.
Momtrends was not paid for this post.