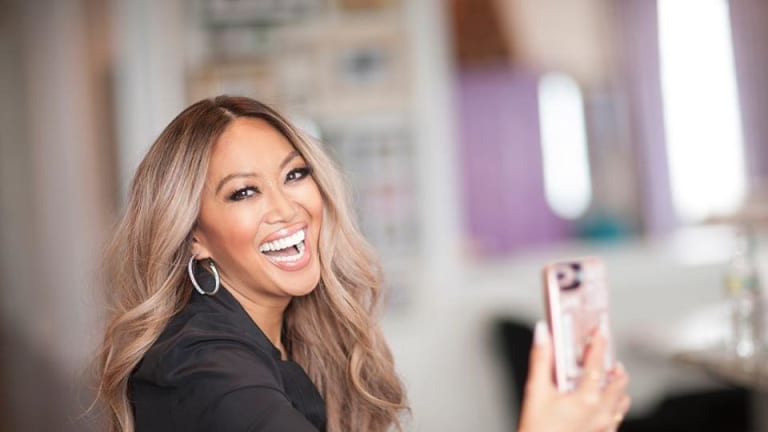 Publish date:
Summer Beauty with Celebrity Makeup Artist Mally Roncal
Famous for making women look fabulous all year long, Mally has teamed up with us to give us summer beauty tips.
Famous for making women look fabulous all year long, Mally has teamed up with us to give us summer beauty tips.
Mally Roncal is one of the most sought-after and beloved style-makers in the beauty industry. Mally has made her mark with a flirtatious, fun and super-girly approach to beauty and garnered an elite clientele that includes Beyonce, Jennifer Lopez, Angelina Jolie, Rihanna, Mariska Hargitay, and many more.
Famous for creating gorgeous "look at me" eyes, who better than Mally has teamed up with VISINE to give us poolside beauty tips.
Related: Beat the heat beauty product roundup
Summer Beauty Tips from Mally Roncal
Slather on the SPF everywhere
Curl your lashes and coat with waterproof mascara to avoid runaway eye makeup
Give definition to your face with a waterproof brow pencil
Peach is the new pink and that goes double for lip gloss. Try Mally Beauty Lip Gloss in Be a Peach or Mally Beauty High Shine Liquid Lipstick in Summer Peach
Don't skip concealer or you'll look tired. Mally Beauty H3 Conditioning Concealer SPF 25 is the perfect summertime option
For red, irritated eyes, VISINE Summer Spectrum Relief can help wide out redness caused by chlorine, salt water, sun and wind.

5 Pretty Ways To Organize Your Jewelry
I admit - I'm guilt. Despite my best efforts, my "jewelry drawer" has become a tangled mess of necklaces, bracelets and earrings. This cluttered collection not only makes it hard to see what I have, but difficult to untangle the pieces I do want to wear! This summer, I'm ...read more
This Year's Coolest Jumbo Pool Floats
Pool season is almost here! I can't wait to relax, read a book, and sip a cocktail while lazily drifting in an oversized float. (Just kidding, I have two toddlers--but a swim mama can dream, right?). If you've got a staycation planned, check out this year's coolest jumbo pool ...read more
Crystal Clear and Pristine: Pool-Cleaning Tips
Tropical Storm Isaiah gave us quite the midsummer surprise here in the suburbs of New York City. We just got our power back on after a whole week of darkness! With trees down, debris everywhere, and lots of uncertainty, one thing we forgot to check on: our above ground Intex ...read more
After a day at the beach, have fun with a colorful summer look:
Pink up your pout with fuchsia lipstick and make eyes pop with a bold blue, green or even yellow eyeliner
If you go bright, go big. Don't mix bright hues like hot pink, electric blue or green with anything too dark and earthy
At the end of a long summer day:

Before you wash your face, gently remove eye makeup (even stubborn waterproof mascara!) with VISINE® Soothing Wipes. Store them in the fridge for an extra-cool, refreshing treat. These are also great on the go!
MORE BEAUTY FEATURES FROM MOMTRENDS
PIN IT!
Use Pinterest to save your favorite beauty finds. Be sure to follow our Beauty board here.
Momtrends was not paid for this post. We did get samples.