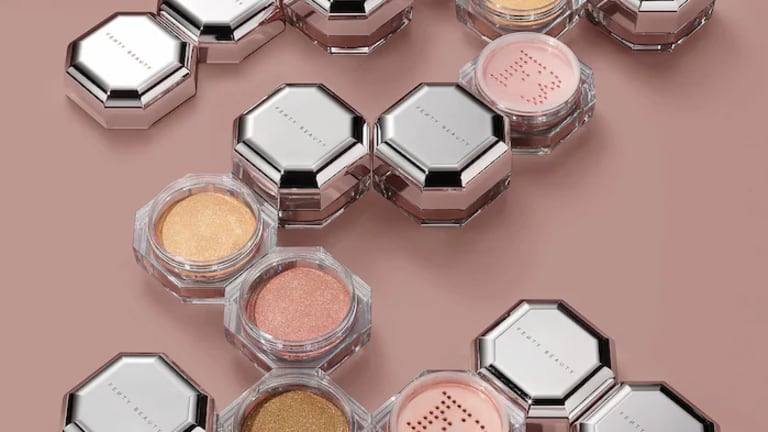 Publish date:
Summer Beauty Trends Shimmer and Shine
My favorite products that will bring together this festive shimmer and shine look.
My favorite products that will bring together this festive shimmer and shine look.
Here we go! Are you ready to glow? I mean - are you really ready? I've rounded up my favorite beauty products to make you shimmer and shine. Our social calendar is jam packed for the next month straight and to tell you the truth, I couldn't be more excited.
Related: Makeup tips to take you from day to night.
Since all the major plans in my (near) future are coming together, I'm starting to work on all the minor details that still need to be ironed out. Meaning, I've got a few fun outfits put together (sharing soon!) and now I'm looking for a little inspiration on the make up I plan on wearing to all these fun events. Sure, I have my day-to-day look stocked and ready to go but like I said in my last beauty post, I love to mix it up for special occasions!
Summer Beauty Shimmer and Shine
This year, I took to Pinterest (of course!) to see what inspired me this year for getting glam this season. As you could probably tell from the pictures above, I'm loving a soft and shimmery glow! I think what I love most about this look is that it's not heavy, it's bright, and that little bit of iridescent shine is going to pair just perfectly with all the white lights you'll find everywhere you go.
So in order to make this happen, I took my Pinterest pictures down to Sephora and enlisted a little bit of help on what products would help achieve this look. I highly recommend you use the experts at your local beauty shop when it comes to picking and trying new products. They're all so well educated on what on store carries and trust me, they want to help! I usually leave there with so many products tested on my hands and face just so I know I'm buying exactly what I came in to buy.
Down below I'm sharing just a few of my favorite products that will bring together this Shimmer and Shine look I want to wear to all my upcoming parties.

Dinner with a View Brooklyn Bridge Park Estuary
Brooklyn keeps its cool vibe by continually updating the landscape. The constant flux of restaurants and entertainment keeps our community vibrant and one of my favorite things about where I live is getting the chance to explore. My latest adventure was for a dinner with a view ...read more
Get Ready for Summer Tea Collection Sale
Even if we all have to stay local, summer is going strong. As you head to the pool or day camp you might have noticed your kids GREW during the past year. Just in time for summer, Tea Collection is rolling out a big deal on swimwear and graphic tees for kids. I've enlisted some ...read more
The Key to a Great Overnight Oat Recipe
Working moms know the importance of meal planning. I'm getting ready for busy few weeks and I've been perfecting my fast breakfast options. I've been using Bob's Redmill Organic Steel Cut Oats to prepare my overnight oats for a nice, cold breakfast in the morning and I'm going to ...read more
Three ways to Shimmer and Shine
For the Nails: I love a neutral polish with a power pack of glitter. If you're looking for a little color, try the red!
For the Skin: An illuminating cream will bring light to your skin along with a shimmery bronzer and blush on top. Easy does it here, as you don't want to look like Tinkerbell, so be sure to do a test run before the actual big night! Use a big, puffy powder brown for the bronzer so it applies lightly, almost like a dusting. Try a small, more dense brush for the blush so you can concentrate the product on a smaller surface area.
For the Eyes: For me, this is where I concentrate all my energy! My skin will get an overall light dusting of product but I really want my eyes to pop! I chose a neutral palette, if you wanted to keep things light and for those looking to make their eyes a little smoky, that black pot of shadow is definitely going to do the trick. Oh - and while it's not posted here, I am dedicated to the blackest of black mascara. We go way, way back and there's no chance I'm turning my back on this devoted friend now. 
Nails : Deborah Lippman
Skin : Fenty Beauty Fairy Bomb
Eyes : Stila Shimmer Eye Shadow
Do a Test Run
I highly recommend you do a quick run-through way ahead of time for a few reasons. If you end up no liking the product for any reason, most beauty stores (and even drug stores!) will take the it back for an exchange or a refund. It's also a lot easier to troubleshoot, add more, try less, just to see what works and what doesn't instead of running into problems just moments before you walk out the door.
WANT MORE BEAUTY MVP'S FROM MOMTRENDS?
PIN IT!
Use Pinterest to save your favorite beauty finds. Be sure to follow our Beauty board here.