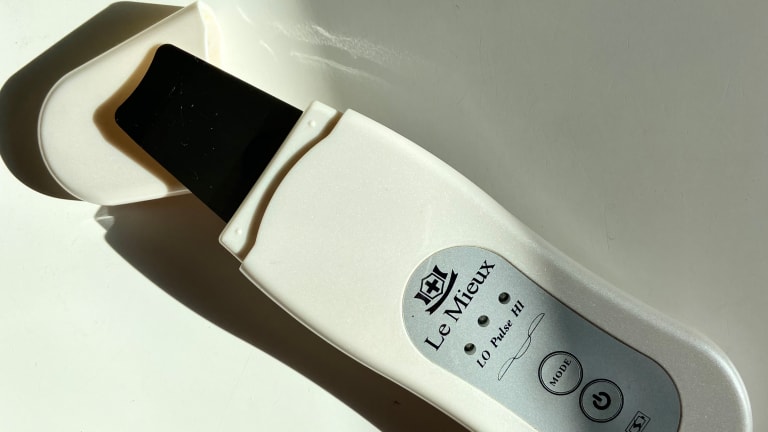 Skin Perfected with the Le Mieux Ultrasonic Facial Tool
Ready for clearer, cleaner skin? Try this ultrasonic at home treatment.
No lie – I love a good skincare gadget, but I'm pretty particular about what makes the cut. First and foremost, it has to work. It has to do something for my skin that is worth the time to use the device and the money to buy it in the first place. Second, I really hate products that require regular extra purchases – replacement tips, brushes, even batteries add up over time! Plus it's just one more to-do to add to my list.
Today's gadget plays a big role in keeping my pores clear. In fact, I can visibly see it getting gunk out of my pores every time I use it (gross, yes, but always satisfying). It has no pieces to replace (yay!) and get this, I've had mine for over 10 years (!) and it's still kicking. That is what I call a good investment.
(Did you miss my last post on the Nood hair removing device? Head here to check it out and grab one for yourself. Winter is the perfect time to zap away any unwanted hairs to be smooth in time for summer!)
Meet the Skin Perfector.
The Skin Perfector by Le Mieux is a professional-strength beauty tool that utilizes ultrasonic waves to clean impurities from pores, improve lines and wrinkles, smooth texture, and infuse skincare products deeper into the skin.
With some day spas and estheticians, you pay an extra fee for getting an "ultrasonic treatment." Why not save some bucks and get one for yourself that you can use as often as you want! Here are just a few of the reasons I love an ultrasonic beauty tool.
You can see it working
With such a lofty name, expectations are pretty high, but this ultrasonic beauty tool vacillates at 28,000 ultrasonic vibrations per second, making residual makeup, dirt and other impurities in my pores a thing of the past. It's gentle, but it gets the job done. And it's a dream for preventing and eliminating whiteheads and blackheads alike.
It's a no-maintenance tool
You know how some tools and gadgets take more work to maintain than the time they save you using them? (RIP Clarisonic but I was no fan of having to replace brush heads.) This ultrasonic device has no parts to replace and the stainless steel tip means this gadget stays sanitary and clear. The only "maintenance" it requires? Occasionally plugging it in to charge!
It helps to infuse skincare deeper into the skin
Just like it wiggles bad things out of my pores, an ultrasonic tool also has the ability to help wiggle in the good stuff. After applying your favorite serum, flip the tool over and use the back side to smooth over the skin, allowing the ultrasonic waves to help accelerate the absorption of your skincare.
Ready for cleaner pores and clearer skin? Here's how I use mine:
First, I oil cleanse. My fav for the last few years has been this Burt's Bees Cleansing Oil. 
Then, I use apply CeraVe Hydrating Facial Cleanser and turn my Skin Perfector on. It only takes about 1 minute to use the tool to visibly clean...stuff out of my pores.
Rinse and marvel.
To be honest, I don't really use the Skin Perfector to ultrasonic IN my serums. I have been this last week just to try it out and while I have to believe that it can push good stuff in as well as it gets bad stuff out....my nighttime routine only has enough patience for one use.
Get the Ski Perfector at Walmart here.
Ready to try it out for yourself? While the price tag of the Skin Perfector surprised me, keep in mind I've had mine for 10+ years. Amortize that baby out and it's downright reasonable! I can't speak to the quality or longevity of these knock offs but you could try this or this one if you're looking for a more affordable alternative. (note: these are Amazon Affiliate links)
Have you tried an ultrasonic beauty tool before?
MORE BEAUTY FROM MOMTRENDS
PIN IT!
Now that you've found out how to get cleaner skin, don't forget to save our favorite beauty tips and follow along for more with our Pinterest beauty board!
Please note: this review is not sponsored, but the links are affiliate links.