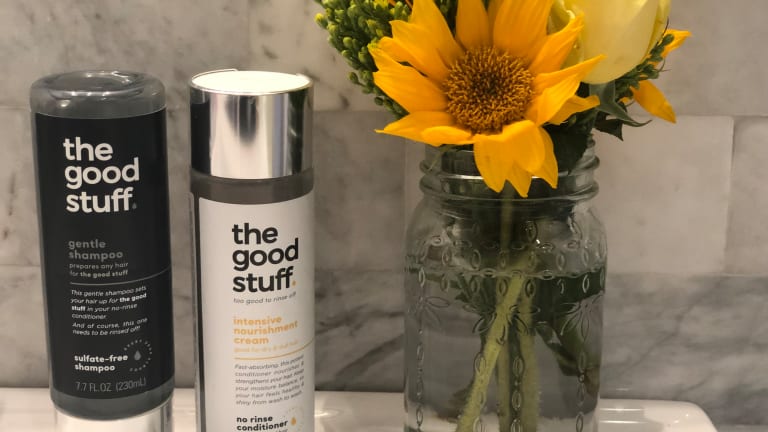 Simplifying Haircare With The Good Stuff
I've let my hair grow really long... I usually go through oscillating phases: long, short, long, short, long and layered, short and choppy; and I was itching for change pretty recently. But before I made an appointment with my scissor-happy hair stylist (reminder to self: best not to make a drastic change at eight months preggo), I took up a different routine and tried a few new products and now my lengthy mane looks fresher and healthier than ever. 
Now, before you credit the prenatal vitamins, allow me to elaborate. I haven't been able to tolerate vitamins for months now. No matter what I tried, I'd throw them up. Eventually, my doctor and I came to the conclusion that Flinstone Vitamins would have to suffice (but, pregnant-mama PSA: please talk to your OB, before self-subscribing kid chewables.) Anyway, what I'm saying is: no, the prenatals nor the Flinstones get credit for my mane. It's the other "good stuff." 
The Good Stuff is a new haircare range comprised of one sulfate-free shampoo and six no-rinse conditioners that vary in format to address different hair types and damage levels. That's right, these are conditioners you don't rinse out so that all the good stuff in these fast-absorbing formulas can sink into every single strand throughout the day… I liken it to a favorite facial moisturizer, but for hair!
The clear gentle shampoo doesn't foam, but that doesn't mean it's not working wonders. In fact, since switching to this shampoo, I've changed my routine from washing my hair daily to skipping two or three days in between. I've never been able to do that! And you wouldn't know--my hair looks clean and sleek--without the tell-tale oily shine I had become accustomed to. 
I follow up with the Intensive Nourishment Cream Conditioner. Once I'm out of the shower with freshly cleansed towel-dried hair, I add a dollop from the base of my head down and quickly comb through with my absolute favorite brush (more on that in a moment). 
Loaded with coconut oil, the Nourishment Cream smoothes the cuticle of each fiber, nourishing dry hair; and glycerin works to hydrate, leaving it soft and silky.
In addition to being sulfate-free, The Good Stuff is vegan, free of parabens and dyes, and is packaged in 100% recycled bottles--so I feel confident that The Good Stuff really is the good stuff, not only for my hair but for Mother Nature, too.
There are other products and conditioners by hair type (frizz control, a repair balm, a color protectant milk, volumizing foam, and more), and you can scoop up the whole collection at Target or on Target.com.
I haven't gotten this many compliments on my hair in ages--who knew it would just take a shampoo and conditioner swap?! And, one more tip: get this hair brush!
If you have long hair you're familiar with the Wet Brush; it easily untangles and smoothes strands, wet or dry--which is amazing for knot-prone hair, like mine. They have a bunch of options, but their Wet Pro Epic Quick Dry Brush is by far my favorite. It allows me to untangle my tresses without tugging or pulling and it naturally straightens my hair without the need for a blow dryer or flat iron. I get a polished, finished look with just a few strokes This brush and The Good Stuff--I've streamlined my haircare routine, and it shows!
Next Read: An Easy Hairstyle for Time-Crunched Moms
PIN IT!
This is not a sponsored post. Some samples were received.