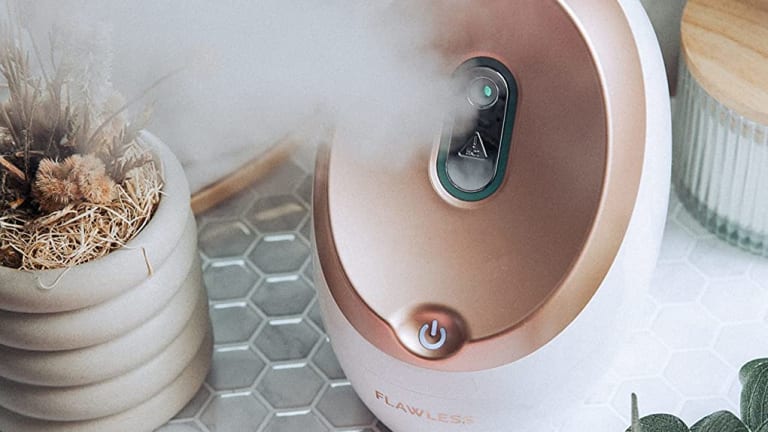 Simple and small facial steamer
A small skincare device to help boost your skin in a natural and easy way.
Does your skin need a boost this winter? This little skincare device doesn't take up much space and delivers a natural way to enhance your skin. I love it for teens and tweens as well. This simple and small facial steamer makes a great gift for anyone who loves to do facials at home.
Related Tips for Organizing your Makeup
Simple and small facial steamer
I purchased this steamer because the dry winter air often leaves my skin looking dull and dry. I know that steam is used at all my facials when I get them professionally done. So I thought I would add this little device to my at-home skincare routine.
It's so easy to set up. I simply added a bit of distilled water and plugged it in. After a few seconds, clean, warm steam gentle wafted up. I moved my face around in the steam and let it do it's thing. 
After the steam, I applied my normal skincare routine. I noticed my skin had a nice glow and felt dewy as I headed off to bed.
While I don't have time to do this every day, on Sundays, I treat myself to skincare treatments with my teen daughter. She is a good sport to want to spend time with to try out new beauty finds. It's a nice gift for teens, because it's so small and simple. 
The key is to start with a CLEAN face and make sure you use clean, distilled water.
Get the Flawless Facial Steamer on Amazon here. ($49.99) (note: this is an Amazon Affiliate link)
How to Operate a Facial Steamer
Here are the simple step-by-step instructions to work your steamer.
Fill steam bottle up to fill line with distilled water and plug the device in.
Push steam button and allow device to heat up.
The steam will last for 15 minutes. It's recommended to steam for 5 minutes, take a short break, and then steam for 5 more minutes.
Pat face dry with a clean towel and follow with your moisturizer.
When done, empty the tank for your next use. 
The benefits of steam
Why is steaming good for your skin? According to Healthline,com, steam opens up your pores and helps loosen any buildup of dirt for a deeper cleanse. Opening up your pores also softens blackheads, making them easier to remove. It promotes circulation. The combination of warm steam and an increase in perspiration dilates your blood vessels and increases circulation.
All good things!
Get the Flawless Facial Steamer on Amazon here. ($49.99) (note: this is an Amazon Affiliate link)
WANT MORE BEAUTY MVP'S FROM MOMTRENDS?
PIN IT!
Use Pinterest to save your favorite beauty finds. Be sure to follow our Beauty board here.
Momtrends was not paid for this post. This post may contain affiliate links. By clicking and shopping, you help support Momtrends and allow us to keep reporting on trends.