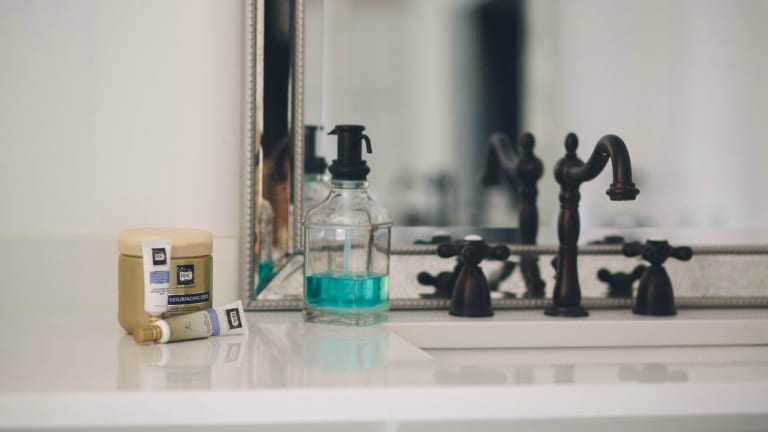 Momtrends MVP'S: The Best Retinol Products
Let's talk about retinol products shall we? If you aren't already using them, you've probably at least heard about retinol and wondered if it was for you. Well, if you're serious about anti-aging skincare then the answer is YES! And you don't have to go the prescription route just yet. 
There are plenty of effective over the counter skincare products out there that contain retinol. I haven't taken the plunge with any cosmetic surgery, Botox or fillers (not that I'm opposed, but the dermatologist thinks I can hold off a wee bit longer haha), but I don't quite look my age and I believe I have my go-to retinol products to thank for that.
While I currently have a few fine lines, they aren't too deep and they definitely softened once I started using retinol products a few years back. So, if you too would like your skin to look more youthful and see some of your fine lines diminished, come on down the anti-aging road with me as we discuss everything from retinol eye cream to night cream! Trust me when I say that these retinol infused products will take your skincare regimen to a whole other level my friends!
Why You Should Put Retinol Products in Your Beauty Bag 
Now I first started thinking about anti-aging products when I was in my thirties. I have been moisturizing since my twenties, but I didn't really pay attention to the ingredients that could actually fight the signs of aging.
I was blissfully ignorant back then you could say. My skin was still line-free and had that youthful glow most of us chase later in life. If I had known about the powers of prevention back then I would probably have started on my anti-aging journey earlier but I digress…
Luckily I didn't begin an anti-aging skincare regimen too late. Let's be real, it's never too late to take better care of your skin! And, like I mentioned, I haven't even had injectables yet. So, there are plenty of tricks left to try. Bwah! I fully plan on riding the Botox train at some point, but I truly haven't felt the need yet and Retinol has a lot to do with that.
What are the Best Retinol Products?
Retinol products are an important part of my nightly skincare routine because they deliver such serious results. I haven't found products with any ingredient that tackles fine lines and wrinkles quite as well as retinol does. It's like it lifts off that dead layer of your skin that is less than vibrant.
Don't get me wrong. I am not giving up on my other favorite ingredients like hyaluronic acid and vitamin c, for example, but I make sure I use retinol too. My mission is always to have a skincare routine that employs products that tackle all the aspects of aging like age spots, a dull complexion AND wrinkles which are the focus of today's beauty edition of Momtrends MVP'S!
So, without further adieu, let's talk about the best retinol products for your face, neck, eyes etc...
The Best Retinol Cream for Sensitive Skin
For me, the best retinol products are the ones that give me the anti-aging action I am after with minimal irritation. Now, if you are brand new to retinol, you might experience some sensitivity at first, but your skin usually gets used to it. A great trick to limit irritation is to start by using retinol products every other day versus every day.
If you have sensitive skin, retinol might not be possible in the end, but this NourishMax retinol cream is worth trying as it's the least irritating one I've seen. Say goodbye to those dead skin cells and hello to better texture and fewer fine lines!
And I love that this .5% retinol cream is vegan and gluten-free as well. If you're gluten intolerant, skincare can affect you too! The ultra-hydrating properties like Glycerin and Safflower Seed Oil don't hurt either.
NourishMax Encapsulated .5% Retinol Cream
The Best Retinol Product for Deep Wrinkles
As we get older, sometimes our fine lines turn into deeper wrinkles, but just because the line is deeper doesn't mean it's a lost cause. There are retinol products that specifically target deep wrinkles and RoC is a brand I have counted on for just that for a very long time.
And their Deep Wrinkle Serum is always one of my top recommendations. I love how much firmer and refined my skin feels after applying it regularly. I noticed a visible difference in my wrinkles very quickly when I started using it.
RoC Retinol Correxion Deep Wrinkle Serum
The Best Retinol Product for your Neck
If you aren't including your neck in your skincare regimen, I urge you to start. Much like the hands, the neck can tell your age as much as your face can. Using a good retinol product on your neck, as well as your face, will help fight those rings that too often appear there.
I love the No 7 neck serum because not only does it have retinol in it but it also has extra collagen which is mature skin's best friend! You not only go after fine lines, but skin that's lost its elasticity too!
No 7 Restore and Renew Multi Action Face & Neck Serum
The Best Overnight Retinol Product
Because retinol can be irritating and it makes you more sensitive to the sun, I almost always use retinol products in the evening. Even still I always use SPF during the day, but I digress…My favorite overnight retinol product is a serious multi-tasker.
The epi.logic Overnight Facial not only fights lines and wrinkles, but it has glycolic acid in it so it helps resurface the skin too! Fresh skin cells make your skin look so much smoother and brighter than dead ones. Just sayin'.
epi.logic Double Feature Retinol + AHA Overnight Facial
The Best Retinol Product for Your Eyes
Crow's Feet were the first wrinkles I noticed on my face. I am very expressive so seeing those expression lines deepen shouldn't have been a big surprise to me. Haha! Nevertheless, I remember being a bit startled when they crow's feet seemingly popped up overnight and I immediately purchased my first anti-aging eye cream.
Over the years, I have tried plenty of eye creams, but those with retinol are most effective in softening the lines around my eyes. I love the way this Dr. Dennis Gross eye cream not only tackles those crow's feet but also lifts your eye area too! 
Dr. Dennis Gross Advanced Retinol + Ferulic Triple Correction Eye Cream
The Best Natural Retinol Product
You might not think retinol and natural options go hand in hand, but you can actually target your wrinkles and use more natural products thanks to LilyAna Naturals. Their retinol cream is derived from 98% natural ingredients.
And this is another retinol product that uses additional collagen to help plump up your skin. I really really like that it's sensitive enough to use during the day too if you feel like nightly isn't enough. Just make sure you're diligent with sunscreen!
LilyAna Naturals Retinol Cream

The Best Retinol Capsules
If you really want to take your retinol use to the next level, capsules are the way to go! It's a more potent version and the single-use packaging ensures optimum freshness and efficacy. Better skin texture and fewer fine lines have never been more within your grasp!
But what I really love about Elizabeth Arden's retinol capsules is how easy they are to use. You have exactly the right amount of retinol right at your fingertips every night and that means no wasted product!
Elizabeth Arden Retinol Ceramide Capsules Line Erasing Night Serum
The Best Retinol Facial Oil
The older I get, the more I love facial oil. It gives me a youthful glow like nothing else and that goes double when there is retinol in it. My final pick for the best retinol products is a facial oil that also qualifies as the best budget retinol product. At just under $35 it's a bit more than you're typical drugstore beauty product, but quite a bit less than many of the retinol products I shared here.
The reason I can't get enough of this Neutrogena facial oil is that it goes after the deepest of wrinkles and it diminishes the look of dark spots too which are probably my second biggest aging complaint.
Neutrogena Rapid Wrinkle Repair Anti-Wrinkle .3% Retinol Lightweight Facial Oil
So, are you ready to add retinol to your everyday beauty routine? Any of these choices for the best retinol products would surely make a wonderful addition to your regimen!
Stay tuned for our next Beauty Momtrends MVPs list…
And for More Momtrends MVP's Winners, Follow the Links Below:
Pin It!
Save your favorite beauty tips and tricks on Pinterest and follow along with our beauty board!
Momtrends MVP's is a non-sponsored series. Brands must meet our strict standards to be included. When naming winners we take several factors into account, including expense, convenience, and style.
We make our picks annually based on editors' research. In some instances, we may request and receive samples so that we can more thoroughly assess products. Our opinions are our own, and our goal is to help our community of moms make more informed decisions on everything from baby gear to beauty products to vacation destinations and more. We scour the abundant options and painstakingly hand-pick our favorites, so you don't have to. Our hope is that our most valuable players become your most valued purchases.