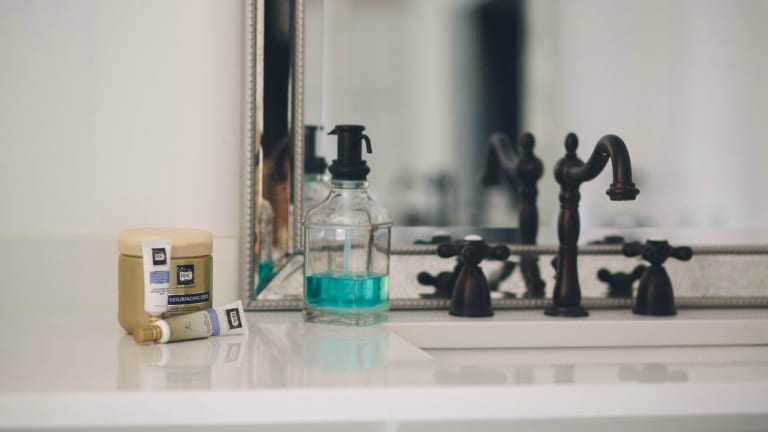 Should Retinol Be in Your Beauty Bag?
Let's talk about retinol shall we? If you aren't already using it, you've probably heard about retinol and wondered if it was for you. Well, if you're serious about anti-aging then the answer is YES! And you don't have to go the prescription route just yet. There are plenty of effective skincare products out their that contain retinol. I haven't taken the plunge with any cosmetic surgery, Botox or fillers (not that I'm opposed, but le derm thinks I can hold off a wee bit longer haha), but I don't quite look my age and I believe I have retinol to thank for that.
While I have a few fine lines, they certainly aren't deep and they've definitely softened since I started using some of my favorite go-to retinol products a few years back. So, if you too would like to look younger and see some of those fine lines diminished, come on down the anti-aging road with me as we discuss everything from eye cream, to night cream and even resurfacing pads! These retinol infused products will take your nightly skincare regimen to a whole other level my friends!
Put Retinol in Your Beauty Bag STAT
First, let's focus on the eyes. They're the windows to your soul right? I tend to smile with mine and that probably contributed to the crow's feet situation that popped up in my thirties. If you know exactly what I'm talking about, never fear. RoC Retinol Correxion Eye Cream is here to help. It's not too thin and not thick which is a big plus for this girl. When an eye cream is too thin it can migrate into your eye and when it's too thick and applied to liberally it can contribute to milia (otherwise known as annoying little bumps under your eyes) . So, not only does the retinol in this cream tackle those lines, but it stays put! I keep a tube in the beauty bag that I carry in my purse so I can rehydrate my under eye area as needed. If you're freshening up your makeup from work to happy hour, for instance, you're going to want to freshen up that eye cream!
Next, let's talk multi-tasking. If you find yourself wanting to just fall into bed after an evening filled with after school activities, homework, bedtime battles and the like, you need a skincare product that's going to do a whole BUNCH of things at once. Am I right? Well, RoC Daily Resurfacing Disks do just that. They cleanse, exfoliate AND tackle fine lines. How's that for multi-tasking? Plus, they're soap free which is clutch for this girl. My skin seems to dry out at the drop of a hat. Sigh. Now if you decide  you just want to remove makeup and not exfoliate you can only use the smooth side of the disk. Yes, they have TWO sides! The textured side really tackles any ruddy complexion issues you may have. And the disks are totally complementary to your retinol treatment products!
Finally, we have the all important night cream. Why waste all those precious  hours when you're asleep? Get in that anti-aging action while you slumber. Hey, that's considered mulit-tasking too right? Us mamas are masters at it after all. Bwah! I'm partial to the RoC Retinol Correxion Sensitive Night Cream. I usually switch products after a few months, but I always come back around to this one eventually. Not only does it focus on those lines I want to see eradicated, but, like the eye cream it's a sensitive formula, so it doesn't irritate my skin which isn't the case with all retinol based products. AND it goes after those expression lines. I'm pretty sure my kids are responsible for all of mine. What about you? HA!
Now I'm not saying your whole beauty routine has to be dedicated to RoC. It just happens to be a brand that's worked from me. Even if you have your own go-to night cream and want to add the resurfacing disks to tackle that dull complexion, you'll be winning! And to keep on winning, check out our tips for a 3-step face that stays put!
We were not paid for this post. It does contain affiliate links.