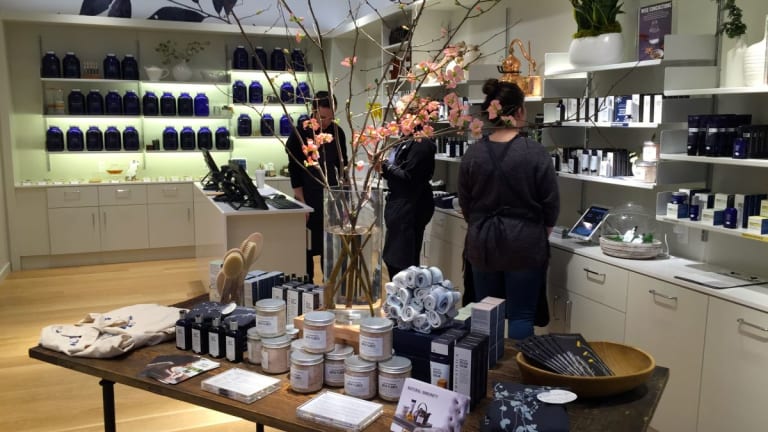 Say Bye to Dry This Winter with Naturopathica
A visit to the Naturopathica Spa in NYC was the perfect safeguard from the cold and solution to dry skin.
I am true believer that every line on my face tells a story. From building character to sharing good times, I nourish those lines as I cherish the memories. Now that the harsh New York winter is upon us, I am seeking protection for those lines and the new ones to come.
Related: Our favorite self tanners
My visit to the Naturopathica Chelsea, Healing Arts Center & Spa in NYC was the perfect safeguard from the cold and solution to dry skin. Built as a modern day apothecary, the center strives to heal from the inside out. You'll find a vitality bar with healing tonics, a signature tea station with high-quality, specialty sourced teas, natural face and body care products and finally, several healing arts rooms with mediation, facials and massages.
Prior to receiving my Moisture Drench Facial, I enjoyed a soothing Siam Green Tea with ginger root, lemongrass and purple basil. Delicious, but if that doesn't meet your fancy, feel free to mix your own concoction from their wide selection of loose teas.
All warmed up from the tea, I headed to the co-ed locker room (with private rooms for changing) and relaxed in the Sensory and Mediation Lounge where the aroma, music and scenery immediately helped me escape from the busy streets of NYC.
Relaxed and ready for some moisturizing, I was swept away by Jacqueline, my esthetician, whose personality was as lovely as her technique. The hour (a real hour) Moisture Drench Facial was filled with hibiscus, calendula and Gotu Kola - enough moisture enriching properties to transform my 47 year old skin to 30. 
You've heard it before and you are going to hear it again. Moisturizing is the key to protecting and preventing. Here are my picks, in addition to the Moisture Drench Facial ($160), of course.
Gotu Kola Healing Balm ($42) is sublime. I have a thyroid disease that makes my skin overly dry and flaky. This is honestly the only product I have found that really penetrates and heals. Perhaps it is the Omega 3 & 6 acids in it that make the difference?
The Cassis Ultra Replenishing Cream ($85) contains calendula which leaves the skin plump, taut and hydrated. And finally the Carott Seed Oil ($40). I have never been a fan of facial oils, until now. This does not feel greasy or clog your pores, rather it hydrates and soothes for radiant looking skin. I use it under the Cassis Cream.
Disclosure: Momtrends was not compensated for this post. I received product and a facial, all of which were fabulous enough to share with you!
WANT MORE BEAUTY MVP'S FROM MOMTRENDS?
PIN IT!
Use Pinterest to save your favorite beauty finds. Be sure to follow our Beauty board here.