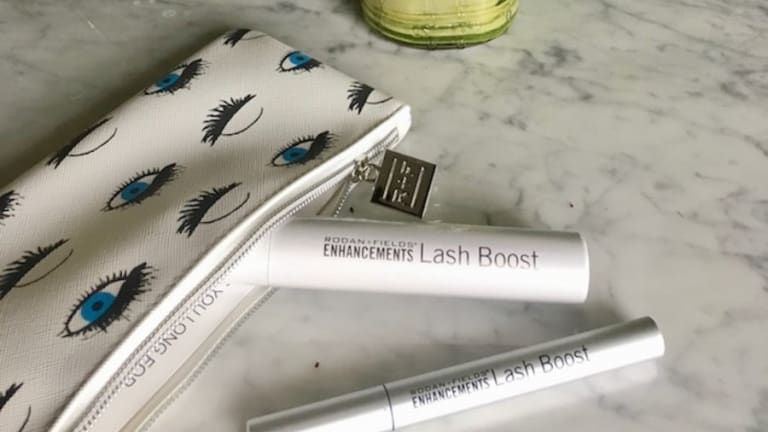 Okay friends, the results are in! Time for my Rodan + Fields Lash Boost review. I've been using this product since March and I can say now I have said bye bye mascara. Six month into my testing, I am resolved that this product really works and that with dedication, it can really help women grow longer stronger lashes.
Related: Favorite powder sunscreens
Let me repeat that I am not on the Rodan + Fields team. I don't get a cent from talking about the products and I'm not on the sales ladder. I tried this because I interviewed a few women from the R + F team for my book Mom Boss. Many of them are quite successful (making well over six figures). In the Mom Boss interviews, they all talked about the products they loved. The Lash Boost kept coming up. 
Rodan Fields Lash Boost Review
As any good trend spotter would do, I had to find out more. My friend Maureen sent me a tube and I was off to the beauty labs. I followed the instructions and love the results.
What's in there? Keratin and Biotin. You can get the full list of ingredients here https://maureendougherty.myrandf.com/Shop/Product/ENHLSH01#ingredients oh, and it costs $150 a tube, so don't spill it!
When I put my daughter to bed last night, she said "Mommy your lashes are so long!" Even she noticed. For me, it's been slow and steady. It hasn't hit me all at once but I definitely see a BIG improvement now that I compare the before and after photos. But before we get to that, let's talk about how it works.
How to use Rodan Fields Lash Boost
1. Wash your face. Your eyes should be clean and dry.
2. Dip the brush in the product.
3. Apply a thin line along the upper lash only (don't do bottom lash)
4. Wipe off any extra product from eyelid.
5. Wait 90 seconds for product to dry before putting on the rest of your skincare.
That's it! You don't rinse it off. Go to sleep with the product on. I noticed a little change at two months and it's been slow and steady since then. Here's the big reveal, the before and after shots.
I'm thrilled with the results and really believe this product is perfect for busy moms. Tip: Use the product nightly for the best results.
Rodan Fields Lash Boost Video
Here's my video on the product:
Get yours from my friend Maureen here maureendougherty.myrandf.com
Let me know if you try it! I'm eager to hear what you think!
MORE BEAUTY FEATURES FROM MOMTRENDS
PIN IT!
Use Pinterest to save your favorite beauty finds. Be sure to follow our Beauty board here.
Momtrends was not paid for this review. I was provided product.