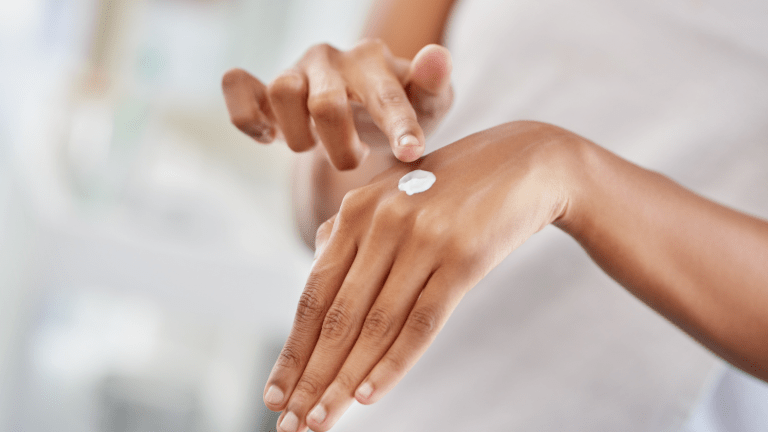 Relief for Chapped Hands
Solutions to help heal and protect your dry hands this winter.
If there's one regret I have (at least one that I can freely share) it would be not taking care of my hands from the get-go. For some reason, I have always paid attention to everything else but my hands. When it comes to my face, I'm on top of it, I wear sun screen, exfoliate and moisturize. But my poor hands get neglected all winter.  Time for relief for chapped hands.
Related: Our favorite retinols
Taking Care of Your Hands
I want to help you give your skin a little helping hand (ahem) with these few tips for winter weather. Or you can just watch what I do and do the opposite. That usually works too.
First off, let's get the basics down. All this COVID panic has us washing our hands every three minutes. To avoid chapped hands, switch between hand sanitizers with soap and water washes. The alcohol in the sanitizer will dry your skin, but it's actually gentler on your hands than harsh soap. And when you're done, slather on the hand cream. I keep some everywhere - by the bed, by the sink, in my car, in my purse.
Relief for Chapped Hands
When choosing a hand cream, look for two things: emollients and humectants. The first ingredient acts as a lubricant, filling in between dead skin cells to soften and soothe skin so it's more pliable. Examples are lanolin, jojoba oil, isopropyl palmitate, propylene glycol linoleate, squalene, and glycerol stearate. 
Humectants to draw moisture from the environment, increasing the water content of the skin's outer layer. Common ones are glycerin, hyaluronic acid, sorbitol, propylene glycerol, urea, and lactic acid.
Our Favorite Hand Lotions
O'Keeffe's Working Hands Hand Cream: Thick and easy to absorb, this cream is a great everyday option. It's also free of any scents making it a favorite for moms that share with picky men.
Weleda Skin Food: This is the thickest cream I've ever tested. It's almost like a diaper-rash cream! I love the scent and that it is plant-based. 
Hand Cream Video Review
We ordered these to test out. Here are my thoughts.
More Hand Treatments
Get rid of old skin. Exfoliate your hands once a week with a nice scrub, like this Majestic Pure Himalayan Salt one to slough off the rough stuff and then moisturize with oils. Majestic Pure Himalayan SaltYou can even make your own with 1/2 cup sugar, 3 tablespoons of olive oil and a splash of warm water. Add a couple drops of your favorite essential oils and you can wash your hands of the topic of dry skin.
Nighttime healing: You should also try a thick nighttime treatment. Go cheap with plain old Vasoline or get fancy with a thick, rich moisturizer in a formula with dimethicone, cocoa or shea butters, or beeswax. Slather on at bedtime, slip on a pair of cotton gloves (like Natura hand gloves) or socks and get some beauty sleep.
And one last tip! Embrace dishwashing gloves. I fully admit - I am actively counting down until my kids are tall enough to reach the sink to adequately complete the dishes, but in the meantime, it's often me behind the bubbles. Beyond the fact that it's not one of my favorite tasks, I've come to realize that it wrecks havoc on my poor hands! Hot water + soap + scrubbing = no good for my hands. I often have a pair of dishwashing gloves under the sink, but only recently have I been remembering to actually put them on and let me tell you - it's made a HUGE difference. I use this pair I found on Amazon (note this is an affiliate link).
AND FOR MORE MOMTRENDS MVP'S WINNERS, FOLLOW THE LINKS BELOW:
PIN IT!
Save our must-try beauty tips and follow along for more with our Pinterest beauty board!
Momtrends was not paid for this post. We did receive samples for review purposes. This post contains Amazon affiliate links.