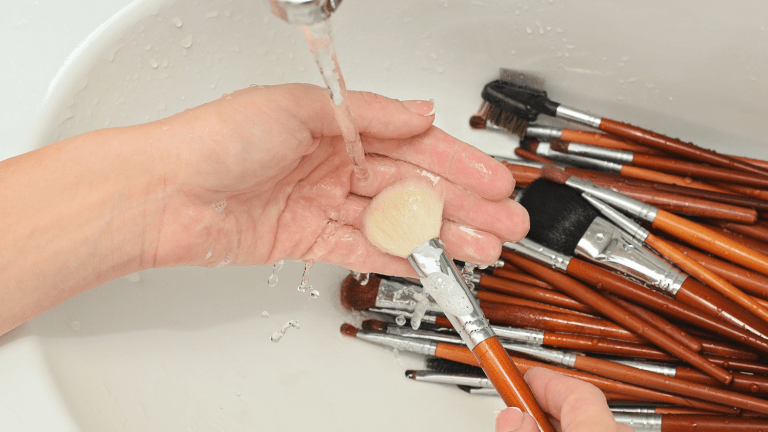 How to Really Clean Your Makeup Brushes
Dirty makeup brushes not only just don't apply makeup as effectively, but can also harbor and spread bacteria, let's do a clean up.
How often do you clean your makeup brushes? I know I'm guilty of not doing it nearly often enough. But dirty makeup brushes not only just don't apply makeup as effectively, but can also harbor and spread bacteria all over your face - yuck! I even just read a story about a women who got a staff infection from dirty makeup brushes! So I've made a commitment to washing my brushes more often - and found a new, easy way to ensure I'm really getting all the gunk out.
Related: Cleaning up your makeup habits
How to Really Clean Your Makeup Brushes
My go-to method used to be to put a squirt of a gentle cleanser into my hand and swirl my brush around, rinsing to remove the makeup. But here's the thing - that method only really cleans the tips of the bristles. It doesn't get the makeup gunk that is deep down into the bristles.
So this last month, I've been trying out these brush cleaners from MelodySusie. I like to think of them as a Clarisonic for your makeup brushes. You know how a Clarisonic cleans your face 6 times better than you can clean it with your hands? These MelodySusie brush cleaners let you clean your makeup brushes easier, faster and more effectively than just using your hand.
There are three brush cleaner size options:
The standard Beautiple
The compact Beautieg for travel
The large Beautifly for makeup artists or true makeup lovers. 
While the Beautifly might seem a bit overkill for us non-makeup artists, it does have the added benefit of being hands-free. The mat has suction cups on the bottom that let you attach it to your sink making brush cleaning go super fast. If you're coordinated enough, you could even clean a brush with each hand!
The brush cleaners have different patterns for different types of brushes, but I liked just mixing and matching to help wiggle out old makeup from all angles.
I admit that I was a little skeptical about these brush cleaners before trying them, but I have been really impressed for a number of reasons.
Faster - cleaning my makeup brushes took way less time since the silicone bristles helped to loosen and remove makeup quicker than my hand.
More effective - there's no way my hand cleaning method was getting out the makeup stuck deep in the bristles.
Convenient - the cleaners are easy to use and sitting on my counter, are a good reminder to clean my brushes more often.
Affordable - these won't cost you an arm and a leg. The large size is $10 while you can get a two-pack of the portable Beautieg for just $6.
Check out how clean that brush is!
So do your face a favor - get your makeup brushes really clean.
MORE BEAUTY FROM MOMTRENDS?
PIN IT!
Use Pinterest to save your favorite beauty finds. Be sure to follow our Beauty board here.
Momtrends was not paid for this post. We were provided with a sample.