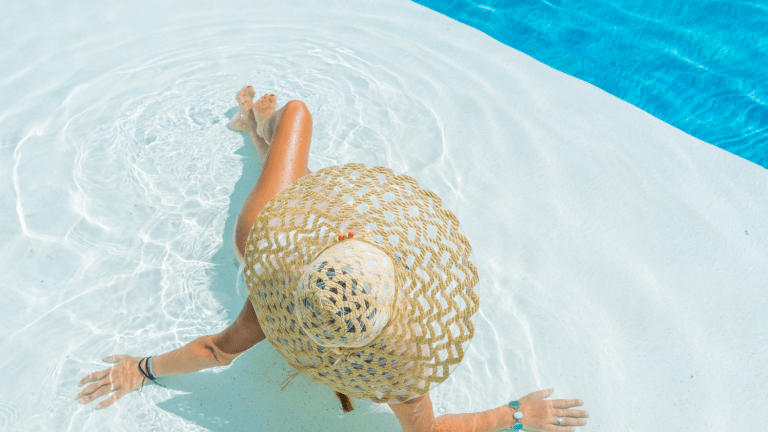 The Best Quick Tips for Easing Sunburns
Four soothing tips to help reduce pain and let the healing begin after too much sun.
I can't believe I have gone all stinkin' summer without a sunburn until now. WTH. This is not my idea of better later than never. Since I know I'm not alone on this one (no judgements), I thought I'd share my best tips for easing sunburns.
Related: Our picks for the safest sunscreens for kids
We tried to squeeze in one last trip to the beach before school begins this week. There's nothing like Gloucester in the late summer, so off we went. Early in the morning we left, early in the evening we came back.
Between packing excitedly and just being excited, I completely forgot to slather the sunscreen on. My child and husband were covered just fine. But me? Well, moms are always the last ones standing, aren't we?
Darling, I don't care how distracted you are before you get seaside. Sans SPF and you'll feel the burn (and not in a Richard Simmons sort of way).
Sunburns Happen, What's Next?
It happens to the best of us. And it feels the worst.
Now that you match that seaside lobster lunch, what do you do about it? Here are a few quick all-natural tips for soothing summer skin sadness with things you should have just lying around your house.
Aloe is a go-to sunburn savior, it hydrates and soothes. Buy an aloe plant for at-home 100% natural relief. Snap off the stalks and squeeze out the gooey goodness. Smooth it all over your burn. To act even cooler, seal the stalks in a Ziploc and place in the fridge for an hour before you smooth it on.
Green tea helps prevent free radical cell damage. Brew yourself two cups: one to sip to help from the inside out, the other for a cloth compress on your sunburned areas. The tea contains ingredients that help protect the skin from UV damage and reduce inflammation.
Oatmeal isn't just for breakfast. Grind up a cup in a food processor and add it to a cool bath to care for burnt skin.
Expect some serious itching as your skin repairs itself. To calm the irritation, try vinegar. It contains acetic acid one of the components of meds such as aspirin. Add two cups to a cool bath. You can also soak a few paper towels in white vinegar, and apply them to your sunburn. Leave them on until the towels are dry. Reminds me of the smell of dyeing Easter Eggs. 
A final note about sunburns
There's nothing you can do about peeling. Let it be. Don't help it along or you might be exposing skin that hasn't healed fully yet. And remember: the new skin should be uber-protected from new rays, so lather on the SPF the next time you go out. Or bookmark this post for next summer. Your choice.
BEST OF SUMMER FROM MOMTRENDS
PIN IT!
Use Pinterest to save your favorite fashion posts. Be sure to follow our Summer Style board here.
Momtrends was not paid for this post.