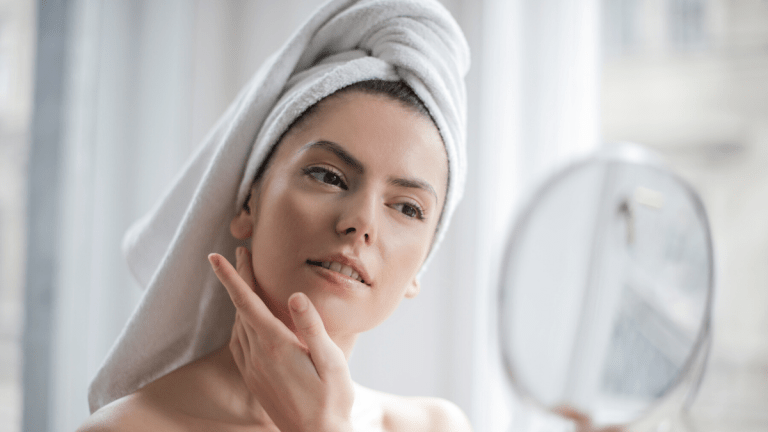 Quarantine Skincare: Perfect Time to Peel
You aren't supposed to see lots of people. You have to wear a mask if you go out. It's practically the perfect time for a chemical peel.
I'm a big fan of the chemical peel. They can soften fine lines, improve skin tone and clarity, and help to rebuild collagen. They can treat acne and soften past pock marks. Chemical peels can also help battle dull skin, dark circles, and melasma. They are a wonder tool in the dermatologist's bag of tricks! Plus, you can even do them at home. But there is one major downside to many chemical peels: you often have to look like a scaly lizard for 5-7 days.
Related: How to choose a face cream
Quarantine Skincare
Like a snake shedding her skin, these skin-peeling days can certainly be tricky to work into regular everyday life if you a) have a job that requires you to see people face-to-face, b) have to leave your house for errands or kid activities, or c) don't want your friends/family/co-works/neighbors to ask why you have sheets of skin hanging off your face. However, this is no long regular everyday life (as if you needed a reminder!) These are pandemic days which, for all their negatives, are a perfect fit for getting a chemical peel.
Why is this the best time for a peel? First, you're probably mainly staying at home anyways. Second, if you do see people for work, it's likely on Zoom/Hangout/Meet and you can arrange to make your lightening less than perfect if needed (wink, wink). Third, you're probably wearing less make-up anyways so going make-up-less for a few days is no biggie. Finally, if you go out in public, you are often wearing a mask! It's chemical peel perfection!
If you've never had a peel of any kind, you may want to see if your local esthetician or dermatologist office is back open. If you've had one before at an office, I know that some are even mixing up their own at-home peel kits for clients to use based on your skin type! I've even heard some will Zoom with you and walk you through it.
For me, I had one in-office peel to try to deal with my melasma and while I liked the results, I wanted more and without the $130 per peel price tag. So I researched and researched and landed at Makeup Artist's Choice. After reading every single review on the product, I bought the 12.5% TCA peel. I only had very mild flaking with that one so worked up to two layers of the 12.5% and eventually moved on to the 18% TCA which I now use with 2-3 layers.
Not only has it almost completely gotten rid of my melasma, but a single peel kit costs around $20 and lets me do 5-7 peels. Twenty bucks verses seven times $130. I know you've been busy doing Common Core math with your kids and can figure out that is a huge savings!
Get Ready For Your Peel 
Now, I've done more than half a dozen at-home chemical peels (not all during quarantine!) and am here to share my at-home chemical peel tips:
Start mild. If you're new to the peeling world or doing it yourself at home, don't start with a medium or deep peel. Start mild (a low TCA or lactic acid peel perhaps?) and see both how your skin reacts and how comfortable you are with the whole process.
Read ALL the directions. ALL. Chemical peels can damage your skin if they aren't used correctly so this isn't the time to skim the pamphlet. For most peels, you'll need to stop Retin A, benzoyl peroxides, acne products and any other drying or exfoliating products at least 24-48 hours before the peel. However many peels may suggest using acids like glycolic acid, mandelic acid, or lactic acid the week before your peel to help "prime" the skin. There are also specific directions for the order of products, how long to leave to leave them on and how to care for your skin post-peel. Don't forget the patch test!
Check your supply list. Before you peel, make sure you have everything that you'll need for the peel itself and treating your skin post-peel. I love the peel kits from Makeup Artist's Choice because they come with just about everything you need - gloves, gentle pre/post cleansing gel, post-peel neutralizer, the peel acid and those important directions. But you'll also want petroleum jelly or Aquaphor to use around your eyes, nose and mouth, an anti-bacterial ointment like Neosporin post-peel, and possibly an anti-itch cream (though I haven't used this in the past).
Be patient. Peels can offer dramatic results but they aren't an overnight fix. Day 1 after my peel, my skin looks great - firm, tight, maybe a little red. Day 2 starts to get tighter; I can "feel" the peel. Day 3 through 5 moves from cracking to flaking to peeling, usually first on the chin, then the forehead and finally the cheeks. Don't pick or pu! Let the skin slough off when it's ready. While the peeling is usually all done by day 7, I often feel like it takes until day 10 for everything to really look great and remind me I was glad I did the peel.
Ready to peel? Head on over to Makeup Artist's Choice's blog on chemical peels to help you decide which peel is right for your skin and then get to shedding! It's not like you're going out soon....
Want more of our Favorite Beauty Picks from Momtrends?
PIN IT!
Use Pinterest to save your favorite beauty finds. Be sure to follow our Beauty board here.
This is not a sponsored post.