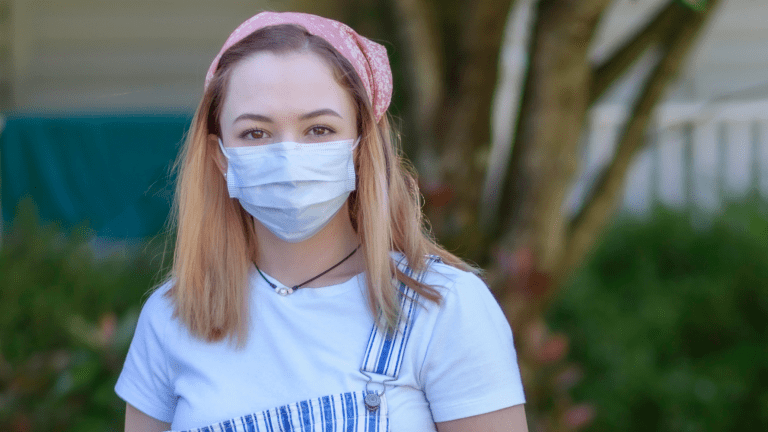 Publish date:
Preventing and Treating Maskne Breakouts
Maskne. It's the new backne. It may seem like a minor inconvenience, but those dealing with pesky pimples and clogged pores on their chins know it can be a major source of stress and self consciousness. 
Mask acne happens as a result of humidity building up under your cloth face mask, fostering the production of blemish-producing bacteria. And while we certainly have to keep wearing our masks to mitigate the risk of COVID-19, we can also take a few preventative steps to help heal our skin. 
We reached out to Dr, Robin Schaffran, BalmLabs' Chief Dermatologist, for some key tips to staving off mask breakouts.
1. BUILD A HEALTHY SKIN BARRIER - The skin barrier plays an important role in protecting against irritants and bacteria. You can build up your skin barrier by using a light moisturizer twice daily with barrier boosting ingredients like Hyaluronic Acid, Bixa Orellana Seed Extract and Niacinamide. Using a light moisturizer prior to putting on your mask will also help diminish friction between the skin and the mask.

5 Pretty Ways To Organize Your Jewelry
I admit - I'm guilt. Despite my best efforts, my "jewelry drawer" has become a tangled mess of necklaces, bracelets and earrings. This cluttered collection not only makes it hard to see what I have, but difficult to untangle the pieces I do want to wear! This summer, I'm ...read more
This Year's Coolest Jumbo Pool Floats
Pool season is almost here! I can't wait to relax, read a book, and sip a cocktail while lazily drifting in an oversized float. (Just kidding, I have two toddlers--but a swim mama can dream, right?). If you've got a staycation planned, check out this year's coolest jumbo pool ...read more
Crystal Clear and Pristine: Pool-Cleaning Tips
Tropical Storm Isaiah gave us quite the midsummer surprise here in the suburbs of New York City. We just got our power back on after a whole week of darkness! With trees down, debris everywhere, and lots of uncertainty, one thing we forgot to check on: our above ground Intex ...read more
2. TAKE A PRODUCT HOLIDAY - The 12-step skincare regime can be more harmful than helpful when it comes to preventing Maskne. Avoid using any scrubs, active acids (ie salicylic acid), oil-stripping cleansers or other harsh ingredients, like benzoyl peroxide, alcohol or even fragrant essential oils which can be irritating. Cleanse with a gentle, exfoliating cleanser twice daily, like ClearBalm's Gentle Foaming Cleanser. 

3. UP YOUR INTAKE OF ANTIOXIDANT-RICH FOODS AND OMEGA-3 FATTY ACIDS - Your diet does have an effect on your skin, and consuming certain foods can help in strengthening your skin barrier. Almonds, sunflower and flax seeds are rich in unsaturated fatty acids and vitamin E, which have been shown to protect skin cells, and foods rich with the antioxidants called carotenoids protect the skin from free radical damage. Choose vibrant green, yellow, orange or red fruits and vegetables, like mangos, papayas, carrots, spinach and bell peppers.

4. WASH YOUR MASK DAILY - Washing your fabric mask daily is an additional step in your line of defense against harmful bacteria and irritants touching the skin. A simple way to adopt a daily mask washing routine is to encourage your teen to integrate it into their evening cleansing regimen - when you wash your face, wash your mask! Use a hypoallergenic, unscented soap and warm water, massage for 20 seconds, rinse and hang to dry overnight. 

5. BRING DOWN THE TEMPERATURE - It's time to take a break from hot, steamy showers. Washing your face with tepid water diminishes irritation and flare-ups in the skin.
This is not a sponsored post. Tips courtesy of BamLab.